Benefits Scent & Bitter Leaf Juice: Spiritual Benefits
Benefits of Scent & Bitter Leaf Juice to Health: Spiritual Benefits. Please watch >>>>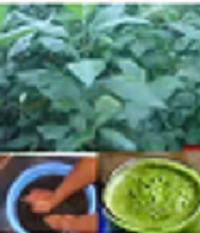 Vernonia Amygdalina and Ocimum Gratissimum Health Benefits. What are some of the health benefits of Bitter Leaf and Scent Leaf Juice?
Bitter leaf and scent leaf also called fragrance leaves are two traditional herbs that have medicinal properties.
They are made up of nutrients that are beneficial to a human's body, including calcium, carbon, vitamin A, potassium, and iron.
Bitter leaf is a common leaf in most of Africa, and it's widely used for cooking in Nigeria and other West African countries.
Related >>>
Benefits of Scent & Bitter Leaf Juice to Health
Both the scent and the bitter leaves have a lot of health benefits. Scent leaf is a fascinating plant that is recognized for its distinctive hue and is highly prized by Nigerians for its nutritional and therapeutic properties.
Weight loss with bitter leaf and scent leaf juice ~ How to Prepare Bitter Leaf and Scent Leaf Juice for Weight Loss and infection?
Directions
Firstly, squeeze bitter leaves and scent leaves together.
Then add lemon, ginger, onions, or lime to one bottle of olive oil or one bottle of honey.
Lastly, combine all ingredients and warm for a few minutes.
To Make bitter leaf and scent leaf juice  
Firstly, take a handful of bitter and scented leaves, boil them in water
Then, drink half a cup every day for a week.
Benefits of Scent & Bitter Leaf Juice to Health
Bitter leaf and scent leaf juice can help you lose weight ~ Bitter leaf and scent leaf juice for infection
Bitter leaf and scent leaf juice, taken on a daily basis, aids in the burning of extra fats from the body, particularly in the abdomen.
The following are some of the advantages of employing bitter and scent leaves: Here is what it does to your body.
It helps to burn excess fat from the body, especially belly fat if you drink bitter leaf and scent juice every morning, but you should also eat well and exercise often.
Also, if you have diarrhea, constipation, or a running stomach, try this drink.
Bitter and scent leaf juices both include a significant level of iron, which aids in the creation of red blood cells, therefore they can help you raise your blood.
Aids in the treatment of Pile ~ Benefits of Scent & Bitter Leaf Juice to Health
Did you know that combining the extracts of bitter and scent leaves might help treat pile in just one week?
Yes! By just extracting the juice from the bitter leaf and combining it with the juice from the scent leaf
This potent combination can help you get rid of piles in just one week. After that, take half a glass cup twice a day for three days. The final result will wow you.
This drink will not only help you get rid of your cough, but it will also boost your immunity so you don't get sick as often.
Relieves indigestion symptoms ~ Benefits of Scent & Bitter Leaf Juice to Health
If you have diarrhea, mules, or other stomach problems, a drink made with fragrance leaves will undoubtedly help you. If you have gastrointestinal issues, scent leaves can be quite helpful.
It works in the same way that aspirin and ibuprofen do. The dish is so delicious that you will feel a sense of relief after drinking it. The drink is cooling to the stomach and has a soothing impact on the digestive system.
Prevents heart disease and problems ~ Benefits of Scent & Bitter Leaf Juice to Health
As you age, you may experience certain heat issues. Scent leaves can help to prevent cardiac issues and disorders. If you put some fragrance leaves in your food, your heart health will improve.
Lowers blood sugar ~ Benefits of Scent & Bitter Leaf Juice to Health
Both the fragrance leaf and the bitter leaf have been shown to decrease cholesterol and prevent cancer.
Scent leaf has a strong impact on blood sugar levels and protects insulin-producing cells from harm. These fragrance leaves can also help to protect your body from dangerous radiation.
Scent leaves have lately been proven to have pain-relieving properties. Menstrual discomfort, fever, malaria, coughing, and respiratory difficulties can all be relieved by drinking tea brewed from these leaves.
If you have stomach troubles or a stomach ache, drinking fragrance leaf tea will help you feel considerably better.
Aids in the treatment of infertility ~ Benefits of Scent & Bitter Leaf Juice to Health
Not only will scent leaves boost your health, but they will also assist you in becoming a mother. Scent leaves are beneficial to both male and female reproductive organs and promote fertility.
Fragrant leaves can be used to produce excellent dishes that can be served with chili sauce or poultry. Scent leaves improve the viability of cells and help to avoid infertility.
Aids in cancer prevention ~ Health Benefits of Scent & Bitter Leaf Juice
The first indicators of cancer are frequently trophoblastic tumors and even lung tumors. Bitter leaf can aid in the prevention of such a debilitating condition. It also aids in the improvement of your immune system. According to research, the bitter leaf can suppress the growth of breast cancer cells as well as tumor growth.
The bitter leaf extract is quite effective in the treatment of cancer. So, if you truly care about your health and future, include bitter leaves in your daily diet.
Effects of Scent Leaf on Ovulation and Menstruation
Scent leaf is not an excellent plant to encourage ovulation if you are trying to conceive, according to scientific data, because it has the potential to screw up your ovulation hormones as well as your partner's.
Scent leaf can help with menstrual discomfort, but other plants provide faster and more effective relief.
In the treatment of dysmenorrhea, ginger (Zingiber officinale), sage (Salvia lvandulifolia), chamomile (Matricaria chamomilla), and valerian (Valeriana officinalis) have been proven to be beneficial.
Spiritual Benefits Bathing with Scent Leaf Water
Bathing with Scent Leaf Water Has 3 Spiritual Benefits. This is merely a natural proscription that operates in the spiritual sphere.
Firstly, take any number of fragrance leaves and thoroughly wash them in clean water.
Secondly, they should be rinsed in a way that the leaves' liquid component mixes with the water.
After you've done that, take a bath in the water, and while you're doing so, continue to prophesy positive things into your life with trust.
Some of the great benefits of bathing with scent leaf water are listed below.
People who are villainous will be chased out of your life.
You'll be safe from all types of harmful attacks.
You will be free of any bad spells or curses that have been cast against you.
The side effect of scent leaf and bitter leaf
Some people may need to be careful with scent leaves:
Allergy 
If you suffer any allergic reactions to plants in the basil or mint family, please avoid scent leaves.
Also, seek medical advice/professional help before administration