Cheapest food in Nigeria ~ Cheap Meals When You Go Broke
Cheapest food in Nigeria ~ Cheap Meals When You Go Broke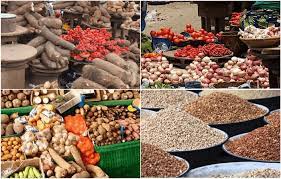 The Cheapest food in Nigeria 2021 ~ Nigeria is a vast country with many ethnic groups; hence the cuisine is diverse. It's difficult to say which dish is the most affordable.
Potatoes, for example, are quite cheap in Jos, and virtually anyone can purchase them.
Check these out >>>
Yams and other stable food products are extremely inexpensive in Niger State, even cheaper than Amala in Lagos.
The same is true if you visit Kebbi State, where rice is one of the cheapest meals available, or Benue State, the nation's food basket.
Cheapest food in Nigeria 
Despite this, some foods are relatively inexpensive in terms of price and benefits when compared to others.
Please take note………….
The current economic scenario has wreaked havoc on the lives of both the middle and lower classes, The upper class, on the other hand, has to adapt to this change.
Nigerians have to make a significant adjustment in the area of daily food preferences.
As the country's economy is sliding downwards, the impact on food prices, as measured by the average cost of basic food products, continues to rise.
Some food staples have become out of reach for the poor, while the middle and upper classes have reduced their consumption of such items.
Purchasing low-cost food for everyday consumption is one approach to save money during these difficult times.
We'll be taking a close look at a few of these low-budget healthy foods.
Cheapest food in Nigeria ~
A huge source of protein and one of the cheapest and most common food items found in most homes in the country.
There is a different brand of beans available in the market, ranging from the small white beans, the big white beans, the brown beans, and butter beans.
Their price range depends on what type of beans and the location. There are various ways beans can be used as a food item in the home.
Beans are always a treat to eat, whether cooked with red oil and eaten with toast or cooked with spices and turned into a bean soup.
Beans that are tasty, tender, and delectable are also inexpensive. It must be stored in a well-sealed sack or drum where pests will not harm it.
A cup of beans costs between N100 and N150 at the open market, and a basket of white beans costs around N1500, while brown beans, which are more expensive, cost around N2,500 and above.
The benefit of beans is that they provide a variety of possibilities for the sort of food that may be prepared. No matter the choice you make, one constant thing is that beans are absolutely cheap considering what it offers.
Vegetable soup ~ Cheapest food in Nigeria 
Most people choose to cook their soup using common veggies like ugwu (Pumpkin leaves), bitter leaf, waterleaf, and smell leaf. The fact is that most veggies are reasonably affordable and offer a great supply of vitamin A, vitamin C, and potassium
They provide a variety of possibilities for preparing various dishes at home, and a diet rich in vegetables helps save money.
Eating vegetable soup provides not only the required nutrients but also aids in the development of the body's immune system, with the added benefit of being able to obtain them at a ridiculously low cost at home.
A bunch of waterleaf costs less than N100, and a pot of vegetable soup may be made for the entire family for less than N500. It's a lot less expensive than the more expensive menu items offered in most restaurants.
Garri ~ Cheapest food in Nigeria 
Garri, a staple dish in Nigeria, has seen its price drop over time, allowing average Nigerians to enjoy this commodity that is processed from cassava
It is a high-carbohydrate food that can be made into eba or soaked in water and eaten with groundnuts, kuli kuli, or cooked/fried beans, depending on personal preference.
On the open market, a basin of garri can be purchased for approximately N6000. It is less expensive than yam and other alternative products.
It may be found in almost every section of the country, with the ijebu garri brand being the most popular due to its sweet taste when soaked in water and eaten with either cooked beans or fried peanuts.
Okro soup ~ Cheapest food in Nigeria 
Okro is a popular vegetable in the country, and it's high in calcium and magnesium. A normal Okro soup has numerous health benefits, including decreasing cholesterol, enhancing vision, stabilizing blood sugar, and maintaining a healthy heart.
Your Okro soup is ready to eat with N150 worth of Okro, N300 worth of fish, and N50 worth of ground pepper. Depending on the size of your household, that N500 worth of Okro soup can last two days.
This fantastic food selection is a good money saver in these difficult times of financial restructuring. Okro goes well with Semo, Garri, and Amala.
Beans Cake (Akara) ~ Cheapest food in Nigeria 
Beans Cake (Akara) is the most favorite food item among children, youths, and even the elderly in most houses.
Baked beans, also known as Akara in Nigeria, are a simple mixture of ground beans, fragrance pepper, onion, crayfish, salt, and seasoning cubes that are traditionally fried on the fire.
When the combination is of sufficient quality, it is fried in a conventional frying pan. It takes less than an hour to prepare this delectable dish, which can be served with bread, soaking garri, or pap (akamu).
Whatever choice is chosen, Akara is a high-quality essential protein that isn't too expensive. It is consumed by almost all Nigerians of all tribes.
The Portuguese call it Acaraje and eat it frequently. It's a common breakfast snack in most Nigerian households, and youngsters adore it. Crayfish can be added to the Akara by certain inventive parents.
Ripe Plantain with Roasted Groundnuts ~ Cheapest food in Nigeria 
Boli is the name for roasted ripe plantain. Boli, a popular delicacy enjoyed by both the rich and the poor, ranges in price from N50 to N100 depending on size and can be served with red oil, fried beans, or grilled fish. However, because we are concerned about our food budget, you can use either groundnut or red oil. It's inexpensive, and it's high in important vitamins A, C, and magnesium.
They aid in the regulation of brain function as well as the digestive system.
Selecting any of the following food items will go a long way toward reducing your monthly food budget without compromising your family's daily nutritional needs.
The benefit of these foods is that they can be procured locally without difficulty and prepared quickly.