Nigerian Soups on a Budget: Make Cheap Soups with N500/less
Nigerian Soups on a Budget: Make Cheap Soups with N500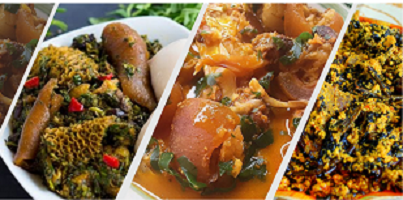 The Nigerian Soups on a Budget: Soups You Can Make for Less
Low Budget Nigerian Soups: Surviving on a shoestring budget in Nigeria!
I was moved in my spirit to share these cost-effective soup ideas with folks trying to save money while feeding healthily. These soups are exactly what you need.
Nigerian Soups on a Budget: See cheap soups you can prepare with N500 or less
Some people can afford meals with a lot of meat and wind up spending more than N2000 on only soup or regular food, while others can only exist on a very limited budget and don't even have the luxury of spending such a large amount of money on food.
This article is for individuals on a tight budget; Nigerian Soups on a Budget
Below are several inexpensive soups that may be made for less than N500.
Vegetable's soup ~ Nigerian Soups on a Budget
Ugu leaves – N50
Waterleaf – N50
Red oil – N50
Maggi – N10
Grounded pepper – N20
Crayfish – N50
Fufu – N50
Total = N280
Egusi soup ~ Nigerian Soups on a Budget
Ugu leaves – N50
Egusi small cup – N200
Red oil – N50
Maggi – N10
Ground pepper – N20
Fufu – N50
Crayfish – N50
Total = N430
Okoro soup ~ Nigerian Soups on a Budget
Okor -N100
Ugu leaves – N50
Crayfish – N50
Oil – N50
Maggi – N10
Ground pepper – N20
Fufu – N50
Total = N330
If you look at the soups above, you'll see that none of them cost more than N500. Trust me when I say that you can thrive in Nigeria on a shoestring budget.
The floor is open, so if you know of any additional inexpensive options for individuals trying to make ends meet in Nigeria, please share them in the comments section below.
However, if you have no money, don't even try to prepare this soup below, because there is a lot of meat and shrimp in the soups. Such soups cannot be afforded under your minimal budget of less than N500.
What is the most expensive soup in Nigeria?
In Nigeria, there are many various types of soups, but one that is considered the most expensive is Ofe Owerri, which translates to "Owerri Soup,"
Ofe Owerri is regarded as one of the best soups available in Nigerian restaurants. Because of the soup's high price, several musicians have written songs about it.
How many soups do we have in Nigeria?
There are over 30 different types of soup in Nigerian cuisine, and we think it's a fantastic idea to taste them all.
Nigerian food is diverse, and these five examples are only a handful of the many types of soup available.
Top 5 types of Nigerian soup, their soup recipes, and origin
These soups are popular in Nigeria, and some of them are even renowned outside of the country.
This Nigerian soup is referred to as Oghwo Amiedi in Urhobo and Izuwo Ibiedi in Isoko. The Urhobo ethnic group makes this soup.
Please Read >>> African Palm Nut Soup ~ Nigerian Banga Soup Recipe
Not only in Nigeria, but also in other African countries, this soup is well-known. Anang, Ibibio, and Ndoki people from Akwa Ibom and Rivers states like the soup.
Checkout >>> Afang Soup Nigerian Recipe: A Step-by-Step Guide
Any soup with a thick consistency is referred to as a viscous soup. These soups are mainly popular in Nigeria's southwestern and southeastern regions.
A must Read >>> Okra Soup | How to Make Simple Nigerian Okra Soup
The soup's major ingredient is ogbono (Irvingia seeds). This soup is popular throughout Nigeria.
To prepare Ogbono Soup, please read >>> How to Prepare Ogbono Soup Using the Boiling Method
Groundnut Soup or Peanut soup 
The soup is called "Omisagwe" by the Etsako people of Edo state, and it is regarded as a native soup of the Etsako people.
Follow this link to learn >>> West African Peanut Soup – Nigerian Groundnut Soup