Chicken Drumsticks in Oven – A Nigerian Baked Chicken Laps
Chicken Drumsticks in Oven is one of the best ways to make juicy and tender chicken that your whole family will love!
Just trim, pat dry, add simple spices, marinade, and then baked to perfection. You will have perfect crispy, juicy chicken legs every time
My love for chicken drumsticks or chicken legs in oven dates back to my childhood in Nigeria.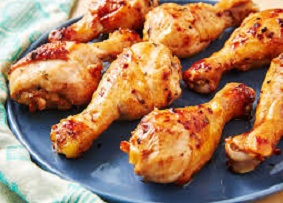 They were always my favorite piece of chicken especially during festive period. The only difficulty was that there were only 2 pieces per chicken.
Even if I was the only one eating them which is not always the case, two chicken legs were never enough Lol
Now that I'm a mom, my kids go crazy for this chicken drumstick in oven recipe. I can make a full sheet pan of them…as many as I want. Everyone needs this family-friendly, baked chicken recipe. It's a crowd-pleaser for any occasion!
How Many Calories Does Chicken Drumsticks In Oven Have?
A baked chicken leg in this recipe has 236 calories, including the butter brush on top. The calorie count varies based on size.
Nigerian chicken drumsticks are a really simple and inexpensive cut of meat to cook.  Just like the chicken thighs
Why This Is The Best Chicken Drumstick In Oven Recipe?
Easy– It's very simple with only 5-minute prep, a few instructions and helpful tips.
Budget-friendly– Baked chicken legs are reasonably priced! Oven-roasted chicken can be such a money saver subject to the ingredients you add to it.
Diet-friendly– Oven baked chicken legs easily house some of the most popular diets: keto, low carb, Whole30, and paleo.
Chicken Drumsticks in Oven Recipe
It's simple with only 5-minute prep. You don't need to be a chef to know how to bake a chicken. You only need few instructions, helpful tips and that it!
How Long To Bake Chicken Legs at Different Temperatures
With the aim of reach our #1 goal of 165° minimum internal temperature (especially for poultry), here's a standard recommendation of how long to bake chicken legs at diverse temperatures.
Bake chicken legs at 425° or 400° for 20-25 minutes
Chicken legs bake at 350° or 375° for 25-30 minutes
Bake chicken legs at 300° or 325° for 30-40 minutes
Why Bake Chicken Legs At Different Oven Temperatures?
There are 3 reasons I would use variant temperatures to bake chicken drumsticks (or any chicken).
The size of the chicken legs affects the timing
Oven space
Crispy skin
How to Make Chicken Legs Crispy In the Oven
If crispy chicken legs are your favorite, baking them at a higher temperature, for instance 425°, will produce crispier skin than if you bake the legs at 350°
No matter the temperature, you can make them crispier by finishing in the broiler.
How to Make Chicken Drumsticks in Oven
Ingredients
6 chicken drumsticks (Chicken Laps -Orobo)
2 Knorr seasoning cubes
½ teaspoon curry
½ teaspoon thyme (Re-blend to powder and sieve)
1 tablespoon onion powder
3 tablespoons olive oil
1 cup barbecue sauce
One teaspoon Black pepper powder
Salt to taste
Instructions
Firstly, trim and pat dry. Then, place the washed chicken laps on a big bowl, add Knorr cubes, curry, thyme, onion powder, olive oil, black pepper and salt to taste, mix properly with the chicken.
Secondly, use foil paper and cover the bowl of spiced chicken meat or use a plastic airtight bag and put the chicken zip and refrigerate for 2 hours to marinate or overnight.
Also, this process of marinating enables the spicy ingredients to enter into the chicken legs, thereby enhancing the taste to a savory dish.
After that, preheat the oven to bake at 180°C or 320 F, then gently place your marinated chicken drumsticks on the oven rack and bake for 35 – 40 minutes while rotating the drumsticks now and then to dodge being burnt one-sided.
When the drumstick is finally well-cooked use your butter brush and coat with butter/barbecue sauce before returning them to the oven to grill for 10 minutes.
Then, apply the final coating of barbecue sauce/butter a second time.
Lastly, put back into the oven and bake for additional 5 minutes and then remove and allow sitting for another 5 minutes then serve.
Homemade drumsticks in oven can best be enjoyed either alone with a glass of juice or with other delicacies as it forms a side dish.
Serve and enjoy!
What to Serve With Baked Chicken Legs
There isn't much that doesn't go with baked chicken drumsticks.
Serve with
Loaded Cauliflower Broccoli Casserole Recipe 2020
Salad for Weight Loss: Nigerian Vegetable Salad
Egg Sauce | Delicious Breakfast Sauce for Boiled Yam
Jollof Rice: How to Prepare Best Nigerian Jollof