Cucumber Sandwich Recipe: High Society Perfect Sandwiches
Cucumber Sandwich Recipe: Traditional Southern Cucumber Sandwiches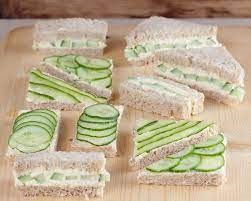 The Cucumber sandwiches are the perfect appetizer for a tea party, Mother's Day brunch, baby shower, bridal shower, or any other gathering. Simple finger food that is cold, fresh, light, and tasty!
Related >>>
The Cucumber Sandwiches History
Cucumber sandwiches were given at Queen Victoria's Golden Jubilee in 1887, were popular with the Raj of India in the late 1800s, and were referred to:
As a "reckless indulgence" in Oscar Wilde's comedy "The Importance of Being Earnest" (cucumbers were pricey before they became more available in the Edwardian era).
The typical cucumber sandwich consists of two thin slices of crustless, lightly buttered bread with paper-thin cucumber slices (no peel).
Cucumber Tea Sandwiches
Cucumber sandwiches are the archetypal tea party fare – the ideal light, fresh, and airy snack.
They come in a variety of shapes, but they're usually little finger foods with thinly sliced cucumbers and a zesty herb spread served on soft, crustless bread.
These small old-fashioned cucumber sandwiches date from the 1800s when afternoon tea was originally introduced in England and was only available to the elite. They were originally only made out of buttered bread and cucumber.
Then they were discovered by the beautiful Southern ladies of the United States, who elevated them with a herbed cream cheese spread.
They're popular at many kinds of parties these days, and with good reason: they're cheap, light, easy to cook, easy to eat, and delicious
Cucumber Sandwich Recipe
Easy Cucumber Tea Sandwiches come in a variety of flavors. For our recipe, you'll need the following ingredients:
Ingredients
Thin-sliced bread
Cucumbers, thinly sliced
Butter softened
Seasonings (sea salt, dill, mint, freshly-ground pepper, snipped chives, parsley, tarragon)
Method
Firstly, peel or score the cucumber's dark green peel lengthwise. Then, cut a tiny slice of an English cucumber or another thin-skinned cucumber and check if you like it with the peel on. Using a mandoline, you can quickly make very thin slices. It's all up to you.
Secondly, toss the cucumbers between paper towels and push them down to absorb some of the moisture. After that, lightly salt them to reduce moisture; the longer you salt them, the better (30 minutes to 3 hours). When you're ready to make the sandwiches,
Meanwhile, butter the bread slices all the way to the edges with a thin layer of butter. This edge-to-edge approach keeps the bread from getting soggy from the cucumber juices. NOTE: If you're using an unsliced loaf, chilling it before cutting it will help you get even slices.
Then, add cucumber and any additional ingredients to the bottom slice. Smoke salmon, chicken salad, sliced egg, and other items should be put on the bread first.
Lastly, crumble the sandwiches and slice them into whatever shapes you want: triangles, fingers, squares, etc.
What is the calorie count of a cucumber slice?
Depending on your calorie requirements, Your daily values may be greater or lower. A half-cup of cucumber slices contains 8 calories (with Peel). Calorie breakdown: 6% fat, 86 percent carbohydrates, and 8% protein.
What Goes with Cucumber Sandwiches? what to serve with cucumber sandwiches
Sandwiches made with cucumbers are delicate, fresh, and acidic. However, they go with a lot of different things. If you're looking for more recipes to round out your gathering, try these:
Cake
Cookies
Pizza
Fruit Kabobs
Cucumber sandwich with mayonnaise
Don't Forget the Tea
Meanwhile, cucumber sandwiches work well with any tea; make your favorite hot or iced tea.
But if a sauvignon blanc or an IPA is more your style, go for it.
Tea Party Ideas
Afternoon Tea Party
Iced Tea Party