Cucumber Sandwiches with Cream Cheese Recipe
 Cucumber sandwiches are simple to make. This traditional easy cucumber sandwich with cream cheese recipe is ideal for work lunches, picnics, and general get-togethers.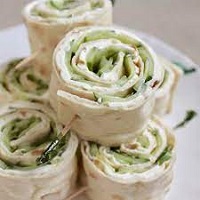 Authentic savory cucumber and cream cheese finger sandwich recipe is great for tea parties for youngsters, but it may also be spiced up for a more "adult" flavor. They're a terrific appetizer for any party, and they're light and refreshing to boot.
Cucumber sandwiches are a classic finger sandwich for luncheons or teas, but they're also a favorite of ours for picnics and lunches!
The perfect spread is made with cream cheese and fresh herbs then topped with freshly sliced cucumbers for a refreshing bite.
One of the most basic finger sandwiches ever is a cucumber sandwich. It is made of crustless white bread, butter, and thinly sliced cucumber and hails from the United Kingdom (UK). These are the only three items you'll need to make this simple sandwich.
However, cucumber and cream cheese tea sandwiches have changed over time, and now include cream cheese, mayonnaise, lemon, and a variety of herbs ranging from dill to chives, as well as other ingredients of choice.
Cut cucumber sandwiches or any other afternoon tea sandwiches into bite-size pieces.
It's meant to be light and not overly heavy. If it's intended for afternoon tea or entertainment, it shouldn't take the place of lunch.
This is a simple, tasty sandwich that only takes a few minutes to prepare yet provides a satisfying bite.
Here are some of the reason's cucumber sandwiches are so popular:
They're delicious to eat, having a creamy yet crispy texture.
They're enticingly cool, especially on a hot summer day.
They are suitable for both vegetarians and omnivores.
Cucumber sandwiches can be made ahead of time.
Calories in Cucumber Sandwich according to https://recipes.sparkpeople.com/
Calories per Ingredient
Here are the foods from our food nutrition database that were used for the nutrition calculations of this recipe.
Calories per serving
82 calories of Bread, rye, (1 slice)
50 calories of Cream Cheese, (1 tbsp)
5 calories of Cucumber (peeled), (6 slices)
5 calories of Dry Garlic and Herb Dressing Mix, (1 serving)
*Percent Daily Values are based on a 2,000-calorie diet. Your daily values may be higher or lower depending on your calorie needs.
What are my Cucumber Cream Cheese Tea Sandwiches filled with?
Cream cheese and herbs were used to fill my simple cucumber sandwiches.
Low-fat cream cheese can be substituted, but I prefer full-fat cream cheese to light cream cheese. Only a small amount is required.
Thinly sliced cucumber
To compensate for using full-fat cream cheese, I used light mayonnaise.
I used dried dill because it was all I had on hand. If possible, use fresh dill. Alternatively, chives or spring onions can be used.
Salt and pepper: It shouldn't make a difference that it's a sandwich. Season with salt and pepper to taste.
Optional lemon
Soft white bread: For your sandwiches, always use fresh soft white bread. Although cutting off the crust is required for this recipe, it is not required if you are not serving cucumber sandwiches in a customary manner.
Easy Cucumber Sandwiches with cream cheese Recipe
Cream cheese cucumber sandwiches are simple to make.  Healthy cucumber sandwiches are a nutritious and simple appetizer for traditional afternoon tea.
Servings: 24 tea sandwiches
Ingredients
Mandolin
8 slices soft white bread
100 g cream cheese
1 English cucumber thinly sliced
⅓ cup light mayonnaise
Salt and pepper to taste
1 teaspoon dried dill
Method
Firstly, use a mandolin to slice cucumbers very thinly, or if you have good knife skills, use a knife but make sure the cucumber slices are paper-thin.
Secondly, to make the cream cheese filling, combine all of the ingredients in a mixing bowl. In a mixing dish, combine the cream cheese and mayonnaise until smooth.
After that, stir in the dill until everything is well combined. Finally, season to taste with salt and pepper.
Then, you can remove the crust off the white bread before assembling the sandwich, or you can leave it on.
Now, put the sandwich together by spreading cream cheese filling on the bread slices. Layer the cucumber slices on top of the cream cheese spread before finishing with another slice of bread.
Finally, if you haven't already done so, take off the crust using a sharp or serrated knife. The sandwich should next be cut into three fingers.
Serve right away or keep for up to a day in an airtight container.
Tips for making perfect sandwiches
When creating this or any other form of a sandwich, use fresh bread. Soft and pillowy bread is ideal for sandwiches.
Lastly, to remove extra moisture from the cucumber, dry it with a paper towel or scoop out the center with a spoon.
Other sandwich recipes on the blog you might love
FAQs
Is It Possible to Make Cucumber Sandwiches Ahead of Time?
The cream cheese mixture can be made up to two days ahead of time and kept refrigerated in an airtight container until ready to use. The sandwiches can be completely constructed up to 24 hours ahead of time.
These are what we like to refer to as "healthy-ish." These tea sandwiches are made with butter and cream cheese, as well as fresh lemon and crisp cucumbers. They're even great on whole-grain bread.
What is the Purpose of Butter?
You can omit the butter if you like, but it not only adds taste but also keeps the bread from becoming soggy.
Instead of cream cheese and mayonnaise, use good quality butter for more classic cucumber sandwiches.
What is the Best Type of Bread?
Your preferred high-quality white or whole-wheat bread. It's best to use bread that's fluffy soft but dense in texture.
Don't forget to leave me comments if you tried this simple cucumber sandwich recipe.