Ghanaian Foods: 12 Traditional Dishes You Must Try
Ghanaian foods are typified by the distribution of food crops. Ghana encourages the use of local crops and food available in the best possible way.
Ghana is located in western Africa and lies above the equator in the northern hemisphere.
The country is situated between both the eastern and western hemispheres.
Ghana is bordered by the countries of Burkina Faso, Cote d'Ivoire, and Togo, as well as the Atlantic Ocean and the Gulf of Guinea.
The food a group of people prepare and eat forms part of their culture.
Food is part of the African culture and Ghana is one of the African countries that have the most exquisite delicacies.
This culture reflects mostly on their local cuisine.
Ghana is one country that has held on to its culture for centuries, making it one of the most culturally rich places in the world.
Facts About Ghanaian Foods: What Types Of Food Do Ghanaians Eat?
The usual staple Ghanaian foods in the southern part include cassava and plantain.
In the northern part, the key staple foods include millet and sorghum.
Yam, maize, and beans are eaten throughout Ghana as staple foods.
Sweet potatoes and cocoyam are also vital in the Ghanaian diet and cuisine.
I hope that this curated collection of 12 Ghanaian foods will give you an insight into the various dishes in Ghana.
Banku With Okra Soup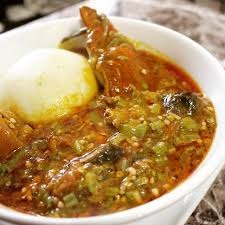 Banku is a Ghanaian dish and a favorite to the Fante, Ga, and Ewe tribe.
The other Ghana tribes have also been spotted enjoying the meal. This means all the Ghanaians love the meal, making it a staple food.
Banku is an energy giving food. It is prepared by a proportionate mixture of fermented corn and cassava dough using hot water.
The result is a smooth, whitish paste, served with soup, stew or a pepper sauce with fish
Waakye and Shito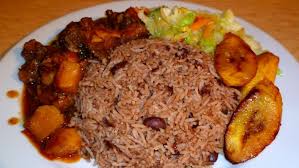 Waakye (pronounced wa-chayy) should be made Ghana's national dish.
This is one of my preferred rice dishes from Ghana. I am yet to come across anyone who does not like waakye.
Amazingly, waakye has the simplest ingredients. It is a simple side dish of rice and beans cooked with dried millet stalk leaves.
It can be eaten with shito (Ghanaian pepper sauce/salsa) or with vegetables
Tuo Zaafi and Ayoyo Soup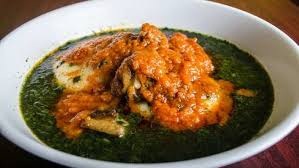 Tuo Zaafi is a popular main dish for the people of Ghana.
It is a gluten-free, steamed dumpling made from Corn and Cassava flour.
It's enjoyed with a flavor-packed stew and Green Vegetable soup, known as Ayoyo
Ghanaian Jollof Rice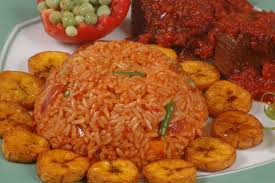 Ghanaian jollof rice is jam-packed full of flavor. It's spicy, full of heat and balanced perfectly with a flavor so distinct you instantly know its jollof.
This African food has stirred up plenty of interesting debate online on which African country cooks the best Jollof rice.
Kenkey with Dried Fish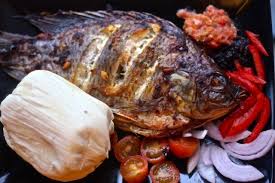 Kenkey is a typical Ghanaian dish made from fermented white corn.
It is widely consumed throughout the country by Ga people from southern Ghana.
The Ga tribe calls it komi. The Fante tribe who lives in the center of the country calls it dokono
Banku and Kenkey are two more Fufu-like staples from Western Africa, served with a soup or stew or sauce.
Banku is cooked in a pot; Kenkey is partially cooked, then wrapped in banana leaves, maize or corn husks, or foil, and steamed.
Kokonte and Palm Nut Soup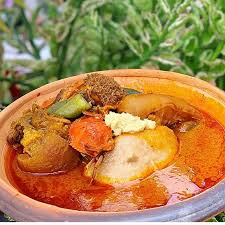 Kokonte is a popular food in Ghana and other parts of West Africa. It is usually made out of dried cassava.
It is very nutritive and it contains adequate amounts of protein and very little fat.
Kokonte with soups such as okra, palm-nut or groundnut soups go well together.
It is prepared similarly as fufu but is a lighter food as compared to fufu.
Palm-nut soup is made from the fruit of palm trees and has a little less sweetness.
Red Red (Beans Stew) With Plantain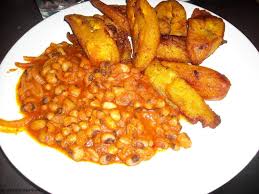 Red red is a Ghanaian dish composed of black-eyed peas popularly known as beans, cooked in palm oil with plantain.
Aboboi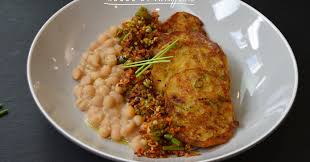 Very similar to red-red, it uses plump, spherical Bambara beans, stewed up with ginger and garlic.
Aboboi is locally served with plantain fritters called tatale and a small bowl of sugar, which it is sprinkled on as a seasoning.
It sounds strange, but it works.
Fufu and Goat Light Soup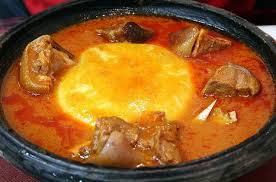 In the Eastern and Ashanti regions of Ghana, one meal assured to work its wonder is fufu and goat light soup, the proud food of the Akan.
Fufu is a chief food across West Africa but in Ghana.
It is made by pounding a mixture of boiled cassava and plantains into a soft sticky paste to go along with spicy tomato soup.
Omo Tuo and Groundnut Soup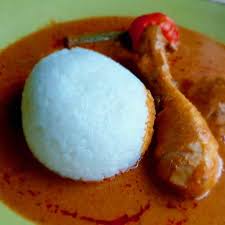 Omo Tuo (or rice balls) is another traditional Ghanaian food that shows the many ways of eating rice.
It comprises of soft boiled grains that are formed into balls and served with a variety of soups.
It makes a great accompaniment to many dishes like fufu.
Most of the times, groundnut are roasted and eaten as a snack but are used to make groundnut soup sometimes
Chichinga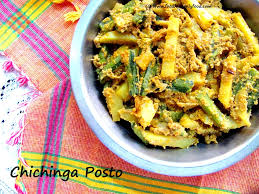 Chichinga is a popular Ghanaian street food item consisting of grilled and skewered meat that is rubbed with a spice mix known as suya.
Suya is made with ground peanuts, spices, and hot chili peppers.
The name of the dish is a transliteration of the Ghanaian word kyinkyinga, meaning kebab.
You can serve chichinga with Ghanaian salads, jollof rice, or fried plantains.
Akotonshi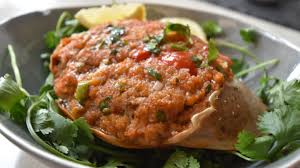 Ghana Akotonshi is a traditional stuffed crab dish. Do you know which tribe in Ghana owns this dish?
Please share. I enjoy hearing from you.