Homemade Clotted Cream (aka Devonshire or Cornish Cream)
Easy Homemade Clotted Cream (aka Devonshire or Cornish Cream)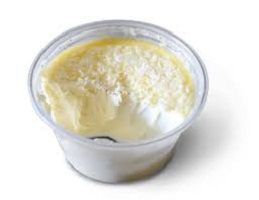 Clotted cream is a delectable, creamy accompaniment to a batch of British scones. You don't have to travel to England to enjoy clotted cream because it's so simple to make at home!
This delicious spreadable cream is a must-have for afternoon tea and scones, but there's no need to shell out for those pricy little imported bottles when you can make it yourself with my simple recipe.
You're missing out if you've never experienced a traditional English afternoon tea with scones and clotted cream.
The origin of clotted cream
Clotted cream is made in the southwest English counties of Devon and Cornwall by boiling full-fat cow's milk until "clots" of cream rise to the surface, a procedure that was initially used to extend the shelf life of the product.
What's Clotted Cream?
Don't let the name fool you!
Clotted cream, often known as Devonshire or Cornish cream, is a thick cream served with scones in the United Kingdom.
The cream separates and the "clots" rise to the surface due to the slow heating and cooling process.
It's also a common sight in British tea settings. It'll be served alongside your scones in a little dish.
It's a rich, creamy white spread with a softened cream cheese consistency. It's just a little sweet, but mostly it's just extremely creamy. as excellent as unsalted butter.
But there's a lot more.
What is the taste of clotted cream?
Clotted cream tastes like delicately "cooked" cream, but it's the incredibly thick, silky texture that makes it famous! The mouthfeel of clotted cream is unparalleled, and it should not be disregarded.
Clotted Cream vs. Devonshire Cream
"Clotted cream" is sometimes referred to as "Devonshire cream" or "Cornish cream." It all depends on the region you're in.
Clotted cream was invented in Devon as a means to remove the fat from milk so that butter could be made. Hundreds of years later, in Cornwall, it was fashionable to utilize the cream on its own. Clotted cream and butter were the most common ways to preserve milk at the time.
Of course, Devon and Cornwall both boast about how good their cream is.
We'll have to take a road trip to find out!
What Is the Distinction Between Whipped Cream and Clotted Cream?
While a dish of clotted cream may appear to be similar to whipped cream at first glance, once you taste it, you'll know the difference.
Both begin with the same fundamental ingredient: heavy cream. Whipping cream, on the other hand, is used to make light and fluffy pillows. Sweeteners and potentially a flavor, such as vanilla, are frequently added to whipped cream.
Devonshire cream, on the other hand, is heated and separated, as we'll see further down. This results in a thicker, creamier consistency.
Another distinction is that Devonshire cream is rarely sweetened. It's popular for the creamy texture it adds, which is similar to butter, rather than for any specific sweetness or flavor.
What Is the Difference Between Butter and Clotted Cream?
So, how is Devonshire cream distinct from butter if it has a thicker viscosity and is more savory?
It all boils down to the method.
Churning (or whipping) cream produces butter. So, if you overwhip your whipped cream, you'll get whipped butter instead.
Devonshire cream is the result of the fat in your cream being separated. So, let's get started on the Cornish cream fudge-making procedure.
Cornish cream substitutes: alternatives to clotted cream
If you can't get Devonshire cream, there are a few substitutes that you can use instead.
 Clotted Cream Recipe: A Step-by-Step Guide
How to Make Devonshire Cream?
You'll be surprised at how simple it is!
You can create homemade Cornish cream if you can pour cream into a dish.
What is the most difficult element in the recipe? Before eating the delectable cream, you must wait the 24 hours it takes to bake and cool it.
This is an incredible technique; I didn't have to do anything and ended up with a large batch of the richest, silkiest Cornish cream I've ever tasted.
Method
I used 2 quarts of cream, poured it into a baking dish, and baked it in a 180-degree oven overnight (the lowest my oven will go.)
Then, allow cooling in the morning before refrigerating it for the rest of the day and scooping it into jars afterward, which happens to be a little sloppy at first, and putting them back in the fridge.
After that, I placed the Cornish cream in the jars, where any tiny bit of moisture gets absorbed straight into it.
And finally, by the next morning, when I had it with my scones, it was absolutely to die for.
What is the calorie count of Cornish cream?
Is that something you want to know? Because it's made with heavy cream, the calorie count of the heavy cream you use will give you an estimate.
How long does Cornish cream last? 
Because this is a fresh cream product, it must be kept refrigerated. It will last for around two weeks, but it always disappears faster than that.
What to do with the whey leftover from making Cornish cream?
Whey can be used in baking, preparing oats, and smoothies.
What should you serve with your homemade Cornish cream?
To go with your homemade Cornish cream, you'll surely want to prepare scones.
Tips for making Cornish cream:
Make sure your cream isn't "ultra-pasteurized"; you will need to find regular pasteurized cream at Whole Foods or other similar stores. Ultra-pasteurized cream has been treated to prevent it from clotting.
An oven thermometer is a must-have cooking tool, and it's especially useful for this job. Your homemade Cornish Cream will not "clot" if your oven is too cold or too hot.