How to Make Liquid Soap in Nigeria: Basic Production Recipe
How to Make Liquid Soap in Nigeria: Basic Production Recipe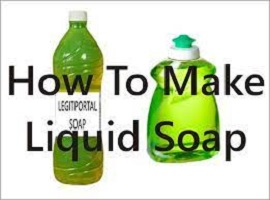 Liquid Soap Production in Nigeria: Whether for business or personal usage, liquid soap manufacture is a worthwhile endeavor.
Checkout the Following DIY Articles >>>
I sought to simplify and perfect my liquid soap recipe after learning how to create it. It's completely natural and may be used as a shampoo, body wash, hand soap, or even dish soap.
Summer is almost here, which means I'll have plenty of time to work on my Basic Liquid Soap Recipe now that school is out.
Everything has been sorted out for you! And, after a lot of trial and error, I've finally come up with a recipe that's a lot easier and takes a lot less time.
Liquid soap is widely used around the world. It's best for washing clothes and cooking utensils, but it's also popular for washing hands and the body.
Are you interested in learning how to manufacture liquid soap at home? Have you been seeking homemade soap recipes but haven't been able to find any? You've come to the correct place.
This step-by-step guide to manufacturing homemade liquid soap will assist you in your soap-making attempt.
In Nigeria, how do you make liquid soap?
Some Nigerians are now creating their own liquid soaps in the comfort of their own homes to save money on buying bottles upon bottles of this liquid soap.
Some people have turned it into a business and are profiting handsomely from it.
Anyone interested in producing liquid soap can generate over 80 liters for as little as N10, 000. Translate it to cash and figure out how much money you can make?
Are you ready to learn the basic steps now? Continue reading, if the answer is YES!
How to Make Liquid Soap in Nigeria
Liquid Soap for business
How to Make Liquid Soap for dishwashing
Liquid Soap in Nigeria & Ghana
How to Make Liquid Soap from scratch
Liquid Hand Soap
How to Make Liquid Soap like morning fresh
Liquid Soap at home
How to Make Liquid Soap with glycerin
In this post, I'll show you how to manufacture it for business, but the same principles apply to people who wish to make it at home.
How to Start Liquid Soap business in Nigeria
Liquid soap is widely used in Nigeria and throughout the world. Morning Fresh and Mama Lemon are two of the most popular liquid soap brands in Nigeria, and they can be found in almost every Nigerian house, restaurant, and café.
Whip up a batch of liquid soap if you want to go beyond the basics of cold process soap manufacturing. Making liquid soap requires a little more patience than making bar soap.
The alkali used to saponify the oils is the main distinction between liquid and bar soap. All soap begins with a simple chemical reaction between oils and an alkali, whether liquid or hard.
Sodium hydroxide is used in bar soaps to create a chemical reaction.
The chemical reaction in liquid soaps occurs with potassium hydroxide, which is a special sort of lye for liquid soap. Extra lye is generally added to liquid soap to ensure that the oils are fully saponified.
Why you should start a liquid soap production business in Nigeria
The production is simple.
You may start a business with as little as #10,000 and be up and running in no time.
You can do it from the comfort of your own home.
The business proffer good profits
It has increased demand as a result of its high level of patronage.
Chemicals can be purchased locally from chemical stores.
Liquid Soap Ingredients
There is an alkali component and an oil component, just like in hot and cold process soap.
The alkali component in liquid soap is a little different. Hard bar soap is made using sodium hydroxide, while liquid soap is made with potassium hydroxide.
Potassium hydroxide is more difficult to come by and comes as flakes rather than beads. Although the flakes are easier to work with, they are still toxic, necessitating the use of gloves and protective eyewear.
Coconut oil, olive oil, rice bran oil, another oil such as soybean (a few non-GMO brands are available), safflower or grapeseed oil, sunflower oil, purified water, liquid vegetable glycerin, and whatever smell or color you choose to add are the additional ingredients.
Except for the potassium hydroxide, you can get all of these materials naturally.
Note: During the soap-making process, a reaction called saponification removes all potassium hydroxide. At this stage, it's no longer caustic.
Equipment for Liquid Soap
You'll need a slow cooker, a stick blender, a quart jar, a potato masher, and plastic stirring spoons, just like when creating hot process soap. You'll also need a kitchen scale because this recipe is measured in ounces.
The Recipe for Making Liquid Soap
This lovely liquid soap works as a shampoo, body wash, hand soap, and even dish soap!
Ingredients
10 Ounces Coconut Oil
3 Ounces Rice Bran Oil
10 Ounces Olive Oil
13 Ounces Other Oil (I Use Safflower And Grape Seed Oils If I'm Making A Body Soap, Or Soybean Oil If I'm Making Dish Or Laundry Soap)
5.5 Ounces Sunflower Oil
9 Ounces Koh, A.K.A. Potassium Hydroxide
25 Ounces Distilled Water
60 Ounces Distilled Water (For Diluting The Soap Paste)
16 Ounces Liquid Vegetable Glycerine
3 Ounces (More Or Less To Your Taste) Of Essential Oil Or Fragrance Oil Of Your Choice
The Natural Colorant Of Your Choice, Use A Very Small amount
Instructions
Firstly, make sure your work area is sufficiently ventilated, cover your workspace with newspaper, and put on your gloves and goggles. As you begin this activity, make sure no dogs or children are running around.
Secondly, pour your oils into the crockpot after measuring them. Remember that we'll be measuring all of the components by weight rather than volume in this recipe, so you'll need a scale.
Thirdly, melt all of the oils in your crockpot on high. I cook my components in a smaller crockpot first, then transfer to a larger one once the liquids are added.
Fill a glass or stainless dish halfway with distilled water. Measure out the KOH and slowly pour it into the water while stirring (never the other way around). It's typical for it to make groaning noises as it disintegrates.
Now, add the water/KOH mixture to the oils once it has been thoroughly mixed. To blend the solutions, combine them by hand first, then use the stick blender. Don't worry if the mixture is a little lumpy and wants to separate. After around 5 minutes of blending, take a break.
Then, cover and cook for 30-60 minutes on high, then reduce to low.
Return now and then to stir or combine. It will soon begin to take shape. After around 2 hours, it will resemble petroleum jelly in appearance.
It's becoming more difficult to work with at this point, as it's heavy and sticky.
To make it easier to break up, I use a stainless steel potato masher. You can test it once it appears to be cooked through with no opaque patches.
Lastly, put to the test: Place a tiny spoonful of the mixture in a cup of boiling water and swirl vigorously. It'll take some time to disintegrate everything. Continue to the dilution stage if the water is clear. Continue to cook if the sky is cloudy.
Liquid Soap Dilution
You can dilute your soap paste once it's fully cooked.
Firstly, heat 60 ounces of water to a hot, but not boiling, temperature. (Measure by weight rather than volume.)
Secondly, pour in the vegetable glycerin liquid. Mix everything up thoroughly.
Then, pour this mixture into the crockpot and stir, or mash if necessary. Set the temperature to low, cover, and walk away. You can set it aside for a few hours and then return to it. This is something I like to do in the evening so I can leave it overnight.
After that, in the morning, thoroughly whisk the soap and let it aside for an hour or more. The undiluted soap paste should float to the top, leaving good liquid soap beneath. I spoon the nice stuff into pint or quart jars, pushing the chunky material aside. Then, if I want, I may fragrance and color each one differently.
Lastly, add a little more water to the chunky stuff that's left and turn off the heat. Allow this to sit overnight, and it should be completely diluted in the morning.
You may need to add a little extra distilled water depending on the consistency you desire.
To avoid it becoming too thin, start with a tiny amount (1 teaspoon).
Important note: all ingredients must be measured by weight!
How to Package Your Business Liquid Soap
Make your liquid soap packaging stand out by using unusual and durable containers. If you go to a large chemical store, you will notice a variety of containers to choose from. Or large markets like Aba, Lagos, and others.
How Much Does It Take To Make Liquid Soap?
It all depends on what scale you're working with. If you're working on a small scale, #20,000 is a good place to start. The materials are sold at the cheapest possible price. To package the soap, use repurposed bottles.
#500,000-#1,000,000 is an excellent starting point for large-scale liquid soap manufacture.
This will cover employee salary as well as transportation costs before owning a car. Some materials should be purchased in bulk.
Profitability in the Liquid Soap Industry
The profit is at least 50% more than the return on investment. If you buy components for $5,000, you'll end up with a liquid soap worth $15,000. The profit margin is comparable to that of bar soap manufacture.
After you deduct the cost of all of your expenses, the remaining amount is your profit. The more you produce and sell, the more money you'll make.
Bottom Line
Lastly, start making money immediately by creating liquid soap; the materials needed to get started are readily available.
How to make liquid soap in Ghana is similar to how it is produced in Nigeria.