How to Make Rice Balls (Omotuo) – Traditional Ghanaian Recipe
Rice balls or Omotuo is a traditional Ghanaian staple food made with rice. The rice is typically cooked with more water than normal to make it softer.
It is then pounded to make it smooth, after which it is rolled into sizable sticky balls. Hence, its English name is thus "Rice Balls".
For You >>> Masa / Waina Recipe: How to Make Hausa Rice Cake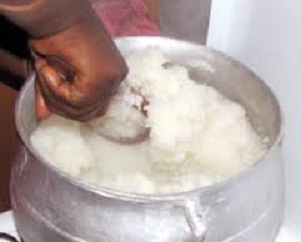 Rice balls are usually a substitute for people who do not eat the common Fufu. Try it with tasty soup, made of groundnut or palm nuts to understand why it is a special dish.
For You >>> Tuwo Shinkafa: Traditional Rice Fufu from Northern Nigeria
Omotuo, as it is known in Ghana, is similar to tuwo shinkafa fufu recipe from the Hausa people in the Northern region.
The Northern Nigerian tuwo shinkafa is usually eaten with a baobab leaf and dried okra soup called miyan kuka.
Recipe: How to prepare Rice Balls (Omotuo)
Ingredients
1 cup of rice
3-4 cups water or as required
Salt as required
Instructions
Firstly, rinse the rice and put it in a medium cooking pot. Then, add water and salt to taste.
Secondly, put rice on high heat and bring to boil. After a while, lessen the heat to medium.
Thirdly, allow cooking till all water is absorbed and the rice is very soft when pressed between your fingers. Then, turn off the heat.
After that, use a wooden ladle to beat or mash the rice against the sides of the pot for it to be glutinous.
Finally, divide the glutinous rice into balls rendering to the required serving. Serve with soup of choice.
Recipe Notes
You might require only 3 cups of water for the 1 cup of rice subject on the variety of rice.
Nevertheless, if the rice is not soft after all the water has been absorbed from cooking, add a half or more cup as necessary.
Rice balls can be prepared ahead of time and warmed in the oven or microwave just before serving.
Omutuo may be served with any type of soup but it is traditional to serve it on a Sunday with peanut soup stew or palm nut soup in Ghana.