Meat Seasoning At Home Like a Pro – How to Make
Meat seasoning basis entails using just salt (king of seasoning) and pepper to bring out the normal flavor of the meat. But that's the easy part.
Once you learn a few tricks to getting salt, savory and acidity in balance, you will be seasoning like a pro.
Nearly every day we make food using meat. Even though getting our hands on some meat, salt and spices these days might not pose a problem, knowing exactly what to do with these ingredients can be a little confusing.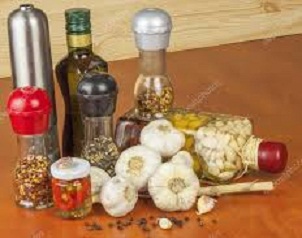 The chef or cook is accountable for the amount and strength of the seasoning.
The quantities given in recipes can only be estimated because the taste of what you are cooking hinges on the quality of the seasoning, the raw material, cooking method, etc.
For You >>> Flavor Enhancer: Ogiri Okpei, Nigerian Seasoning Flavor
The Meat Seasoning Guide: What Spices Go with What?
The steak seasoning method includes precise timing and even meat coverage. To attain a flavorful coating, use a blend of oil and spices.
Don't Add Water While Boiling
No matter the type of meat (beef or chicken), it is best if you do not add water while boiling. There is always enough water in the meat to cook it through.
Recipe: Beef/Chicken Seasoning 
Firstly, wash the beef and put it in a bowl making sure there is as little water as possible in the bowl.
Secondly, pre-season chicken with salt, by shaking a little salt on top of your chicken.
This can be done right before cooking it to draw salt deep into the meat, bringing about a very tasty piece of chicken.
After 45 minutes or more, squeeze and sprinkle the stock cubes (Maggi or Knorr) on the meat.
Then add thyme, Onions, Ginger, Garlic and Hot peppers
Lastly, using your hands, rub the meat so that all the ingredients are mixed with it.
Meat Seasoning – How Do You Get The Seasoning To Stick To Meat?
When ready, just sprinkle the spices evenly to coat your meat.
You can mix a wet substance like oil (olive oil) with your spices to make a "wet rub." This will help the spices stick to your meat.
A wet rub also adds moisture to the meat and save it from sticking.