Korean Hot Pot ~ Ultimate Guide to Homemade Hot Pot
Korean Hot Pot ~ Ultimate Guide to Homemade Hot Pot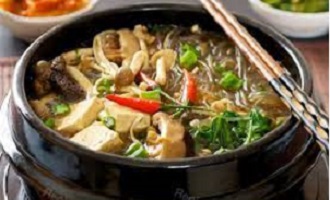 Korean-style hot pot
A homemade hot pot is an ideal answer to your stomach's rumblings of hunger, especially when it pleads for something incredibly delicious.
Hot pot, the ultimate comfort dish, is great for keeping you warm on chilly nights, but that doesn't mean you can't eat it year-round and on every occasion!
What is Hot Pot?
In many Southeast Asian nations, hot pots are a common cuisine with infinite variations.
Eating hot pot is so much fun because it's not only delicious and very customizable, but also because it's a social activity that fosters gatherings of people around a single main dish.
The hot pot is prepared at the dining table. People usually cook thin slices of meat, vegetables, and other hot pot components in the soup base during the course of the meal before scooping them out and dipping them in a hot pot sauce.
Hot pot can be prepared in any way, and each diner is free to add their own ingredients, making it both a communal and incredibly individual dish.
Where Is Hot Pot Originated? Where Does Hot Pot Come From?
Many people may picture a typical Chinese hot pot when they think of hot pot because it is believed that the meal originated in China.
With varied ingredients and flavors preferred in distinct cuisines, there are innumerable varieties to be found in Asian nations.
Why is it called hot pot?
The hotpot custom is generally believed to have originated with Mongol warriors and horsemen who camped outside and ate dinner in a circle around a pot over a fire as a means to stay warm while also eating
Chinese Hot Pot
China's several provinces each have their own distinct hot pot recipes. The so-called hot pot capital of China, Chongqing hot pot, is among the most popular.
This variation contains a broth that is quite hot and a big list of ingredients with a variety of meats.
Other well-known versions of Chinese hot pot include:
Cantonese hot pot, which frequently includes seafood;
Beijing-style/Mongolian hot pot, which uses mutton as a primary ingredient.

Guizhou hot pot

is a dish made with a sour soup base and fiery spices.
Korean Hot Pot
Hot pot is also incredibly popular in South Korea, with bulgogi jeongol, a kind of beef stew, a tasty option.
Another popular hot pot stew that combines Korean and American cuisine is budae jjigae, which combines traditional Korean flavors with processed meats like spam.
Japanese Hot Pot
A popular Japanese-style hot pot known as shabu shabu includes a variety of meats and fresh vegetables cooked in a donabe pot. The components are prepared in kombu dashi, an umami-rich broth.
Sukiyaki, another popular hot pot prepared with soy sauce-based broth to give a strong, salty flavor, is another well-known Japanese meal.
How to Make Hot Pot at Home
Regardless of the nation that inspires your homemade hot pot, you'll probably utilize a variety of meats or meat substitutes, hot pot vegetables, and a delectable hot pot soup base.
As crucial as the ingredients you utilize are, so too is the hot pot cooking technique.
Ingredients
2 tsp sesame oil
1 onion, cut into thin wedges
½ cup kimchi, roughly chopped
4 cups (1L) chicken stock
100g enoki mushrooms
100g oyster mushrooms
250g tofu, sliced into 1cm thick pieces
1 bunch gai lan, cut into 6cm lengths
150g frozen sliced lotus root
250g frozen prawn dumplings
6 long green shallots, cut into 6cm lengths
Bean sprouts, to serve
Garlic chives, cut into 4cm lengths, to serve
Steamed rice, to serve
Hot Pot Sauce
1 tsp Korean red pepper flakes (gochugaru)
1 tbsp gochujang (Korean fermented chili paste, from Asian grocers)
2 tbsp rice wine
1 tbsp soy sauce
2 garlic cloves, crushed
1 tsp fish sauce
Directions
To prepare the stock, combine the mushrooms, broth or water, garlic, ginger, cilantro stems, scallions, peppercorns, and chili garlic sauce if desired.
Tofu cubes are added to the saucepan, the heat is reduced, and it is gently simmered for 10 minutes with the lid on. Turn off the heat and let the room rest for 30 to 60 minutes.
After straining the liquid through a sieve, save the mushrooms and tofu while throwing away the rest of the ingredients. Slice the mushrooms and add them along with the tofu back to the pot.
To prepare the hot pot;
In the meantime, boil some water in a second big pot
If using sweet potato noodles, place them in the basin and soak for 10 minutes, or as directed on the package, to make them soft.
If you're using soba noodles, boil them as directed on the package until they are fully cooked. Drain, and then set apart.
Over medium-high heat, preheat a sizable, heavy pot or Korean stone pot.
When the saucepan is at a boil, add the mushrooms and continue to boil for four minutes.
Add the spinach and stir until the spinach wilts. Noodles made with sweet potatoes should be added. Get rid of the heat.
Depending on your personal preference, you may need more or less vinegar and soy sauce.
Serve immediately and top with red hot chilies, saved cilantro leaves, and scallions.
What is a Korean hot pot?
Jeongol (전골) is a hot pot prepared in the Korean way by combining meat, fish, mushrooms, and other ingredients in a stew pot, adding stock, and then boiling the mixture.
What is a Korean hot pot bowl called?
Directly translated from "Dol Sot" bibimbap, this type of bowl is known as a "Stone Bowl" in North America.
Porous stone bowls are designed to hold heat for a longer period of time. Bowls of poorer quality, however, are also permeable to water.
Is Korean hot pot healthy?
Given the heavy use of oil in its broths, the high-fat content of many common hot pot ingredients and dipping sauces, and the propensity to overeat given that it is frequently served as a shared meal, making it difficult to check portion sizes, hot pot is not a healthy food.
How do you eat Korean hot pot at a restaurant?
We advise placing the spicier foods and meat on the spicy side and the milder dishes, vegetables, and mushrooms on the non-spicier side.
Once the ingredients are cooked, serve them with the homemade dipping sauce and enjoy!
What is the etiquette for eating hot pot?
Add one or two things at a time because the hot pot is designed to be consumed slowly.
Use the shared chopsticks to remove the cooked food, and then use your own chopsticks to eat before moving on to the next ingredient.
What food do you need for the hotpot?
For a four-person hot pot, for instance, I like to have at least two different types of greens, three to four vegetarian options (such as tofu, mushrooms, and daikon), two to four meat options (such as liver, beef, chicken, and tripe), two to four seafood options (such as fish balls, salmon, and shrimp), and some sort of noodle.
What is the Korean hot pot concept?
Raw items are cooked by being added to the simmering soup, including meat and vegetables.
To add taste, dipping sauces are used with the cooked pieces. Hot pot is typically served as a main dish without rice or noodles on the side.
Is hot pot Chinese or Korean?
Chinese for "hot pot" is huǒguō (火锅) which means "fire pot."
China is known as the origin of hotpot and has a history dating back more than a thousand years.
What is Korean pot made of?
It has a yellow anodized aluminum exterior.
Can you drink hot pot broth?
When you're nearly full, stop gathering the ingredients and make a small cup of broth to sip instead. This is a satisfying way to finish the meal.
Are hot pots Japanese or Korean?
There are numerous variations of hot pot, and each had its unique origins.
Despite various claims to the contrary, documents indicate that it was actually invented in China.
A huge pot of simmering soup broth is used to cook food in the Chinese cooking technique known as hot pot, which is done at the dinner table.
Can you put dumplings in hot pot?
If you're celebrating Chinese New Year, you just must eat noodles and dumplings, which are regarded as classics in Chinese hot pots.
Simply prepare the noodles and dumplings per the directions on the package.
Korean hot pot near Lagos ~ Korean hot pot near Ikeja ~ Korean hot pot near me
Hot pot restaurant, oriental hotel, 3 lekki
Hua han, ikeja – restaurant
Yahui ji (@huahan_lagos
Hot pot restaurant, 3rd floor, oriental hotel, 3 lekki – epe expy
Korean bbq in ikeja gra
Korean hot pot restaurant ~ what does hot pot symbolize?
"A hot pot represents unity."People cook the meal while seated around a single boiling pot," she said. It has great profundity.
Korean hot pot menu ~ what are hot pot meals?
Though there are many different kinds of hot pot in China, at its most basic level, a Chinese hot pot is an interactive meal in which diners gather around a simmering pot of soup in the middle of the table with a variety of raw ingredients – meat, seafood, vegetables, tofu, and starches – cut into thin slices or small pieces for quick cooking.
Korean hot pot name ~ Jeongol
Jeongol (전골) is the name of a Korean hot pot that is created by combining ingredients such as meat, mushrooms, seafood, seasoning, etc. in a stew pot, adding stock, and then boiling the mixture.
In Korean, what is shabu-shabu?
It's shabu-shabu done the Korean way. Japanese ramen
What is a Korean hot pot made of? – Ingredients list for Korean hot pot?
Jeongol (전골) is a hot pot prepared in the Korean way by combining meat, fish, mushrooms, and other ingredients in a stew pot, adding stock, and then boiling the mixture.
Korean hot pot recipe pork ~ what kind of pork is used for Korean BBQ?
The ideal cut of meat for Korean barbecue is samgyeopsal. It is a thick chunk of pork belly that is grilled after being marinated in a unique sauce.
The nicest part about samgyeopsal is that this cut of pork meat is so tasty and juicy that it tastes fantastic even without marinating.
What is the name of Korean pork?
Samgyeopsal, also known as "three-layer meat," "samgyeopsal-gui," or "grilled pork belly," is a sort of GUI (grilled dish) in Korean cooking.
How to create hot pots step by step using a simple Korean recipe?
Freeze and partially thaw the meat
Clean and prep any mushrooms and vegetables.
Slice meat, pork, and chicken into thin pieces.
Get the squid ready.
Prepare fish pieces that have been marinated.
Prepare the fish balls
Make the soup base.
Prepare the dipping sauce