Nigerian Food Timetable for Weight Loss: Free Meal Plans
Nigerian Food Timetable for Weight Loss: Free Healthy Meal Plans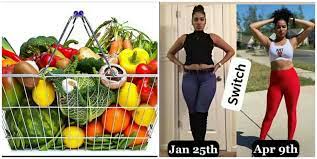 Weight Loss with Nigerian Food Time Table | How to Lose Weight with Nigerian Food
Weight loss can be difficult, especially if you've tried a variety of fad diets that require you to forego your favorite meals and snacks but fail to achieve your desired results.
Even if you have resolved to eat healthier, you may find yourself reverting to old habits.
What if there was a step-by-step meal schedule to help you lose weight over time, complete with Nigerian African delicacies you truly enjoy?
If that sounds appealing, you're in luck because today's topic is on a popular Nigerian meal menu for weight loss.
Related Articles on Nigerian food timetable for weight loss
Nigerian Food Timetable for Weight Loss
In today's environment, many people try to maintain track of their health. Of course, the issue of obesity is receiving more attention.
Almost everyone aspires to have a slim and fit body. As a result, many people are attempting to lose weight and shed pounds through various diets.
Today, we'll provide you with some tips on the best Nigerian weight-loss meals.
Nigerian Food Table for Weight Loss: Lose Weight Fast
Moderation is essential in all aspects of life. To lose weight, you must consume fewer calories than you expend.
You'll reduce body mass and weight if you can figure out how to achieve this balance.
However, under no circumstances should you deprive yourself of meals to reduce weight.
A Nigerian eating plan for quick weight loss would help you find a nice balance when combined with an active lifestyle.
What is a Nigerian Food Timetable? What does a Nigerian food schedule entail?
A Nigerian food timetable or meal plan is simply a table or chart that lists the foods that should be eaten or provided in a Nigerian home at various times throughout the day.
You may plan your meals in a variety of ways to ensure that you're receiving the proper foods in the right proportions every day
Benefits of having a Food Timetable – The Advantages of Having a Food Schedule
If you have a flawless food timetable (meal plan) or food ideas, you won't have to wrack your brain constantly to come up with something to cook.
Meal planning will assist you in determining your dietary requirements, as well as those of your household.
Meal planning can aid in the management of certain health issues, such as diabetes.
Making your Nigerian food schedule can also help you figure out which meals to avoid and which to eat.
It will also provide you with new ideas for repurposing your meals.
It also allows you to plan ahead of time and free up time for other activities.
Your meal schedule will help you avoid the unneeded stress of going to the market.
Benefits of Eating a Well-Balanced Diet – The Advantages of a Well-Balanced Diet
Healthy skin comes from a well-balanced diet.
A balanced diet promotes strong teeth and bones.
Eating a well-balanced diet can help you gain muscle mass or lose weight.
Eating a balanced diet boosts your immune system and protects you from diabetes, heart disease, certain types of cancer, and bone problems.
Calculations for Weight Loss:  Weight Loss Calculations
There is no secret formula for calculating weight reduction. When combined with an active lifestyle, a Nigerian food plan for quick weight loss will help you reach a good balance.
Furthermore, to put it another way, an average individual burns between 1600 and 2000 calories each day simply by existing. And that's only when you're not doing much.
If you're active during the day, the number grows. To reduce weight healthily, you must first determine how active you are during the day.
Then figure out a way to consume fewer calories per day than the normal person burns, but not so little that your body becomes unable to accomplish daily duties. That kind of weight-loss strategy will be impossible to maintain.
Meal Plan for Weight Loss: Weight Loss Meal Plan
The Weight Loss Meal Plan is designed for those with a BMI of 25 or higher. The BMI (body mass index) is a statistic for determining your weight status.
BMI is calculated using your weight and height.
There are various factors to consider while evaluating the accuracy of your findings.
The table below shows average adult weight status groups as well as BMI ranges.
| | |
| --- | --- |
| BMI | Weight status |
| Below 18.5 | Underweight |
| 18.5–24.9 | Healthy |
| 25.0–29.9 | Overweight |
| 30.0 and above | Obese |
Other Weight Loss Diet Alternatives
A low-carbohydrate diet is required for the keto diet.
Low-fat diet – A low-fat diet involves ingesting fewer calories from fat.
Low-carbohydrate diet: It is vital to consume fewer carbohydrates.
Green smoothie diets – by simply drinking green smoothies, you can lose weight quickly.
The Clean 9 diet is a nine-day detox plan that can assist you in losing weight swiftly.
It's a calorie-restricted diet with a focus on meal replacement drinks and weight-loss supplements.
Take a look at what you're drinking or eating
Because what we eat and what we drink are most usually the same, we consume a lot of unnecessary calories in beverages.
Drinks have an equal impact on weight loss. All of these, as well as pop (soda/minerals), should be avoided.
In a specific number of drinks that are viewed as healthy, there is also the risk of excessive weight gain.
A typical 300ml malt drink, for example, contains 48g of carbohydrates.
The objective is not to avoid drinking healthy drinks (malts and juices), but to keep track of the calories you consume daily.
Top 10 Healthy Nigerian Foods for Weight Loss 
Ofada Rice – Nigerian Weight Loss Food
You must limit carbs and switch to low-carb meals if you truly want to lose weight.
Because Ofada rice has a low carbohydrate content and a high protein content, consuming it regularly will aid in weight loss and muscle growth.
Carbohydrates are one of the leading causes of weight gain, and to make matters worse, the majority of foods consumed in ordinary Nigerian homes, restaurants, parties, and so on are high in carbohydrates, which is not ideal for slimming world dieters.
Brown rice, also known as Ofada rice, has important components that white rice lacks, such as antioxidants, vitamins, and minerals. Hence, create a Nigerian Food Timetable for Weight Loss as a result of this.
Boiled Potatoes – Nigerian Food Timetable for Weight Loss
Sweet potatoes, as well as Irish potatoes, are fantastic weight-loss options for Nigerians.
They include resistant starch and a significant amount of fiber, which means you will feel fuller for longer after eating this wonderful meal.
Although excessive eating of potatoes may sabotage your weight-loss efforts, make sure you consume them in moderation.
It has unusually high fiber content, thanks to the potato skin.
Fruits – Nigerian Food Timetable for Weight Loss
If you aren't eating [enough] fruit, you aren't losing weight. Make a Nigerian food timetable to help you lose weight.
Fruits are natural foods that include natural sugars that are a healthier alternative to artificial sweets.
They also increase your satiety, allowing you to feel fuller for extended periods without consuming too many calories.
However, there are hundreds of fruits in Nigeria that are incredibly beneficial in weight loss, which you may include in a fruit salad to reap the full benefits.
List of Healthy Nigerian Foods for Weight Loss: Nigerian Food Timetable for Weight Loss
Nigerian pear (Ube)
Grapefruit and Lemon
Cucumber and Watermelon
Apples
Avocado
Bananas
Tiger nuts
Dates
Nigerian Leafy Vegetables – Nigerian Food Timetable for Weight Loss
Nigeria has a wide variety of strong veggies that aid in weight loss and provide important health benefits.
Vegetables' high fiber content makes you feel fuller and keeps you from getting hungry for a long period. What can be done to reduce calorie intake that isn't necessary?
Because of their potent properties, vegetables are considered one of the most effective foods for weight loss.
It's a low-carb dish with a significant amount of nutritious vitamins and minerals.
Some of Nigeria's favorite weight-loss vegetables include spinach, cabbage, beets, Ugu- shaped pumpkin, lettuce, waterleaf, and bitterleaf.
Alternatives to Honey and Date Syrup: Honey or Date Syrup Alternative
Honey Honey is well-known for its versatility and several benefits, which may help you get a significant weight loss boost.
Most of the meals we eat daily contain artificial sweeteners or refined sugar, which can contribute to weight gain and other serious health issues.
The beautiful thing about this is that you can replace the toxic artificial sweetener with a natural sweetener that has a natural sweetness. In the meanwhile,
Date Syrup Alternative is also a nice option.
Beans – Nigerian Food Timetable for Weight Loss
Beans are one of Nigeria's most effective weight-loss foods, and there are several reasons for this.
To begin with, beans are simple to prepare. Second, beans are high in protein and have very low-calorie content.
Beans, in the third place, help to develop muscle and burn fat. Fiber-rich beans can help you feel fuller for longer while consuming fewer calories.
To reduce weight, I recommend eating a diet rich in beans and legumes at least three times per week.
Low-Fat Yogurt – Nigerian Food Timetable for Weight Loss
It's another wonderful approach to shedding pounds.
Low-fat yogurt is high in probiotics, which are beneficial microorganisms that help your body absorb less fat.
This makes it easier to lose weight, especially when combined with a healthy diet and vigorous exercise.
Furthermore, low-fat yogurt has a low-calorie count and a high protein content, both of which are helpful for weight loss and muscle growth.
Also, there are no artificial sweeteners or preservatives that pose a serious risk to one's health or well-being, implying that they are safe for human consumption.
Oats – Nigerian Food Timetable for Weight Loss
Oats include insoluble fiber, which not only delivers a feeling of fullness that keeps you from feeling hungry for lengthy periods but also keeps your body from gaining calories.
Change to a cup of oats for breakfast and watch the fat melt away.
Herbs and Spices – Nigerian Food Timetable for Weight Loss
Eggs (Including the Yolk) – Nigerian Food Timetable for Weight Loss
A full egg (with the yolk) is one of the healthiest foods you can eat if you're attempting to lose weight.
They're high in protein and healthy fats, and even on a low-calorie diet, they may keep you satisfied.
If you're trying to lose weight, including eggs in your breakfast is an excellent suggestion.
Nuts (Peanuts, Cashew, & Walnuts) – Nigerian Food Timetable for Weight Loss
Protein, fiber, healthy fats, heart-protective omega-3 fatty acids, and skin-conditioning vitamin E make up an excellent combination in them.
Nuts have a bad rep in the diet world, but they're great weight-loss snacks.
Snack on a modest handful of almonds in between meals if you want a flat stomach and a slim waistline.
Seafood – Nigerian Food Timetable for Weight Loss
The seafood has a lot of calcium and protein, which are both fat-burning nutrients.
Seafood is a fantastic fat-burning weapon, so include it in your diet.
Nigerian food timetable for fast weight loss Meal Plan for a week
| | | | |
| --- | --- | --- | --- |
| Days | Breakfast | Lunch | Dinner |
| Sunday | One boiled green plantain | A piece of fresh fish with vegetable soup | 2 pieces of chicken boiled, with one apple |
| Monday | One boiled egg and 1 apple | Salad with roast or fried chicken | Fish pepper soup with one apple |
| Tuesday | Two apples with loads of water | A cup of beans with water | Fish pepper soup with one apple |
| Wednesday | A boiled egg with one boiled sweet potato | A wrap of Moi-Moi | Suya with salad and tomatoes |
| Thursday | One cucumber with 3 cherry tomatoes | Chicken pepper soup | Fried fish and vegetable soup |
| Friday | 1 boiled green plantain with 1 boiled egg | Meat pepper soup with 1 apple | Salad and fish |
| Saturday | Vegetable salad | Chicken with vegetable soup | Suya with 1 apple |
This weight-loss schedule is not suitable for pregnant women, nursing mothers, or those who are ill. This schedule is not for you if you fall into any of those categories.
School Children's Food Timetable
During the school year, many Nigerian parents are unsure about what to feed their young children.
You can pay attention to your children's diet by creating a food schedule and meal plan for them.
It's important to keep in mind that a child's nutrition might have an impact on their growth and development.
Each child's energy requirements are unique. This varies depending on your child's age, growth stage, and how active or inactive he or she is.
A family's food should be healthy and balanced, and you don't need to pay a team of meal planners to accomplish a food plan.
Below is a simple healthy food plan for Nigerian households and students.
| | | | |
| --- | --- | --- | --- |
| Days | Breakfast | Lunch | Dinner |
| SUNDAY | Oats, Milk, Chips, and Banana | Jollof rice, Chicken, Steamed Vegetable, Dessert ice cream | Fruit Salad (tomato + Broccoli), Chicken |
| MONDAY | Bread and egg sauce/peanut butter, with tea or green tea | Beans and Corn | Amala (Lafun) and soup of choice and meat |
| TUESDAY | Boiled yam, boiled potatoes with fish sauce, or vegetable stew | Semovita, Semolina, or Tuwo shinkafa with soup of choice and meat | Beans and Garri (grapefruit) |
| WEDNESDAY | Cereal (Golden morn, corn flakes, etc.), with Pineapple fruit salad | Wheat meal with any soup of choice and meat | Boiled corn with chicken, meat, or fish and dates |
| THURSDAY | Rice and stew (Banga stew, or Vegetable stew), and Paw Paw | Beans pottage (watermelon) | Coconut rice with meat of choice, and grapes |
| FRIDAY | Salad with pancakes, milk, or yoghurT (mango) | Pounded yam with soup of choice and meat, with carrot | Pepper soup |
| SATURDAY | Moi moi/akara/kosai with pap (koko, akamu, ogi, eko) and water melon | Snacks or sandwiches with zobo drink, yogurt, milk, blended fruit juice | Pounded yam in moderate quantity with any soup of choice |
The New Plan on How to Lose Weight without Exercise Only Diet
Recently, a weight loss program has been developed specifically to assist people who want to lose weight by following a Nigerian food plan.
The following are some of the features of this new weight-loss program:
Weight-loss methods that do not require exercise.
How to imitate a fat loss strategy and how to permanently remove fat from your body without going to the gym or doing those crazy routines.
How to lose weight in a month without exercising
5 Common Mistakes People Make When Trying To Lose Weight Quickly
They go on a very strict diet or starve themselves, such as a chicken diet or a starvation diet. Join a gym or a Bootcamp and practice extreme back-breaking workouts, such as aerobics or killer exercises.
Invest in weight-loss devices. These items, such as a waist trainer, magic girdle, vibrating belt, and others, will not help you lose weight logically.
Using weight-loss supplements:
These drugs interfere with your metabolism and may cause more harm than benefit.
Then you find yourself in a never-ending pointless cycle with tons of motivation at first.
Then you kick it into high gear till you realize it's back-breaking, and then you battle to keep going, and then you burn out, and then you rebound back to your old junk diet.
You achieve nothing as a result of all your efforts.
This is the point…
To effectively burn fat and accomplish rapid weight loss, you must first comprehend how fat develops in the body in the first place.
The Most Common Ways Fat Is Deposited In Our Bodies
Calorie-dense foods – when we consume high-sugar, high-fat foods.
Drugs that cause you to gain weight. Weight gain is a side effect of various medications, such as antidepressants and fertility medicines.
Medical conditions such as Polycystic Ovarian Syndrome and Hyperthyroidism.
Pregnancy
Summary of the Nigerian Food Table for Weight Loss
However, of all how we can gain body fat, the most common cause of belly fat is the food we eat. This is since the vast majority of Nigerian foods are high in calories, high in carbs, and high in sugar.