Nigerian Sweet Potato Wedges with Tomato Sauce Recipe
Nigerian sweet potato wedges are a healthy nutrient pack breakfast meal. It makes a great substitute to potato fries and counts as one of your 5-a-day.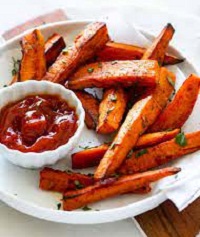 Sweet Potato Wedges are perfect finger foods for kids being easy to pick up, sweet and soft while they play around their food.
Learn How to Make Fried Yam and Pepper Sauce – Ata Dindin
Sweet potato wedges also are perfect weight loss diet for weight watchers
Nigerian Sweet Potato Wedges May Help You Lose Weight
Thank God for bestowing on us with a vegetable as good as a sweet potato that does not only taste amazing but has many health benefits to offer.
Luckily, it makes for one of the best foods that help in losing weight. With its melt-in-the-mouth and sugary flavor, sweet potato is a healthy method to satisfy a carbohydrate desire.
It has essential nutrients, which may include beta-carotene, vitamin C, calcium, and a high level of slow-release carbohydrates.
What to Serve Nigerian Sweet Potato Wedges With
The great thing about sweet potato wedges is that they go with so many things.
They are delicious on their own, served with dips/Shito or Tomato Sauce
Sweet Potato Wedges Cooking Tips
Keep the skin
Cut evenly
Coat well
Don't overcrowd the pan
Cook straight on the pan or use foil
Leave the wedges to sit for a couple of minutes after cooking
When making wedges I like to toss them in olive oil and add a good shake of spice. Smoked paprika cooked with cinnamon is my favorite.
Alternatively, any Nigerian mixed dried herbs will work as well
Nigerian Sweet Potato Wedges Recipes
Ingredients
4 medium-size sweet potatoes
3 tomatoes
1 dash black pepper
2 pieces garlic
I sachet tomato paste
2 onions
Pinch of salt
Oil for frying
Instructions
Firstly, boil the sweet potatoes until soft
Then allow cooling before cutting into wedges
After that, heat up oil in a frying pan and when it's hot drop in the potato wedges and fry until crisp
Lastly, place on a tray to drain.
For The Tomato Sauce
Firstly, fry onions until translucent. Then add garlic, tomato paste, and tomatoes
Keep stirring making sure it does not burn or stick to the pan
After that, season with salt, and black pepper
Then, adjust seasoning to your taste.
Lastly, cook for a few more minutes and remove from pan
Serve with the potatoes