Paloma Drink ~ Paloma Cocktail Recipe
Paloma Drink ~ Paloma Cocktail Recipe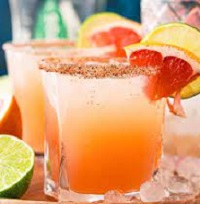 The Paloma is a refreshing tequila cocktail that is simple to make. It is a popular drink in Mexico and around the world, and it is one of the best ways to showcase great tequila.
It's the perfect no-fuss summer cocktail: The iconic Mexican drink balances sweet, sour, and salty notes, packs a boozy punch and takes only a minute or two to prepare.
Description
The Paloma can drink is a light and refreshing cooler made with tequila, lime juice, and grapefruit soda.
Paloma Drink Origin
There are many differing opinions on who invented this drink Paloma – from Don Javier Delgado Corona, owner and bartender of the La Capilla, a bar in Tequila, Mexico, to a folk song called "La Paloma" from the early 1860s  – but no one knows for sure who to credit this refreshing cocktail to.
Though there are many types, two ingredients are required in any Paloma recipe: tequila and grapefruit.
It's a lovely pairing, especially with a tart lime accent and some fizz. Grapefruit soda has traditionally been used, with Jarritos Toronja being the brand of choice.
Why is it called a Paloma? 
Paloma name is a Spanish word that means "dove" in English. The drink's history is a little hazy, but many believe it originated in the 1950s.
Easy Paloma Recipe ~ How to Make a Paloma Drink
Because the Paloma is made entirely of glass, no bar tools are required.
Simply combine your ingredients in a highball glass with ice and serve for a refreshing cocktail.
Paloma Cocktail
The classic Mexican Paloma cocktail is made with tequila and grapefruit. Here's how to make this easy Palomas drink
What's in a Paloma cocktail? Paloma cocktail Ingredients
A traditional Paloma cocktail consists of:
2 ounces tequila
½ ounce lime juice, freshly squeezed
Grapefruit soda, chilled, to top
Garnish: lime wheel
Garnish: salt rim (optional)
Steps
Firstly, rub a lime wedge around the edge of a highball glass, and dip the rim in salt (optional).
Then, add the tequila and lime juice to the glass, and fill it with ice.
After that, top with grapefruit soda, and stir briefly and gently to combine.
Lastly, garnish with a lime wheel.
The Bottom Line
"The Paloma is Mexico's equivalent of the gin and tonic." The grapefruit soda is the key to this Paloma drink can.
It is not as common in the United States as some other traditional mixers, but it is becoming more common.
Squeeze in a lime wedge instead of lime juice to achieve the desired level of sweetness/tartness.
Is Paloma a low-calorie beverage?
It's only 117 calories, but it's strong and refreshing. The Paloma cocktail contains tequila, grapefruit, and lime and packs a powerful punch!
I've shown you (above) how to make this low-calorie cocktail Paloma recipe tequila drink. So you can eat it guilt-free on any diet.
Paloma Mixed Drink
Purple Paloma drinks
Red Paloma drink
Paloma drinks with vodka
Paloma Mexican drink recipe with Squirt
Malibu Paloma recipe drink