Peri Peri Sauce Recipe | Homemade Spicy Piri Piri from Scratch
Peri Peri Sauce Recipe | Homemade Spicy Piri Piri from Scratch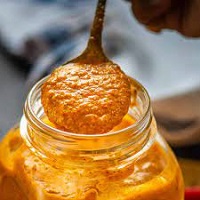 Peri-Peri Sauce is a spicy sauce. Garlicky, spicy, lemony, tangy, and oh-so-delicious. This rendition is bright, fresh, and flavorful, and it strikes all the right notes.
What is Peri Peri? Peri Peri Sauce Recipe
Is the Portuguese name for Pilipili, which means "pepper-pepper" in Swahili and is also known as the African Bird's Eye Chili.
Chili, garlic, oil, and acid (lemon or vinegar) are the only ingredients in the basic piri-piri or peri-peri sauce recipe.
Essentially, the sauce is used as a spicy condiment or marinade in the preparation of meals.
Although the genesis of it is still a point of contention to this day. Because of the diversity of recipes that may be made using Piri-Piri, it has grown in popularity.
You'll create this with African Bird's Eye peppers produced in Africa if you want the TRUEST of the TRUE peri peri sauce experiences, as the soil conditions there are radically different than anywhere else in the globe, influencing the pepper flavor and hence the final sauce.
This sauce is one of my favorites. You've probably heard of Nando's, the world's most recognized Peri-Peri sauce brand. This is a handmade version of the dish.
Recipe for Peri Peri Sauce – Peri Peri Sauce Recipe
It's easy to make homemade Peri Peri sauce (or should I say homemade Nando's?) It only takes some chopping and processing of the materials, rather than actual cooking.
It's an oil-based sauce, at least in our version, that's perfect for dipping and pairs well with chicken and shellfish.
Let's talk about how we're going to do it.
Ingredients Needed – peri peri sauce list
1-pound red chilies chopped – Traditional African Bird's Eye peppers are used, but you may use any red pepper you have on hand, including bell peppers.
4 cloves garlic chopped
1 teaspoon smoked paprika you can sub in other chili powders
½ cup chopped cilantro
¼ cup chopped basil
½ cup olive oil or vegetable oil
Juice from 1 lemon (lemon juice)
Salt to taste
Making Peri Peri Sauce Recipe
Firstly, in a food processor or blender, combine all of the ingredients.
Then, to make a smooth sauce, process until it reaches your desired consistency.
After that, if you choose to, strain out part of the surplus liquid, or use it as is.
Lastly, keep it refrigerated until you're ready to use it.
Enjoy!
BOOM! That is all there is to it. It's a recipe that's simple to prepare.
What Food Pairs Well with Peri-Peri Sauce
With ours, I cooked some chicken wings and legs, which we devoured. The peri-Peri sauce goes especially great with any type of grilled chicken.
It's also excellent with seafood, such as shrimp or whitefish.
Calories: 58kcal | Carbohydrates: 2g | Fat: 5g | Sodium: 2mg | Potassium: 79mg | Sugar: 1g | Vitamin A: 310IU | Vitamin C: 32.9mg | Calcium: 5mg | Iron: 0.3mg
This sauce is gluten-free.
Sharing is caring. Share on social media