Shrimp Chicken and Sausage Gumbo
Shrimp Chicken and Sausage Gumbo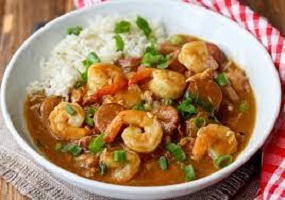 If you're looking for a hearty and delicious pot of gumbo with shrimp, crab, chicken, sausage, vegetables, and Cajun spices, this is the place to go. That's it!
Take your time with the Roux, it's probably the most important part of making gumbo (To quote Alton Brown). The richer the color, the darker it is. "I prefer mine dark."
So, What Is A Roux? Chicken Shrimp and Sausage Gumbo
A roux is a mixture of equal parts flour and fat or oil. The roux is the foundation of gumbo, so it must be done correctly.
The key to making it as flavorful as possible is to simmer it for a long time. This results in a strong flavor
It's best to use a high melting point oil, such as grapeseed oil, canola oil, or vegetable oil.
Shrimp and Sausage Gumbo Recipe – Tips To Making A Perfect Roux
It's also critical to keep stirring the roux to keep it from breaking apart.
It's fine to leave it roux for a minute or two, but this is a job you can't put off because as soon as the flour settles, it starts to brown, and you'll end up with burnt flour.
So stay close to the roux and stir.
Cook for a little longer if you want it darker or thicker. You'll be fine as long as you don't burn the roux
Gumbo is soothing, warm, and flavorful, and it's not difficult to make if you follow a few key tips, particularly the roux, which is the foundation of any good gumbo.
Many gumbos are either all seafood or all non-seafood meats, but I think the combination of shrimp and sausage gives the dish a delectable balance!
This recipe is ideal for a large group, and if you don't have a large group to feed, you can easily half the recipe or freeze the leftovers.
Chicken Shrimp and Sausage Gumbo Recipe
This hearty Indiana gumbo is perfect any time of year, but especially when it's cold outside and you're huddled around the TV watching the game with your friends.
Any of the meats can be substituted or omitted to suit your personal preferences.
Ingredients
2 lbs andouille sausage sliced 1/4" thick
¾ cup vegetable oil plus extra for sautéing the sausage
1 cup all-purpose flour
2 large onions chopped
4 stalks of celery chopped
1 large green bell pepper chopped
4 cloves garlic minced
16-ounce can of whole tomatoes (crushed by hand)
½ cup fresh parsley chopped, plus extra for garnish
1 tablespoon fresh thyme leaves or 1 teaspoon dried
1 teaspoon crushed red pepper flakes
2 bay leaves
16-ounce package of frozen chopped okra (not breaded)
12 cups of low-sodium chicken broth
1 whole rotisserie chicken skin and bones removed and discarded, meat shredded
1 pound raw, peeled, and deveined shrimp (optional)
½ teaspoon filé gumbo powder
Green onions sliced thin, for garnish
Cayenne pepper to taste
Salt & pepper to taste
Instructions on How to Cook Chicken, Shrimp, and Sausage Gumbo
Prepare all of the vegetables and set them aside.
In a large skillet, heat a tablespoon of vegetable oil. Sauté the sliced andouille sausage in a skillet until lightly browned, then transfer to a plate lined with paper towels to drain. Cover the plate and place it in a warm place until needed.
Heat ¾ cup vegetable oil in a large soup pot over medium-high heat until shimmering and almost smoking. Cook, stirring constantly until the roux is the color of a copper penny.
Sauté the onions, celery, and bell pepper for 10 minutes, stirring frequently to avoid burning. Sauté the minced garlic for a minute or two, or until fragrant.
Combine the tomatoes, parsley, thyme, red pepper flakes, and bay leaves in a mixing bowl. Cook for 10 minutes, stirring frequently, and add a small amount of chicken broth slowly if necessary to prevent burning.
Bring the remaining chicken broth to a boil in the pot with the vegetables. Reduce the heat to low and cover the pot. Simmer, stirring occasionally, for 30 minutes.
To the soup pot, add the shredded chicken, frozen okra, and half of the sausage. Cook, covered, for 1 hour, stirring occasionally.
Remove from the heat and stir in the remaining sausage, filé gumbo powder, and shrimp (if using). Stir well, then cover and set aside for 30 minutes.
Gently reheat before serving if necessary. Remove the bay leaves and season with salt and pepper.
Serve over hot cooked rice, if desired garnish with fresh chopped parsley and green onions. Serve with cayenne pepper or hot sauce for those who like it hot!
Nutrition
Calories: 613kcal | Carbohydrates: 18g | Protein: 44g | Fat: 41g | Saturated Fat: 20g | Polyunsaturated Fat: 4g | Monounsaturated Fat: 12g | Trans Fat: 1g | Cholesterol: 207mg | Sodium: 1288mg | Potassium: 754mg | Fiber: 3g | Sugar: 3g | Vitamin A: 732IU | Vitamin C: 29mg | Calcium: 137mg | Iron: 4mg
What to serve with Chicken Shrimp and Sausage Gumbo? 
Traditionally, Chicken, Shrimp, and Sausage Gumbo are served over white rice to absorb the flavors. You can also serve your gumbo with traditional accompaniments such as cornbread, buttermilk biscuits, crusty french bread, or garlic bread.
Storing Instructions: 
Refrigerate Gumbo for 3-4 days, covered.
Allow gumbo to cool completely before freezing it in a freezer-safe container (apart from the rice) for 2-3 months. Thaw in the refrigerator overnight before reheating on the stove or in the microwave.
People also ask about Chicken Shrimp and Sausage Gumbo
Can you put raw chicken in gumbo?
The meat does not need to be fully cooked. It will cook alongside the gumbo.
Furthermore, the chicken does not have to be chopped.
When it's done, we'll remove it from the pan with tongs and shred it before adding it back in.
Is okra used in chicken and sausage gumbo?
This delectable gumbo will transport you to New Orleans. This recipe is perfect for sharing because it includes smoked sausage, okra, and aromatic vegetables.
Can I put frozen shrimp in gumbo?
Shrimp is an essential component of our gumbo, adding a subtle flavor to seafood.
You can always defrost frozen shrimp the day before, but if you forget, watch our video below on how to quickly defrost shrimp.
You can prepare your onions, bell peppers, okra, and sausage up to 4 days ahead of time.
What are the best gumbo sausages?
In conclusion. If you're determined to make the most authentic gumbo possible, the answer to the question of what kind of sausage to use for gumbo is straightforward.
If possible, use andouille sausage. The next best thing might be Spanish chorizo, followed by smoked pork kielbasa
Is gumbo supposed to be thick or soupy? Chicken, Shrimp, and Sausage Gumbo
The way it is thickened, however, is what truly distinguishes it. Gumbo is much denser than a simple soup, with a thick, almost viscous broth.
And the most common way to achieve this is to make a roux, which is made by cooking flour and oil together until they thicken and darken.
Do you brown the sausage before adding it to the gumbo?
While the sauce is simmering, brown the sausage in a large skillet over medium-high heat.
Gumbo can be made with sausage. Season the gumbo with salt to taste. Cook for 2 hours
How do you keep gumbo from sliming up?
Is it possible to add frozen okra to gumbo?
Because file powder is not widely available, many gumbo recipes call for a roux-okra mixture. This Cajun gumbo recipe is inspired by Emeril Lagasse's gumbo recipes. Unthawed frozen okra may be substituted.
Why is my gumbo slimy?
The slime is mucilage, which comes from sugar residue and is great for thickening gumbo but not so great when you're biting into a piece of sautéed okra and dislike the viscous texture.
If you want to avoid that texture, there are a variety of techniques to try.
Should the shrimp be cooked before adding them to the gumbo?
First and foremost, place the shrimp in a mixing bowl and coat them with the seasoning mixture.
Mix well to coat the shrimp in sea salt, Italian seasoning, paprika, and red pepper flakes.
Shrimp have a mild flavor that absorbs whatever flavor you serve them with.
Yummy!
What do you season shrimp with?
First and foremost, place the shrimp in a mixing bowl and coat them with the seasoning mixture.
Mix well to coat the shrimp in sea salt, Italian seasoning, paprika, and red pepper flakes. Shrimp have a mild flavor that absorbs whatever flavor you serve them with. Yummy!
How long should gumbo simmer?
Between three and four hours
Cooking the gumbo for three to four hours on low heat is essential; don't rush it. Don't leave the gumbo to cook without you.
This delicate dish can go horribly wrong in an instant. Make certain that your ingredients are fresh
How do you thicken gumbo?
A single cup of cornmeal can thicken the gumbo significantly without changing its taste or flavor, while also giving it a heartier texture.
1 cup cornmeal whisked with a little water until there are no lumps and the mixture is completely smooth Stir the mixture into the gumbo thoroughly.
Is gumbo made with tomatoes?
Creole gumbos frequently include tomatoes, shellfish, and dark roux, as well as okra and filé powder, a herb made from ground sassafras leaves.
Cajun gumbo is made without tomatoes and usually includes chicken. It's not uncommon for both Creole and Cajun gumbo to contain meats like ham or sausage
How do I give my gumbo more flavor?
Instead of water, use stock or broth in your gumbo for maximum flavor.
Whether you use homemade or boxed chicken or vegetable stock, the stock will add depth and complexity to your gumbo.
What causes gumbo to go bad?
An insulated cooler keeps its temperature longer than a plastic cooler.
Once the ice packs have melted, spoilage can occur, so eat the gumbo right away or store it in the refrigerator or freezer.
Another option is to freeze the gumbo before transporting it, which allows you to keep it for a longer period of time before it spoils.
Can I cook frozen shrimp without first thawing them?
Frozen Shrimp Cooking (Step-by-Step Instructions)
Did you know that you can cook frozen shrimp right from the freezer, no thawing required?
You'll get juicy and delicious shrimp every time if you follow a few simple tips.
What is the name of the liquid in gumbo?
Gumbo broth or gravy is made up of three main ingredients: okra, filé powder, and roux.
Okra and filé powder is traditionally not used in the same dish, though this rule is occasionally broken.
Roux can be used on its own or in combination with the other thickeners.