Ratatouille Recipe: How to Make Best French Ratatouille
Ratatouille Recipe is a light and fresh vegetable dish originating in France that features fresh summer produce.
It's a gluten-free, vegan, and paleo food, a classic end-of-summer French stew that's fun to pronounce (rat-tuh-TOO-ee) and enjoyable to make.
Above all, this thick and silky French stew of eggplant, zucchini, sweet peppers, and ripe summer tomatoes will use up your additional vegetables in one fell swoop.
Thereby making enough food to feed a crowd, pack for lunch, and still freeze for later.
Definition: What Is Ratatouille?
The name ratatouille comes from the French verb "touiller" which means "to stir up" or "toss."
Fundamentally, you are tossing a bunch of veggies together to create a flavorful meal.
Ratatouille Recipe: What Is Ratatouille Made Of?
Traditionally, ratatouille is made with zucchini, tomatoes, bell peppers, onion, and garlic, and it's common to see eggplant added in, as well.
Though I am not the biggest fan of eggplant, in this case, it's a perfect match with the other flavors and textures.
Nutrition summary: Nutritional facts/ calories in Ratatouille
Calories

154

Fat

12.05 g

Carbs

11.94 g

Protein

1.69 g
There are 154 calories in 1 cup of Ratatouille.
Calorie breakdown: 67% fat, 29% carbs, 4% protein.
 Ratatouille Recipe
The joy of cooking Ratatouille is equal to none. Making ratatouille is absolutely a cheap project for a fresh weekend afternoon; it's easy but fairly time-consuming.
Ingredients
Veggies
2 eggplants
6 roma tomatoes
2 yellow squashes
Two zucchinis
Sauce
2 tablespoons olive oil
1 onion, diced
4 cloves garlic, minced
1 red bell pepper, diced
One yellow bell pepper, diced
Salt/pepper to taste
28 oz can of crushed tomatoes(795 g)
2 tablespoons chopped fresh basil, from 8-10 leaves
Herb Seasoning
2 tablespoons chopped fresh basil, from 8-10 leaves
1 teaspoon garlic, minced
2 tablespoons sliced fresh parsley
Two teaspoons fresh thyme
Salt/pepper to taste
4 tablespoons olive oil
Preparation
Firstly, get all the vegetables washed, and ready.
Secondly, cut the vegetables-eggplant, tomatoes, squash, and zucchini into approximately ¹⁄₁₆-inch (1-mm) rounds, then set aside.
Then, preheat the oven for 375˚F (190˚C).
Make the Sauce
Firstly, heat the olive oil in a 12-inch (30-cm) oven-safe pan over medium-high heat. Sauté the onion, garlic, and bell peppers until soft, about 10 minutes.
Secondly, season with salt and pepper, and then add the crushed tomatoes. Stir until the ingredients are fully incorporated.
Thirdly, remove from heat, and then add the basil. Stir once more, and then smooth the surface of the sauce with a spatula.
After that, arrange the sliced veggies in alternating patterns, (for example, eggplant, tomato, squash, zucchini) on top of the sauce from the outer edge to the middle of the pan.
Lastly, season with salt and pepper, then cover the pan with foil and bake for 40 minutes. Uncover, and then bake for another 20 minutes, or until the vegetables are softened.
Herb Seasoning
Stir in the herb seasoning ingredients and pour over the cooked ratatouille. The result is the pièce de résistance.
What to Serve With Ratatouille
Mushroom Rice Pilaf
Sun-Dried Tomato Rice
Cheese Grits
Broccoli Kale Salad with Lemon Dressing
Root Vegetable Mash
Butternut Squash Risotto
Serve while hot as a main or side dish and freeze the leftovers for later use.
To consume, cover with foil and reheat in a 350˚F (180˚C) oven for 15 minutes, or simply microwave to the desired temperature.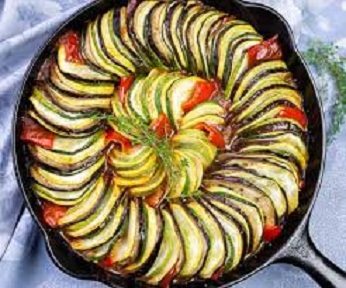 Enjoy!