Singapore Rice Noodles Recipe – Better Than Takeout
Singapore Rice Noodles Recipe – Better Than Takeout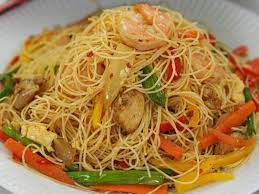 The Singapore Rice Noodles – Singapore Noodles taste just like the ones you'd get at a Chinese takeout or Cantonese restaurant (or maybe better).
This simple and satisfying Singapore noodle stir fry comes together in minutes and includes shrimp and roast pork.
One of the most popular dishes on any Chinese take-out menu is Singaporean Rice Noodles. Singapore Mei Fun (also spelled Singapore Mai Fun) is a popular name for this dish.
However, by removing the chicken, pork, shrimp, and eggs found in traditional Singapore Noodles, or Singapore Mei Fun, this Singapore noodles dish can easily be made for vegetarian and vegan friends and family.
Even though Singapore Noodles are not a traditional meal, they are delicious, and the spindly, colorful, curry-flavored with vegetable noodles have won the hearts of foodies all over the English-speaking world.
Another great way to make Singapore Noodles is with tender pieces of curry-flavored chicken and vegetables, which makes it completely protein-rich.
What is Singapore Rice Noodles? Singapore Rice Noodles Recipe
Singapore Rice Noodles are a type of noodle that originated in Singapore.
These rice noodles, also known as Rice Vermicelli, are made with shrimp, chicken, and vegetables stir-fried in a curry sauce.
It's thin rice vermicelli noodles with a curry sauce flavor! It's delicious, quick, and easy to make!
The good thing about this dish is, if you can't find Rice Noodles, you can substitute with egg noodles or pasta, but the flavor will be slightly different.
Singapore Rice Noodles Recipe – Vegan and Gluten-Free Rice Vermicelli Noodles 
Vermicelli is a type of rice noodle that is frequently used and is gluten-free and vegan.
While there are a variety of vegan rice vermicelli recipes available, a curry-based Singapore noodles dinner is a popular alternative.
Singapore Rice Noodles Recipe – Ingredients
3 Tablespoons Sesame Oil
1 Red Bell Pepper, thinly chopped
3 Tablespoons Olive Oil
1 Knorr Chicken Cube (Very Optional)
225g Rice Vermicelli
1 Tablespoon Minced Ginger
1 Green Pepper, thinly chopped
100g Boneless Chicken chopped
1 Tablespoon Minced Garlic
2 Cups Beansprouts (Optional)
1 Teaspoon Curry Powder (For color)
1 Tablespoon Crushed Pepper flakes
6 Tablespoons Soy Sauce
12-16 King Prawns, peeled and deveined
4 Stalks Spring Onions, chopped
6 Tablespoon Oyster or 1 Tablespoon Brown Sugar
1-2 Cups Mange tout (Optional)
½ teaspoon Black Pepper
Preparation
Firstly, gather your ingredients and get them ready. Then, set aside for 30 minutes after seasoning your chicken and shrimp with chicken seasoning, black pepper, and soy sauce.
Similarly, cover the Rice Noodles with boiling water and set aside for 5 minutes, then rinse under cold water and drain in a colander. To make stir-frying easier, you may need to chop the Rice Noodles into smaller pieces.
If you're using Pasta or Egg Noodles, follow the package directions for cooking.
Now, when cooking Rice Noodles, you must be very careful because they can become soggy if soaked for too long.
Preheat a large wok or frying pan to medium. Pour in the olive oil, then crack the egg into it and scramble it.
When the Scrambled Eggs are done, remove them to a plate and return the wok to the heat.
Increase the heat to high. Sauté the chopped onions until they are fragrant.
Add the Mange Tout, chopped Bell Peppers, and Spring onions after that. 2 minutes of sautéing
Toss in the Beansprouts and cook for a minute.
After that, stir in the crushed Pepper Flakes and mix well.
Toss in the oyster sauce or brown sugar, 2 tbsp sesame oil, soy sauce, curry powder, and seasoning cubes, if using. Combine by stirring.
Toss the stir fry with the Rice Noodles, stirring to thoroughly combine. You might want to do this in two parts to make it easier to maneuver. Cook for a minute before turning off the heat.
Stir in the cooked Shrimps, Chicken, and scrambled Eggs until thoroughly combined. Allow for a minute of simmering on the residual heat.
What is the calorie count of Singapore rice noodles?
Singapore Rice Noodles (0.25 pack) provide 31.7 grams of total carbohydrates, 30 grams of net carbohydrates, 6.2 grams of fat, 3.2 grams of protein, and 193 calories.
What Are Singapore Noodles Made Of – The Ingredients in Singapore Noodles? 
Vermicelli noodles are thin rice noodles used to make noodle soup. They're fairly common nowadays and can be found in almost every supermarket.
What do Singapore noodles taste like? Singapore noodles taste 
Singapore noodles are similar to Lo Mein or Pad Thai, but the sauce contains curry powder, making it mildly spicy, salty, and acidic, with a trace of sweetness.
Even though it isn't as saucy as a Thai curry sauce, the flavor is wonderful even without it.
Where can I get Singapore Rice Noodles near me in Nigeria?
You can purchase from ShopRite, Jumia, or Konga online, SparNigeria, SuperMart, shopping malls. However, for a ready-to-eat meal, ZEN Garden Ikeja is the best Singapore noodles near me.