Snake Tomato (Elejo Tomato) Amazing Health Benefits
Snake Tomato (Elejo Tomato) Amazing Health Benefits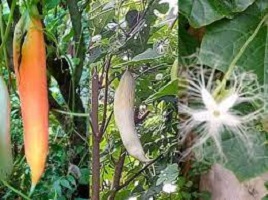 Trichosanthes cucumerina, often known as snake gourd, is also known as tomato snake because the ripe fruit is reddish and tastes like tomatoes.
It is a type of tomato that grows largely wild in southern Nigeria and is known locally as "elejo tomato" or "tomati elejo" (from Ibadan Western Nigeria).
It is mainly found in the states of Lagos, Ogun, Oyo, Ekiti, Osun, Ondo, and Edo.
The snake tomato resembles a cucumber. It has more vitamin A and C, vital amino acids, calcium, and other nutrients than normal tomatoes.
Unfortunately, this lengthy vegetable has been allowed to flourish with little regard for its benefits.
This vegetable was commonly farmed from the 1960s to the late 1990s and was widely available in local markets.
Snake tomato is a fruit that most people have never tried, but those who do know why. Part of their reasoning is outlined in this article.
Years ago, some owners of this annual climber from the Cucurbitaceae family guarded it jealously.
In fact, they will go to any length to ensure that it yields fruit.
When you cook with snake tomato, you will notice a distinct aroma and flavor.
Fortunately, Nigeria is one of the nations where Snake tomato is grown. It is widely cultivated in Asian countries too.
People who understand its importance make care to include it in their stews or other foods, no matter how little.
Snake tomato is becoming increasingly popular due to its health benefits. Various researches have been conducted on this tomato and why humans should consume it.
Nutritional value
According to research, the Snake tomato contains flavonoids, carotenoids, phenolic acids, as well as soluble and insoluble fibers.
It also includes vital minerals, which give the plant pharmacological and medicinal properties.
Surprisingly, the entire plant, that is the roots, leaves, fruits, and seeds is said to have medicinal benefits.
Snake tomato has anti-diabetic, antibacterial, anti-inflammatory, anthelmintic, anti-febrile, gastro-protective, and antioxidant effects.
Tomatoes also provide potassium, calcium, magnesium, iron, and zinc. The plant also has a lot of protein.
According to the above study, the flower has the highest mineral element richness among the three components.
As a result, people boil the blossom and drink it as tea. The fruit contains the least amount of mineral elements.
However, the fruit is abundant in calcium and potassium.
Health Benefits Tomato Snake ~ Snake Tomatoes Benefits

Here's a breakdown of how the plant's nutrients benefit people.
Promotes Excellent Heart Health
Hypertension is a significant risk factor for stroke, coronary heart disease, heart failure, and end-stage renal disease. Many countries, including the United States, bear a financial burden as a result of these chronic illnesses.
In general, hypertension is the leading cause of death worldwide.
Snake tomato, on the other hand, includes chemicals that assist decrease blood pressure and improving heart health.
Reduces blood sugar levels
Again, the plant's soluble and insoluble fiber serves to regulate the release of sugar from foods into the bloodstream.
As a result, it aids in blood sugar regulation.
Aside from that, tomatoes have phenolic chemicals that regulate blood sugar levels.
Polyphenols have been shown in animal and human trials to reduce hyperglycemia and improve acute insulin secretion and insulin sensitivity.
The antioxidant in snake tomato reduces gastrointestinal glucose absorption, inhibits carbohydrate digestion, increases insulin production, and regulates hepatic glucose release.
This is why it is vital to consume meals high in fiber.
Improves Muscle Strength and Power
Flavonoids, glycosides, tannins, and steroids are among the chemical components found in this tomato.
You may have heard that steroids are used to build muscle.
This is only one of the advantages of eating this tomato.
It aids in the reduction of post-exercise inflammation, allowing you to gain muscle mass and power.
Protects Your Body from Free Radicals Damage
When you consider how many chemicals humans are exposed to on a daily basis, you can see why people eat this tomato.
Every day, we are exposed to new chemicals, which break down into antibodies that can cause chronic diseases.
Antioxidants in our diets, on the other hand, help to arrest the antibodies and prevent them from inflicting harm.
According to one study, "oxidative stress occurs when free radicals overcome the body's ability to manage them."
Snake Tomato Improves Bone Health Tomatoes are also high in magnesium, zinc, and calcium, which are minerals that help your bones.
Magnesium aids in the activation of vitamin D, which improves calcium absorption.
Zinc, on the other hand, resides in the bones to promote bone formation and inhibit bone breakdown.
According to one study, minerals including magnesium, zinc, calcium, and copper aid to promote strong bones and are vital for bone metabolism.
Other benefits of tomato snake
Aid in the Removal of Worms
Helps to Treat Fever
Helps in Treating Constipation
Improve Digestive Health
Now that you're aware of the several advantages of snake tomato, why not incorporate it into your food garden?
Tomato Snake and Weight Loss
Because of the fiber content, it helps individuals stay full.
When this occurs, the individual's desire for food decreases, allowing him or her to lose weight or maintain a healthy weight.
Because snake tomato is low in calories, it is a good item to include in your diet if you are attempting to reduce weight.
Tomatoes have more insoluble fiber than soluble fiber, making them a beneficial diet for people who wish to lose weight.
It contains a wide range of nutrients, vitamins, and minerals that are needed for human health, as well as high levels of dietary fiber.
Uses of Snake tomato
Snake tomato is used in stews and many local recipes, but it is also used as medicinal due to its high vitamin concentration.
It can also be stuffed, baked, pickled, stir-fried, and utilized in a variety of curries and vegetarian cuisines, just like zucchini.
It was abundantly grown in the 1960s and was fairly prevalent in local markets, but presently few people, especially younger generations, are familiar with this dish.
Snake Tomato Recipe – How to Prepare It
Ingredients: 1 tomato, diced, and 1 fresh green chili, finely chopped.
In a pot, heat 1 tablespoon of oil and cook the onion until transparent on a slow to the medium burner.
Then, stir in the Tomato, Snake Gourd pieces, and Green Chili.
Lastly, cook for 3-5 minutes with all of the ingredients.
Tomato Snake seed
Snake tomato leaves, roots, and seeds are quite beneficial in the treatment of intestinal issues. It aids in the removal of toxins from the body.
It is also beneficial to digestion. The seeds are very useful in the treatment of dry constipation as a moistening agent.
Drawbacks of Tomato Snake – Side Effects
The sole danger of consuming snake gourd is eating too many of its seeds. Excessive consumption of the seeds might result in nausea, indigestion, diarrhea, and gastric pain.
Frequently Asked Questions
Is snake gourd toxic?
Many trace minerals can be found in snake gourds.
As a result, excessive use is hazardous since it can lead to toxic quantities of these metallic elements accumulating in the system.
Is snake gourd considered a fruit?
Snake gourd (Trichosanthes cucumerina), commonly known as serpent gourd, is a fast-growing vine in the Cucurbitaceae family that is grown for its unusually shaped edible fruits.
Does Snake gourd require direct sunlight?
It is ideal to germinate snake gourd seeds indoors before transplanting them outside, and the seeds must first be soaked.
The snake gourd is a warm-season plant that prefers at least 6 hours of direct sunlight per day and temperatures ranging from 80°F to 95°F (27°C to 35°C).
What is the purpose of snake gourds?
It is also known as snake squash or club gourd, and it is frequently pickled with a texture similar to zucchini when young.
can be stuffed, baked, pickled, stir-fried, and used in a variety of curries and vegetarian cuisines, just like zucchini.
How do you cook using snake tomatoes?
Snake tomato is used in stews and many local recipes, but it is also used as medicinal due to its high vitamin concentration.
It was abundantly grown in the 1960s and was fairly prevalent in local markets, but presently few people, especially younger generations, are familiar with this dish.
Is it safe to eat raw snake gourd?
Snake gourds contain almost no cholesterol. As a result, they are suitable for regular ingestion.
They are especially useful for patients who have heart problems. Boiling snake gourds can be readily used in a variety of handmade Indian cuisines.
What is the best Snake gourd fertilizer?
As a basal dose, apply 10 kg of FYM, 100 g of NPK 6:12:12 combination per pit, and N @ 10 g pit 30 days after sowing.
Before the last plowing, apply Azospirillum and Phosphobacteria at 2 kg/ha and Pseudomonas at 2.5 kg/ha, together with FYM at 50 kg and neem cake at 100 kg.
Is it safe to eat snake gourd when pregnant?
Yes, sweetie, it is secure. Except for brinjal and bitter gourd, you can eat all veggies in tiny amounts at a time to avoid any negative effects.
Can a diabetic use a snake gourd?
Snake gourd can help manage blood glucose levels and keep diabetics under control. The vegetable is used to treat a variety of gastrointestinal disorders including inflammation.
It aids in the removal of harmful substances and is an excellent treatment for skin problems.
Is snake gourd safe for children?
Snake gourd contains a high concentration of important nutrients, vitamins, and minerals.
It is also high in vitamin A, B, and C, as well as manganese, magnesium, calcium, iron, potassium, and iodine, and can help you improve your overall health.
How do snake gourds reproduce?
Snake gourd necessitates the pollination of bees or insects in order to set fruit. Hand pollination is possible during the afternoon when blossoming is active. Hand pollination is most effective when the male flowers are fully open before daylight.
Can you provide a 7-month-old snake gourd?
Hello, good afternoon. Yes, you can feed your infant any gourd vegetable because they are light and easily digested by the body.
Can I eat the skin of a snake gourd?
Snake gourds used for eating have waxy green skin that is speckled or striped with a lighter shade of green.
How does snake gourd taste?
When the gourd is young, the seeds are scarce and the pulp surrounding the seed mass is hard. A Snake gourd tastes similar to a cucumber.
The rind of a Snake gourd hardens and turns crimson as it ages. The flavor turns unpleasant, and the insides become mushy.
How do you eat snake gourd?
They can be sautéed and eaten as a side dish or incorporated into recipes with other sautéed veggies, just like zucchini.
They can also be used in sabzi, curries, stuffed and grilled, chutney, fried, blended into soups, cut into stir-fries, or preserved for later use.
Is snake gourd safe for those with kidney disease?
Gourds are known as the "Gods of Vegetables" for kidney disorders. Bottle gourd, snake gourd, ridge gourd, striped gourd, bitter gourd, and other gourds are among the many varieties of gourds.
These gourds have low salt and potassium levels. As a result, they are appropriate for intake by patients suffering from kidney disease.
Snake tomato game ~ what is the purpose of the snake game?
The object of the computer action game Snake Game is to guide a snake as it moves and gathers food on a map.
Tomato leaf snake
Snake tomato seeds, roots, and leaves are very effective at regulating digestive issues. It aids in the removal of toxins from the body.
Tomato snacks ~ are tomatoes good to snack on?
The best (and simplest) method is left for last: eating raw tomatoes is by far the healthiest way to take pleasure in this fresh fruit.
It's difficult to surpass that fresh-from-the-garden, raw tomato taste, so eat them as a portable snack, add them to a light salad, or slice them up and put them on a sandwich.
Meaning of Ark of Taste
A project of the Slow Food Foundation for Biodiversity is The Ark of Taste.
It is a list of items from many cultures and traditions around the world that are in danger of going extinct.