Spaghetti Meatballs/Spaghetti with meatballs/spaghetti and meatballs is an Italian-American dish consisting of spaghetti, meatballs and tomato sauce. Am sure you all know this recipe is coming after writing Meatball Recipe: Easiest Method.
Spaghetti Meatballs is the ultimate comfort food to share with your family! Tender and juicy meatballs cooked gently in a rich tomato sauce and placed over spaghetti noodles. A weeknight low-cost recipe classic
Best Spaghetti Meatballs Recipe is so easy to put together and should be in everyone's list. Making tomato sauce and meatballs in advance is a great way to make sure you have dinner in the freezer at any time you need it. However, one of the great joys of life is eating what we want especially when we want it.
Spaghetti Meatballs Recipe
There are three parts to making this recipe. The first is to make the meatballs, next is to prepare the tomato sauce, and finally, is to cook the spaghetti
Ingredients
10-12 vegetable meatballs (Please Read: Meatball Recipe: Easiest Method)
1 Pack of spaghetti
800 g tomatoes
2 medium onions
1 cooking spoon vegetable oil
1 seasoning cube
2 tsp seasoning powder of choice
A chunk of fresh ginger
5 leaves fresh basil (Efirin) leaves, torn or thinly sliced
Salt and pepper to taste
Method
First of all, blend the tomatoes, ginger, onions, and pepper together and pour into a medium-sized pot. Add the seasoning cube, powder and vegetable oil and put on medium heat to cook.
Now, gently put in the meatballs into the tomato stock to cook together and cover your pot. No need to stir for fear of burn since your heat is moderate. Cook pending when the tomato juice dries up leaving only the tomato sauce.
Next, put a pot of water to boil. Add the spaghetti to the boiling water and add a few drops of oil and salt. Cook until tender to your choice and then drain in a strainer.
Furthermore, check your tomato sauce to ensure the taste is okay, otherwise adjust your seasonings.
Then, reduce the heat and add the spaghetti to the sauce. Mix very well and cover to cook for a minute or two, before putting off the heat. Top with Efirin leaves.
Finally, your spaghetti and meatballs are ready to be served. Enjoy.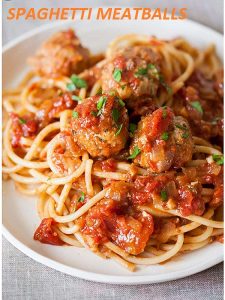 Do you love this recipe? Kindly click the share buttons and drop a comment below. I take pleasure in reading from you. Thanks for visiting 9jafoods today.