Ugu Juice Side Effects & Benefits of Pumpkin Leaf Juice
Ugu Juice Side Effects and Health Benefits of Pumpkin Leaf Juice, how to make Ugu leaf juice, Ugu leaf juice as a blood tonic in pregnancy and the Health benefits of pumpkin leaf juice will be discussed in this write-up.
Fluted pumpkin is a widespread vegetable in West Africa, particularly Nigeria. It's used to make soups like; Egusi, ogbono, Okra, vegetable, and other traditional soups.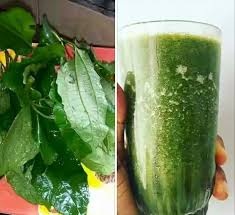 Ugu leaves are also used to make stews/sauces. Pumpkin leaves are a rich source of nutrients like iron, which helps with blood circulation and moderates menstrual cramps.
Related >>> Pumpkin Soup: How to Cook Nigerian Ugu Soup
Ugu Juice Side Effects: Can Pumpkin Leaf Be Eaten Raw?
Pumpkin leaves can be eaten raw though cooking brings out the true flavor of the leaf.
Ugu Juice Side Effects: What is Ugu called in English?
Popular names for the plant include fluted gourd, fluted pumpkin, ugu/ugwu (in the Igbo language), and ikong-ubong (in the Efik and Ibibio languages).
Fluted pumpkin (Telefairia occidentalis) is also locally known as  Eweroko in Yoruba, Kabewa in Hausa, Krobonko in Ghana, and Gonugbe in Sierra Leone.
What Does Pumpkin Leaf Give To The Body?
Fluted pumpkin leaf is a rich source of dietary fiber that could help in the proper maintenance of the digestive system, thus reducing the risk of health conditions such as irritable bowel movements, constipation, and other causes of digestive problems such as ulcers and gastroparesis
Other Health Benefits Include:
Helps to solve liver and kidney problems
Improves eyes health
Treats arteriosclerosis
Lowers high blood pressure risks
Improves lactation
Boosts weak immunity
Boosts fertility
Relieves morning sickness
Helps in the treatment of Hepatitis A and Reactivates Liver Function
Has sedative benefits
Prevents convulsion
Protects from infections
Ugu leaves help your skin by serving as a:
Anti-wrinkle and hydrating effect
Healthy and smooth skin
Treatment of burns and bites
There are several ways to use Ugu leaves in food. The most popular is to make juice from them. The sweet and savory juice is made from the green leaves of Ugwu
Pumpkin or Ugu leaf juice is extensively used in African cuisine as a side dish for meals or a natural alternative for carbonated drinks.
It is a very big source of vitamin D and minerals, so it is very beneficial for your health.
It is a great source of vitamin D and minerals, so it is very beneficial for your health. Also, it is very tasty and many vegetarians tend to prefer Ugu juice over other products.
Sometimes it is used in many sweets or medicinal products.
The Ugu leaf or simply pumpkin leaf is full of iron, which helps with blood circulation and reduces pain during "special days" in the lives of all women.
Ugu Juice Side Effects: How to Make Ugu Leaf Juice?
Before we talk about the side effects of ugu leaf juice, let us first show you this easy recipe for preparing pumpkin leaf juice.
Pumpkin Juice Recipe
Firstly, wash, and rinse the ugu leaves with water properly.
After that, blend or pound the leaves.
Lastly, sieve.
The juice can be taken straight away, with milk or with a bottle of malt drink or orange (optionally).
Ugu Juice Side Effects, Please Note:
Ugu juice should be boiled for 90 to 120 seconds. In this way, all the vitamins will stay in the juice, making it not just a tasty drink but a healthy one as well. Allow cooling of the juice
The drink, made from Ugu leaves may not be as sweet, but it does contain a lot of nutrients, which are good for your health.
Therefore, pumpkin leaves juice assists your health, skin, and hair conditions. Also, it is a very stimulating and enjoyable drink both in hot and cold weather.
Hence, if you want something fresh and hale and hearty, make your Ugu leaves smoothie
The Health Benefits of pumpkin leaf juice are known in nearly every country but have you ever heard about the side effect of Ugu leaf juice?
Ugu Juice Side Effects
There is no side effect of ugwu leaf juice recorded as of present… Simply make sure that the leaves are well washed before squeezing them into juice (to avoid contaminants). Moderation is always the key