Brown Stew Chicken – How to Make Jamaican Brown Chicken
Brown Stew Chicken is a traditional Jamaican stew that combines chicken, veggies, and aromatic spices.
Tender chicken, savory and thick brown stew sauce and a deliciously fragrant kitchen are the end results.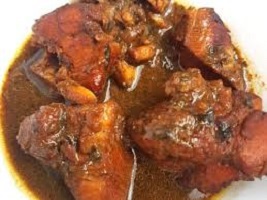 What is Jamaican Brown Stew Chicken, and how does it differ from other types of chicken?
This Caribbean household staple is a traditional Caribbean dish that features spicy marinated chicken pieces and a thick, zesty gravy.
Jamaican Brown Stew Chicken is a traditional Caribbean favorite dish. Every bite is full of vegetables and fragrant spices, making each serving very tasty and soothing.
Brown Stew Chicken is rich with Caribbean flavor and makes a great weeknight dinner dish. When you want a taste of the islands, this stewed chicken meal is ideal.
It's quite simple to prepare and comes together quickly. Great for weeknight dinners or entertaining!
Brown stewed chicken takes a little longer to prepare than most other stew recipes. The meat is washed before being marinated in a mixture of browning sauce, chopped aromatics, and a few dry seasonings.
The meat is then briefly browned on the stovetop or in the oven before being stewed for 30-40 minutes, or until tender.
What is Browning Sauce/Seasoning?
The browning sauce is one of the main flavor boosters in this chicken stew recipe. It's a condiment made from caramel color, vegetable concentrates, and seasonings that's popular in Caribbean families.
This sauce is mostly used to enhance the flavor of meat and darken the broth in soups and stews. It's available in prepared and dried gravy mix under the brand's Gravy Master, Grace, and Kitchen Bouquet at Caribbean Markets, Wal-Mart, and even select supermarkets.
What is a Browning Sauce Substitute?
But don't worry; if you can't find one, you can easily construct one at home. Simply combine ½ cup brown sugar and 1 cup water in a small saucepan and simmer over low to medium heat until it turns nearly black.
Remove from heat and stir in a teaspoon of concentrated beef or veggie stock. Reheat on low heat, stirring constantly, until everything is well combined.
What to Serve with Chicken in a Brown Stew?
To be honest, I couldn't think of a better side dish for this quick and tasty Jamaican Brown Stew Chicken than rice. If you ask me how our dining table looks when we have this chicken stew for dinner, I normally write the following on the menu:
Want to cook this in a slow cooker? Check out this Jamaican recipe
Oxtail Stew
Jerk Chicken
Easter Spice Bun
Slow Cooker Jamaican Curry Chicken
How to Make Authentic Brown Stew Chicken
Ingredients for Chicken Marinade
3 ½ – 5-pound chicken, cut in 10 pieces
1 teaspoon bouillon chicken powder
½ teaspoon minced ginger
1 teaspoon minced garlic
Salt and pepper to taste
½ teaspoon white pepper
1 teaspoon fresh thyme
½ teaspoon paprika
2 green onions, diced
Brown Chicken Stew
2 tablespoons or more canola oil
1 medium onion, diced (about 1 ¼ cups)
2 teaspoons minced, garlic
1 teaspoon fresh thyme
teaspoon hot sauce sub chili sauce
1 ½ teaspoon paprika
tablespoon brown sugar
1-2 teaspoons browning sauce
2-3 ketchup
Two small bell peppers, red or green, sliced
Salt and to taste
1-2 cups (237-474g) chicken broth/water
Instructions
Firstly. using paper towels, pat the chicken dry. Then, in a mixing dish, season the chicken with salt and pepper to taste.
2.Secondly, add the chicken bouillon powder, ginger, garlic, white pepper, thyme, paprika, and green onions, and stir to combine. Mix the chicken thoroughly with a spoon or your hands until well coated, then cover securely and store in the refrigerator. Marinate for at least an hour, or better yet, overnight.
Thirdly, remove any excess particles from the chicken and then, set aside for later use when ready to cook. 2 tablespoons oil, heated in a large pan (I used 12-inch cast iron).
Fourthly, cook the chicken for 3-4 minutes, or until golden brown; remove from pan and arrange on a platter. Remove any extra oil from the skillet, leaving only about 2-3 teaspoons.
After that, add onions, garlic, thyme, hot sauce, paprika, sugar, browning sauce, ketchup, bell peppers (add some or all of the bell peppers towards the end of cooking), and salt to taste to the same pan. Stir for 2-3 minutes, or until the onions are transparent. Pour in the leftover chicken marinade.
Then, pour water into the pan to deglaze it. Return the brown chicken to the pan and bring to a boil.
Finally, cook, covered, for about 25 minutes, or until the chicken is cooked through and no longer pink, and the sauce has thickened slightly. As you go, add more water to adjust the salt, pepper, and soup consistency.
Remove the pan from the heat and serve with Caribbean Rice and Beans.
Notes & Suggestions
Keep in mind that nutritional information is an approximate estimate that varies substantially depending on the products used.
Nutrition Information
Calories: 289kcal (14%) |Carbohydrates: 9g (3%) | Protein: 16g (32%) | Fat: 21g (32%) | Saturated Fat: 5g (31%) | Cholesterol: 92mg (31%) | Sodium: 221mg (10%) | Potassium: 342mg (10%) | Fiber: 2g (8%) | Sugar: 6g (7%) | Vitamin A: 1725IU (35%) | Vitamin C: 54mg (65%) | Calcium: 19mg (2%) | Iron: 1mg (6%)