Carrot Stew Recipe: How to Cook Delicious Nigerian Stew
Carrot stew is the best substitute to tomato stew; it is more of an intercontinental dish than a Nigerian tomato stew and it's not popular in the country.
Tomatoes make up the majority of our meals. We use tomatoes for stews and soups that are staples in Nigerian cuisine.
There is hardly a sauce cooked without tomatoes in it. The red color adds so much allure to sauces and stew recipes,
But, every day is not Rice and tomato stew, there are a lot of stews you can make without tomatoes
The Question Is: When There Is Tomato Scarcity Or Hike In Price In Nigerian Markets Or Need For A Change Of Stew, What Do You Do?
Necessity is truly the mother of invention,
One alternative to tomato-less stew is banga stew or ofe akwu which I made here in my other post, you can check it out.
Another simple way to make your tomato-less stew is to make use of this lovely sweet orange vegetable called carrot.
The dish is best if you are besieged to get more vegetables or carrots into your child's meals.
Carrot has no strange flavor and it does not overpower the taste of other ingredients in stews.
Carrot stew is the best alternative to tomato stew.
It can be used for any other dish that can be used with tomato stew and also goes with a lot of varieties such as boiled white rice, Macaroni, Spaghetti, Couscous or Yam, plantain(ripe or unripe), just name it
Carrot can as well be used in the preparation of other recipes such as meat pie, vegetable sauce, fried rice, carrot stir fry, carrot sauce, vegetable salad, vegetable carrot stew, vegetarian carrot stew, and a whole lot.
Tomato stew is used in the process of preparing jollof rice likewise carrots, which is used to prepare carrot jollof rice.
Above all, carrot stew is as important as tomato stew because they meet almost the same need.
Before going ahead with how to prepare this special stew, I'll like to explain the health and nutritional benefits of carrots.
Nutritional benefits of carrots
It is crunchy, tasty, and highly nutritious.
Carrots are a particularly good source of beta carotene, fiber, vitamin K1, potassium, and antioxidants.
In skincare, carrot does a great job, as it's used in most skincare and beauty products.
It's also the basic ingredient in the production of carrot oil and carrot powder.
They also have several health benefits:
They are a weight-loss-friendly food and have link to lower cholesterol levels and improved eye health
In Nigeria, carrot is seasonal and relatively cheap whenever it is in season.
Nigerian Carrot Stew Recipe
One good thing about this carrot stew is that you can use any type of meat to prepare it (chicken, fish, snail, beef or goat meat goes so well with carrot stew).
Ingredients for Carrot Stew/Tomato-less Stew
15 piece of beef (assorted meat or chicken)
8 Large carrots
3 scotch bonnets
5 red bell peppers
2 medium onions
1 small ginger, grated
1 teaspoon curry
3 cloves of garlic, minced
1 teaspoon thyme
2 stock cubes
2 bay leaves, optional
1 cup of beef or chicken stock
Cooking oil (enough to fry the meat)
Salt to taste
How to Make Carrot Stew/Tomato-less Stew
Firstly, season the meat with onions, Maggi, pepper, and salt, add water and cook until tender. Set aside.
Secondly, heat oil in a pan and fry the meat until golden, remove from the oil and put aside.
Thirdly, cut carrots into smaller sizes, mix with peppers and equal part of onions and cook until translucent.
Fourthly, drain the carrot from the liquid and allow cooling, blend everything without water into a smooth puree and set aside.
After that, place a pan on heat; add 2 cooking spoons of oil, once hot, add onions, garlic, and ginger. Fry for a minute.
Then, add the blended carrot and stir-fry on medium for 10 minutes or until the oil floats to the top.
In addition, put bay leaves; season the stew with curry, thyme salt, and 2 seasoning cubes. Stir to combine.
Add the meat stock to the stew, and cook the stew for another 10 minutes while stirring occasionally.
Return the fried meat to the stew, stir and cook for another 5 minutes.
Lastly, adjust for seasonings if need be. Take out bay leaves and the stew off from heat.
Pair with whatever you enjoy with tomato stew.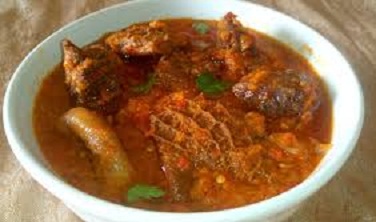 Summary
Now you know about carrot stew and benefits, if you have the option of choosing between the two (tomato/carrot stew) which one will you choose?
Tomato stew or carrot stew which do you prefer?
.