Deep Fried Carrot: Carrot Fries, Carrot Chips Recipe
Deep Fried Carrot: Carrot Fries, Carrot Chips Recipe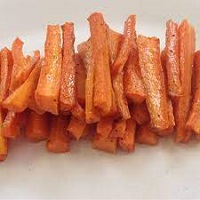 Once you've mastered the basic deep-frying technique, you may branch out and experiment with various vegetables, such as carrots.
French-fried carrots have a golden-brown surface and a fluffy interior, even though most people equate frying with oiliness.
Related >>>>
Deep Fried Carrots
Sweet, savory, and easy to prepare, carrot fries are easy with sweet potatoes flavor.
They are so delicious that you can prepare a batch and have them gone in minutes, with the only complaint being that you didn't make enough.
They're similar to potato chips (french fries), which are the ultimate quick food, especially when combined with a hefty hamburger.
Carrots can be boiled, fried, steamed, or roasted, and they can be consumed raw or cooked.
Used in desserts and savory dishes, in soups and sauces, in rice, couscous, cakes, dals, stir-fries, and wraps.
Carrots are used in baking cakes, muffins, jams, and puddings, as well as in desserts and veggie sides. Carrots make a wonderful infant meal when pureed.
Carrot fries can be deep-fried or baked after being dehydrated into chips, flakes, or powder.
Carrot fries are a healthy substitute for French fries, and baking them makes them even healthier and Paleo.
There are vegan, vegetarian, keto, gluten-free, and paleo diets to choose from.
Carrot fries with a dash of my homemade Shawarma spice combination.
Deep-Fried Carrot Nutrition
Carrots, especially orange carrots, are abundant in antioxidants, beta-carotene, and other health-promoting elements.
It may surprise you to learn that only a small percentage of the beta-carotene in raw carrots is released during digestion, but absorption improves by up to 6.5 times when the carrots are cooked.
By pulping, heating, and adding cooking oil, you can boost beta-carotene release. Almost any tuber or root crop, such as yam, sweet potato, eggplant, squash, and so on, can be made into fries.
Try these carrot fries if you're craving fried food; they're a great side dish or snack for adults and kids alike. It's also a great way to persuade veggie skeptics to eat their greens.
It's better to serve them hot and fresh. If served cold, their crispiness does not endure for long.
Deep-Fried Carrot Recipe
To make carrot fries, you'll need to
5 oz carrots (550 g)
2-3 tbsp flour
1 cup yogurt
salt
Two eggs
breadcrumbs
Dill
How-to: Deep Fried Carrots
Firstly, prepare the carrots by boiling them and slicing them lengthwise. After that, roll them in flour, then in egg, breadcrumbs, and egg before frying them in heated oil.
Lastly, to remove the excess oil, place them on a napkin. Serve the crumbed carrots with a yogurt sauce made from beaten yogurt, a little oil from the carrots' frying, salt, and chopped dill.
What are the calories in fried carrots?
Crispy Baked Carrot Fries are the perfect healthy side dish to satisfy your french fry cravings without guilt, with only 170 calories per serving.
These surprisingly tasty carrot fries with seasonings without (or unnecessary oil) of deep-frying, tastes just like sweet potato fries!
Serving Suggestions on Deep Fried Carrot
As a garnish for appetizers and main courses, for example, with pumpkin, celeriac, leek, potato, or onion components.
Make the carrots more interesting by chopping them into thicker strips and then cover them in tempura batter. As an aperitif snack, serve them.
Then, combine with pheasant pointed cabbage, and sweet potato in a composition.