Goron Tula and Weight Loss: Miracle Seed for Shedding weight
Goron Tula and Weight Loss:  Miracle Seed for Shedding weight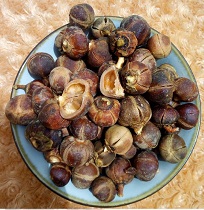 The Goron Tula and weight loss are becoming increasingly hot topics of conversation. It is no longer news that many people have discovered the benefits of gorontula for weight loss, infertility treatment, fertility enhancement, and infection care.
Because of its numerous health benefits, this fruit is a magical food that should be found in every home.
Goron Tula and Weight Loss
The rising public awareness surrounding this wonder fruit has prompted me to write about it regularly.
Goron Tula has become more popular as a result of our earlier articles on the issue. This serves as a source of inspiration for us to continue writing about this miraculous fruit.
Read on to learn how to utilize African Chewing Gum for weight loss, fertility, and infection treatment from the articles below.
Goron Tula for Weight Loss
The Goron Tula is a good option for people who want to lose some of the weight they've gained as a result of consuming too many calories.
Goron, Tula Composition
One of the benefits of this fruit is that it is high in nutrients, the majority of which have been found through research.
The phytochemical composition of Azanza garckeana seed showed (0.22%) Tannin, (1.00%) Alkaloids, (1.72%) Saponin, (3.70%) Flavonoids, (2.60%) Phenols, (0.33ug/g) Cyanogenic glucosides, and (3.40%) Carotenoids."
One of the benefits of this fruit is that it is high in nutrients, the majority of which have been found through research.
Weight Loss with Goron Tula
If you've ever had the pleasure of tasting Goron Tula, you'll notice that it's sweet and tastes similar to honey or dates.
But it differs in that it is high in fiber, which is one of its advantages when it comes to weight loss.
It Reduces Cholesterol Levels
Another study by the National Center for Biotechnology Information (NCBI) on saponins clarified the function of this component in humans.
"Clinical investigations have revealed that these health-promoting components, saponins, impact the immune system in ways that protect the human body from malignancies while also lowering cholesterol levels.
"Saponins help to lower blood lipids, cancer risks, and blood glucose response."
Cholesterol has long been linked to weight gain.
But different research has shown that someone could be slim yet have high cholesterol.
However, the majority of the research on cholesterol has shown that lowering cholesterol could help anyone lose weight.
As a result, anyone looking to lose weight can eat Goron Tula as a snack to lower cholesterol.
You will see benefits if you stick with it long enough.
Goron Tula and Weight Loss: The Bottom Line
Goron Tula is well-known for its ability to burn fat.
Gorontula aids in healthy weight loss by assisting in the burning of excess calories in the body as well as the burning of belly fat for a flat stomach.
Make an effort to adopt a generally healthy lifestyle by exercising, staying hydrated, and eating more fresh foods rather than fried or sugary foods.