Goron Tula Syrup Health Benefits, Uses, & Side Effects
Goron Tula Syrup Health Benefits, Uses, & Side Effects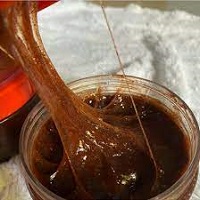 Do you know what Goron Tula is? Are you curious about Goron Tula, also known as Snot Apple? Are you aware of this miraculous fruit's health benefits? Or how to use Goron Tula for infection?  Are you interested in learning more about Goron Tula Syrup?' Don't worry, you're not alone!
The good news is that you've found this article, and now you can know everything there is to know about Goron Tula and Goron Tula Syrup!
Those who are aware of gorontula's numerous health benefits refer to it as a "wonder fruit." Established as the tree of hibiscus, it has many names namely:
Common names of Goron Tula
African chewing gum – because of its soft and chewy texture
Miracle Fruit
Snot Apple (English)
Morojwa (Botswana)
Thespesia garckeana (Binomial name)
Nkole (Sri Lanka)
Azanza Garckeana
Silky Kola
Goron Tula has numerous health advantages.
Goron Tula Syrup: What is Goron Tula Used For? Health Benefits of Goron Tula
Goron Tula is mostly used to enhance sexual health and well-being.
Colds, coughs, sore throats, and fevers have all been treated with it for generations.
Goron Tula is the way to go if you are experiencing hormonal imbalance and want to reclaim your groove.
It tastes great and will help you restore your body's natural testosterone production, balance women's hormone levels, control menstruation cycles, and get rid of all those bothersome problems that make a woman feel less than her best.
Goron Tula is commonly known to be effective in the treatment of asthma and other respiratory problems.
How Do You Eat Goron Tula Fruit? 
Goron Tula can be consumed raw, as a syrup, or as a powder.
Raw Goron Tula
Goron Tula can be eaten raw after the seed has been extracted by just chewing the raw flesh of the fruit.
Goron Tula powder
If you don't want to consume Goron Tula's raw fruit, you can take the powder version instead, which has the same health benefits. Freshly ground powdered form can be added to food as an additive or supplement.
Goron Tula Syrup/Juice
Goron Tula fruits can be made into jelly by submerging them in a small amount of water. The Goron Tula syrup is created in this manner. The syrup is all-natural and organic.
Goron Tula Syrup is claimed to aid in the cleansing of the body system, the prevention of ailments including high blood pressure, and the treatment of infertility issues. It also has aphrodisiac properties.
Can aid with bowel movement, digestion, and the immune system of the body. It is, maybe most importantly, suitable for consumption by people of all ages.
Goron Tula Seeds have been discovered to be used as natural treatments for a variety of illnesses and conditions.
Goron Tula Syrup Recipe/Juice Extraction – How to Extract Goron Tula Juice
Although some people find Goron Tula syrup extract slimy and unattractive, it is the reason why others enjoy it.
You've seen advertisements for this fruit that show off the slimy, thick goron Tula juice texture
This slimy goron Tula juice has been used to demonstrate how effective the miracle fruit is in getting a woman's reproductive canal wet.
It's also been used to establish how effective it is in keeping men's manhood fluid healthy. All of these assertions are correct.
We'll go over at least two methods of Goron Tula syrup making
1st Method: extraction of Goron Tula Syrup with Water.
In this case, water is used to extract the juice.
You'll need a pot, clean water, a piston and mortar, a spoon, a filter, and a bowl for this.
Procedure
Firstly, bring the water to a boil, and then pour it into a bowl with some goron Tula fruits.
After that allow the fruits to soften and release their juice for a few minutes.
Now, open the fruits and remove the seeds once they are mushy.
Then, gently wash the inside section of the seed, making sure the juice emitted is not washed away.
Goron Tula Fruits Juice with water
In a mortar, pound the washed fruits.
Now, pound for several minutes, or until you see the juice dripping off.
Finally, after some time has passed, add clean water, preferably warm water, to it. Wear a nylon glove and wash it for a few seconds before filtering it.
Your Goron Tula syrup is now ready to use. You can only take a tablespoon at a time. It's important to remember that taking too much of it can result in an overdose.
2nd Method: Juicing Goron Tula Without Water at Home
This one is usually slimmer, but you'll need a lot of goron Tula to get a good quantity.
Firstly, after soaking in hot water and pounding, repeat the above process.
After that, wear a nylon glove after pounding it and then mash or press it with your hands to get the juice.
lastly, to extract the juice, you may need to press it with both hands.
Dosage/How to drink Goron Tula syrup: To be taken daily or chew two raw goron Tula fruits before going to bed
Goron Tula Syrup Benefits
The following are some of the advantages of Gorontula juice:
Treats abdominal and chest pains
Helps with cough
Treats liver problems
This wonder fruit is high in antioxidants, including carotenoids, which aid in the detoxification of the body's system. This stimulates your liver and aids in the detoxification of your system.
It increases libido
It lowers your risk of cancer
Antioxidants in the fruit aid in the fight against antibodies that might harm the body's cells
Lowers or reduces blood sugar levels; this is especially beneficial for diabetics. It can also be applied to everyone.
Helps to keep High blood pressure in check
Tannins found in Gorontula have been linked to a variety of metabolic consequences in humans.
It promotes blood coagulation, lowers blood pressure, lowers serum cholesterol levels, and causes liver necrosis.
Gorontula syrup also aids in the modulation of immune responses. Though, the dosage and type of tannins, on the other hand, are critical to these effects.
Saponins, one of the components of this wonder fruit, aid in the improvement of one's eyesight.
They promote immune function by encouraging the formation of T-cells and have antibacterial characteristics that protect the body against fungus, germs, and viruses.
They're also antioxidants, which help to minimize oxidative stress.
Side Effects of Goron Tula
Thus, just because Goron Tula is known as the "Miracle Fruit," doesn't mean it's always a miracle worker. It can sometimes be harmful to your health, especially if abused or taken in excess.
The Goron Tula fruit, or Goron Tula Powder, is not for the faint-hearted.
If you're courageous enough to taste it, be prepared to experience the bitter side of this amazing fruit.
Let's look at some of Goron Tula's adverse effects:
Menstrual Cycles in the Early Stages
Women who are due to have their period in a few days may get an unexpected guest if they ingest an excessive amount of the fruit.
Yes, an overdose is defined as ingesting more than 10 fruits or Goron Tula Powder in one day, resulting in an early menstrual cycle.
One of the benefits of the fruit's antioxidants is that they help to rid the system of any impediments. This is why it promotes fertility.
Allergy Reactions
We recommend avoiding Goron Tula if you have a Goron Tula allergy. Better yet, tell your doctor if you've ever had an adverse response to Goron Tula.
This is because Goron Tula contains a high amount of polyphenol, which is generally safe for most individuals but can be harmful to others.
As a result, people with medical conditions are often advised to avoid fruits like Goron Tula.
If you consume Goron Tula despite being allergic to it, you may develop hives, itching, or other allergic reactions.
Frequently Asked Questions about Goron Tula Syrup 
What is the work of Gorontula syrup?
Gorontula Syrup is supposed to help cleanse the body system, prevent ailments such as high blood pressure and alleviate issues of infertility. It also has aphrodisiac properties.
Can aid with bowel movement, digestion, and the immune system of the body. It is, maybe most importantly, suitable for consumption by people of all ages.
Is it possible to Mix Goron Tula Syrup with honey? Can Goron Tula Syrup be combined with honey? How to make Goron Tula syrup with honey?
You can combine sesame seeds (which are highly therapeutic) with honey or sugar.
How do you Use a Goron Tula Fruit?
Goron Tula: How to Use It
Chewing Gorontula when it is ripe is the simplest way to use it; they are chewed like gum producing a sweet taste.
After removing the seed, you can enjoy the flesh of the fruit raw.
To prepare Goron Tula jelly, soak the fruits in a tiny amount of water.
They can also be cooked into porridge or boiled and served as a condiment.
Are Goron Tula seeds edible?
Absolutely, after extracting the seeds, it can be chewed raw
How To Preserve Goron Tula Syrup
Put the flesh or pulp in a small transparent container that is air-tight, cover the container, and then put it in the refrigerator.
How to use Goron Tula for kayamata? What are your best ways to use Goron Tula sweeteners?
Chewing Gorontula when it is ripe is the simplest way to use it; they are chewed like gum and produce a sweet taste.
After removing the seed, you can enjoy the flesh of the fruit raw.
The fruits could also be made into jelly by soaking them in a tiny amount of water.
The bottom line on Goron Tula Syrup 
That's pretty much everything there is to know about Goron Tula Juice and the incredible health benefits of Goron Tula fruits.
However, now is the time to enjoy this wonderful Tula fruit syrup, or give a gift package of this Miracle fruit to someone who needs it. You know, that would be very thoughtful of you.
For more information on Goron Tula Syrup Health Benefits, kindly read our earlier published articles below:
Please share this with your friends and family if you find it useful.