Goron Tula Extract – How to Extract Goron Tula Juice [Syrup]
Goron Tula Extract – How to Extract Goron Tula Juice [Syrup]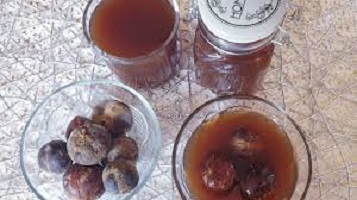 How to make Goron Tula syrup with Honey, How to make thick goron tula juice, How to preserve Goron Tula syrup, How to make Silky kola syrup.
Although some people find Goron tula juice extract sticky and unattractive, it is the reason why others enjoy it.
You've seen advertisements for this fruit that show off the slimy, thick goron Tula juice.
Hot Topics Related to Goron Tula Extract
However, this slimy goron Tula juice has been used to demonstrate how successful the miracle fruit is in getting a woman's v@ginal canal wet.
It's also been used to show how effective it is in keeping men's fluid healthy. All of these assertions are correct.
However, not everyone enjoys chewing the dried Goron Tula fruit
Goron Tula Extract
We'll go over how to extract the juice in more detail in this article.
We'll go over at least two methods for extracting goron Tula juice.
Water Extraction – Goron Tula Extract
You'll need a pot, clean water, a piston and mortar, a spoon, a filter, and a bowl for this.
Firstly, bring the water to a boil, and then pour it into a bowl with some goron Tula fruits and puree.
Then, allow the fruits to soften and release their juice for a few minutes.
After that, open the fruits and remove the seeds once they are mushy. Gently wash the inside section of the seed, making sure the juice emitted is not washed away.
Goron Tula Fruits with Juice 
In a mortar, pound the washed fruits.
Pound for several minutes, or until you see the juice dripping off.
After some time has passed, add clean water, preferably warm water, to it. Wear a nylon glove and wash it for a few seconds before filtering it back into the basin.
Your juice is ready to drink. You can only take a tablespoon at a time. It's important to remember that if you consume too much, you risk overdosing.
    Goron Tula Juicing Without Water – Goron Tula Extract
This one is usually slimmer, but you'll need a lot of goron Tula to get a good amount.
After soaking in hot water and hammering, repeat the process.
Wear a nylon glove after crushing it and then mash or press it with your hands to get the juice.
To extract the juice, you may need to press it with both hands. After you've extracted the juice, toss out what's left in the sieve (filter) and pour the liquid into the pot.
Lastly, your goron Tula extract is ready
How to produce honey-based Goron Tula syrup – How to make Goron Tula syrup with Honey
You can add sesame seeds (which are very therapeutic) and honey or sugar to the juice. I mix natural components for a variety of reasons.
For eating, combine the goron Tula syrup with yogurt, cloves, custard, and pap.
How to Keep Goron Tula Syrup Fresh -Preserve Goron Tula
To keep food from spoiling, keep it refrigerated in a plastic or glass container.
Goron Tula syrup with honey has numerous advantages – benefits of goron Tula syrup with honey
The primary ingredients are gorontula, honey, and clove; it is suitable for everyone; you may open and consume it whenever you want because it is a syrup; it lasts longer than the fruit.
It cures weak formation in men.
Increases motility in men.
It helps treat v@gina dryness.
Removes the odor.
It makes child delivery easier
Boosts fertility in women and men
It makes you achieve intimate satisfaction
Where to buy Goron Tula
You can order online from Jiji.ng
It is important to note that you learn how to make Goron Tula syrup at home (DIY) because it is expensive.