How to make Akara with Bean Flour – Best Method
How to make Akara with Bean Flour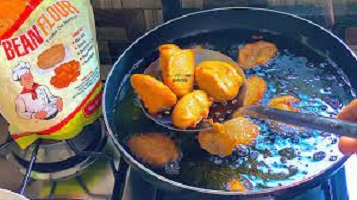 Akara is a bean paste or bean flour fritter that is deep-fried. It's also known as Kosai, Bean Cake, Akara Chips, Acaraje, or Beanballs, and it's typically made with black-eyed peas (beans), but it can be made with a variety of beans.
In Nigeria, akara is a popular breakfast meal. It can be eaten as a snack or as a meal, and when served as a dish, it is commonly paired with pap (corn starch paste) or custard. It can also be used to make a vegetarian "burger" or a sandwich filler.
These delectable bean cakes are sold from large frying pans filled with oil on street corners.
If the Akara seller is good, there will undoubtedly be a line of people waiting to buy the hot Akara first thing in the morning.
Soft Akara is best served warm or hot and is suitable for vegetarians and vegans.
How to make Akara with Bean Flour
Making Akara used to be time-consuming, but now since there are so many gadgets available, you can make it in a fraction of the time and with less work, especially if you use bean flour.
Checkout >>> Nigerian Akara, Moi Moi, and Gbegiri with Beans Flour
Furthermore, if you live in an area where you can't buy beans or simply don't want to deal with the hassle of washing beans from scratch, bean flour is a viable option.
Beans can be ground into a powder, just like yam can be blended into a powder to make Amala, which eliminates the most time-consuming step in the making of Nigerian Akara.
Do you want to know the steps in making bean flour? Then checkout >>> Homemade Beans Flour: Steps in Making Bean Flour
How to make Akara with Bean Flour
We completely forgot about the beans powder until last evening because I am so used to making Akara from unpeeled beans or simply using a blender to peel the beans.
How to make Akara with Bean Flour – best method. It's simple, quick, and efficient with excellent results. I'm going to show you how to make akara with beans flour today.
For every method you have tried while making akara with beans powder, this is the best method so far.
How to make Akara with Bean Flour – Ingredients
Dry Bean's flour (Powder)
Onion
Salt
Pepper (Optional)
Oil for frying raw Eggs (Optional)
Oil for deep frying
How to make Akara with Bean Flour – Method
Firstly, throw the flour into a mixing bowl and gradually add water while stirring until you achieve a thick consistency (thick paste to enable it to form a ball).
Secondly, unlike moi moi batter, Akara batter should be thick. Pour the thick paste into a food processor.
Then, add chopped onion and a little water to enable smooth blending. I added a cup of diced onion to this quantity.
Fourthly, blend until the onion is completely combined with the beans flour. This mixing also aids in the incorporation of air into the beans.
Now, season with salt to taste. If you want to see chopped fresh pepper bits, mix them in with the salt.
After that, scoop with a deep spoon and fry in a low-to-medium-heat oil that isn't too heated. If you heat the oil too much, the beans flour akara will brown and burn before they are fully cooked.
Carefully, keep an eye on the pot and turn it over when one side begins to brown. Keep adjusting the heat as well. When it becomes too hot, you lower the temperature. When the saucepan starts to fry too slowly, gradually increase the heat until the cooking is completed.
Lastly, serve your akara balls made with beans powder with hot pap, toast, or custard.
Now you know How to make Akara with Bean Flour