How To Prepare Dry Okro Soup in Nigeria? Recipe Guide
How To Cook Dry Okro Soup in Nigeria? Recipe Guide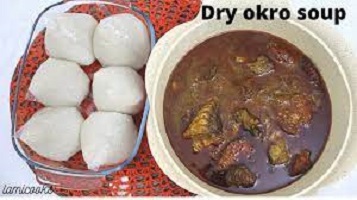 When it comes to soups, I feel we should all doff our caps to Nigerians; we know how to cook so wonderfully and with such passion.
Miyan Kubewa, also known as Miyan Bushhen Kubewa, is a Northern Nigerian variation of Okro soup, similar to orunla in the Southwest.
It lacks the vivid green color of fresh okro soup, instead of looking more like Indian curry and having a deeper flavor.
What is Dry Okro? – Dry Okro Soup
The flavor of dried okro is deeper and richer than that of fresh okro. Dried Okro is simply chopped Okro that has been sun-dried.
These are thought to be the Okro that are too hard to turn into a fresh pot of soup. Thus, rather than letting the excess fresh Okro waste during peak season, it is dried and used later.
Not only the fleshy parts but also the stalks are used.
Other Names for Dry Okro Soup:
Yoruba: Orunla or èekú or Epemu
Ebonyi: Ukpo Okwuru
Hausa: Busheshen Kubewa
Benue (Tiv): Gyande or Gbodi (the powdered/ground form)
Middle belt/North: Busheshen Kubewa
Igbo: Oro jagada
Health Benefits of Local Dry Okro Soup – Is Okra soup healthy?
Okra is a low-calorie vegetable that is high in nutrients.
It is high in vitamin C, which aids with immunological function.
Okra also contains vitamin K, which aids in blood clotting.
Antioxidants are natural substances that aid in the battle against free radicals, which can cause cell damage.
Benefits of okra sexually
Okra is another well-known love vegetable. It's a natural relaxant because it's high in magnesium. It's also high in iron, folate, zinc, and vitamin B, all of which contribute to the health and happiness of your reproductive organs.
Where it is eaten: 
It appears to be eaten all throughout Nigeria, including Northern Nigeria, the Middle Belt, Eastern Nigeria, and the West.
It's even eaten in "Northern Ghana, especially the upper regions during the dry seasons with TZ, banku, or fufu," according to Wikipedia.
Taste
The flavor of dried okro is deeper and richer than that of fresh okro. Fresh Okro appeared to be preferred.
Many people thought it tasted finest when prepared with smoked fish and game (bushmeat)
How To Make Dried Okra Powder?
Pick, wash, and stem okra to produce your own ground okra. Then place it in a dehydrator until it is completely dry (this might also be done in a low-temperature oven).
For the soup's preparation, okra powder can be found in the local market.
Always keep in mind that a small amount of ground dry okro goes a long way, and the soup will thicken as it cools.
Because it does not draw (mucilaginous) as much as fresh okro soup, akanwu is added (potash).
Okra powder uses – Okra powder can be used in a variety of ways
Okra powder can be used in a variety of sauces, including sweet potato leaf sauce, cassava leaf sauce, and Mafé (peanut sauce). It can also be substituted for fresh okra in lafidi or mixed with rice or fonio. It's also utilized in white meat or chicken sauces. Also, good for hair growth.
In this Miyan Kubewa, the boney flesh is extremely delectable. Okpei can be used instead of dawadawa. Some people include uziza seeds/leaves, crayfish, and/or onugbu in their recipes (bitter leaf)
After adding your dried Okro, this soup can become lumpy; to avoid lumpy Miyan kubewa, do one of the following:
Firstly, add the okra to your soup while stirring it.
Secondly, remove the meat and other bits from the broth and return them after adding the Okro.
Lastly, pour a small amount of hot water into your Okro and thoroughly combine, then stir into your simmering soup.
Although only a few ingredients are used in the creation of this soup, it yields a fantastic result.
In addition to the above ingredients, you can add washed bitter leaves or okazi leaves to the soup.
If you want to add bitter leaves or okazi leaves to your soup, do it after you've mixed and stirred everything together.
The leaves can then be added and cooked for 3-4 minutes before being removed from the fire.
You can make your soup using any type of meat (beef, chicken, mutton, etc.) and any type of seafood (fresh or dried) (prawns, mackerel, sardine, etc.)
You can make your soup using any type of meat (beef, chicken, mutton, etc.) and any type of seafood (fresh or dried) (prawns, mackerel, sardine, etc.)
Dry Okro Soup Recipe – How to Cook Dry Okra with Dry Fish
If you don't have access to pure groundnut oil, you can use vegetable oil, however, some people prefer palm oil
Dry okro, also known as busheshen okro, orunla in Yoruba, and jagada among the Igalas, can be found on the open market or in well-stocked African supermarkets.
If dry okro is unavailable, cut fresh okro into thin slices, spread out in a single layer, and air dry.
To Make Dry Okro Soup: Miyan Kubewa
Boney beef
Dry fish
2 tablespoons dry okro
¼ cup vegetable oil (1 cooking spoon)
1 medium onion
A teaspoon dry tatashe powder (Paprika)
2 scotch bonnets (ata rodo, fresh pepper)
1inch fresh ginger root (1/2 dry ginger)
2 2″-disc dawadawa
2 cubes seasoning cubes
¼ teaspoon kaun (akanwu, potash)
Salt
Method
Firstly, put beef in a pot, season with salt and seasoning cube, add some sliced onions and a little water.
Then, boil over medium heat until soft. Wash dry fish and set aside. Slice onions, grind the pepper, ginger, and dawadawa.
Thirdly, put vegetable oil in a pot over medium heat, when hot, add sliced onions. Fry until translucent.
After that add meat stock, meat, dry fish, tatashe powder, fresh pepper, crushed ginger, dawadawa, seasoning cubes, and akanwu.
Now, bring everything to a boil, cook for 15 minutes stirring from time to time.
Lastly, adjust for seasoning. Sprinkle in dry okro powder while stirring and cook for 3-5 minutes until ready.
Serve with any swallow of choice – Tuwo or Nigerian fufu