Wedding Fruit Cake: Best Nigerian White Cake Recipe
Wedding Fruit Cake: Best Nigerian White Cake Recipe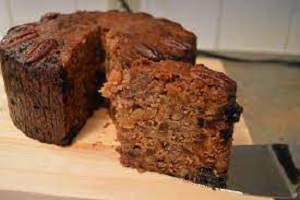 This delicious wedding fruit cake is rich, dark, deep, spicy, fruity, and decadent. The recipe is a more modest and contemporary spin on the traditional fruit cake.
It is lighter and easier on the tongue, but it still hits all of the usual fruit cake aromas. In Nigeria, it is typically used for weddings and as a Christmas cake.
If you've ever been to a Nigerian wedding and waited for a piece of cake at the reception, you'll note the unique dark hue, specks of raisins, and complex, somewhat alcoholic flavor.
Related Articles on Nigerian Wedding Fruit Cake
These are only a few of the qualities of the Nigerian wedding cake, which is actually a form of fruitcake. It does not, however, include as many fruits as typical fruitcakes.
The mixed fruits can be pre-soaked in Brandy for up to three months ahead of time or used dry.
To preserve the cake, soak it in Brandy or Rum before baking, as any alcohol added to the cake batter before baking will not operate as a preservative. However, it will give the cake a deeper flavor.
This recipe will teach you how to bake a delectable Nigerian wedding cake. People look forward to the light fruit desserts during weddings.
This Nigerian wedding fruit cake recipe is a crowd-pleaser.
Ingredient Lists for a Nigerian Wedding Fruit Cake
The numbers given below are what I used for a cake baked in a 10-inch diameter and 2.5-inch deep cake pan.
1 cup (125g) cornflour
8 eggs
¼ cup browning
2 teaspoons baking powder
3 cups (375g) plain or all-purpose flour
1 tin Peak Filled Evaporated milk
1 teaspoon butterscotch flavor
375g (3⅓ sticks) butter
1 cup granulated sugar
2 tablespoons lemon juice
1 teaspoon vanilla flavor
Tools You'll Need to Bake the Nigerian Wedding Fruit Cake
The following are the minimal tools you'll need to bake a Nigerian Cake:
Egg Whisk
An oven
Cake Pan
Cake mixer
Sieve or Sifter
Bowls
Kitchen scale
Spatulas
Notes on Ingredients for Nigerian Wedding Fruit Cake
Firstly, use 4 cups cake flour instead of the ordinary flour (all-purpose flour) and cornflour/starch combination if you don't want to use plain flour (all-purpose flour).
I used brown sugar in the video below since it provides a great flavor to the cake, although granulated sugar is normally used.
Then, ensure the eggs and butter are at room temperature. This means you should take these two out of the fridge a long time before you bake the cake.
Bring them out the night before if it's cold where you live.
Peak Filled Evaporated milk has a distinct rich creamy flavor that complements the vanilla and butterscotch flavors.
How to Make a Nigerian White Wedding Fruit Cake
First and foremost, butter the cake pan, then pour some flour into the greased pan, shake it so that the flour covers every area of the interior of the pan, and then pour out the flour. Set aside the pan.
Then, combine the lemon juice and milk. Place aside.
Thirdly, in a mixing basin, combine the all-purpose flour, corn flour, and baking powder. Place aside.
For 1 minute, creamy vanilla flavor, butterscotch, butter, and sugar. Then, add the eggs two at a time, mix until thoroughly blended, then add the next two, and so on until all of the eggs have been added in this manner.
Pour in the milk-lemon juice mixture.
Sift in the flour and fold in using a spatula.
Stir in the browning until it is fully incorporated with the remainder of the cake mixture.
Pour into the pan that we had previously prepared.
Bake for 40 minutes at 170 degrees Celsius (350 degrees Fahrenheit). When a wooden skewer put into the cake comes out clean, it is done.
This cake is also fantastic for birthday cakes, Christmas cakes, or just cakes to put in the freezer for when you want something moist and tasty. It can be served as a snack with a cold drink or as a dessert. Use for birthdays and weddings once decorated.
FAQ on Nigerian Wedding Cake
What kind of cake is ideal for a wedding?
Vanilla. Classic vanilla cake is a crowd-pleaser and a favorite of many brides and grooms.
Chocolate. Chocolate cake is a richer alternative to the vanilla cake that is popular at weddings.
Spice Cake.
Rich Flavors
Funfetti
Lemon
How do you soak the fruit for a wedding cake?
Method
Firstly, chop the large dried fruits you use.
Then, mix all the dried fruits in a large bowl.
Thirdly, pour all the fruits in an air-tight container.
After that, pour your rum, brandy, and fortified wine or sherry.
Lastly, close the lid and leave the fruits to soak.
Does a wedding cake have to be a fruit cake?
Your wedding cake designer should go through all of your alternatives with you, but the short answer is that fruit cake is not required in your wedding cake.