Jambalaya Rice Recipe – How to Make Jambalaya in Nigeria
Jambalaya Rice Recipe in Nigeria – How to Make Easy Jambalaya Rice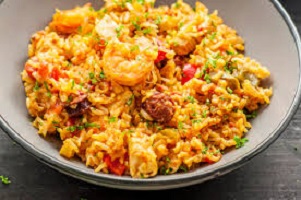 The Jambalaya rice is a popular American meal with influences from West Africa and France. It's also a classic one-pot dish, similar to jollof rice but made with a variety of meat or seafood and veggies instead of rice.
The proteins might be chicken, sausage, prawns, or shrimp, and the veggies could be celery, onion, and bell peppers, which are known in Cajun cookery as the holy trinity.
Other veggies used in this recipe include tomatoes, okra, carrots, chile, and garlic.
Related >>>
What is Jambalaya? Jambalaya Rice
Jambalaya is a popular New Orleans meal with influences from Spain, France, and Africa (inspiration coming from dishes such as paella, Jollof, and jambalai).
Long-grain rice is used to make jambalaya rice cooked in a rice stock with meat, vegetables, and shellfish, such as chicken.
It's also known as Jumbled Rice Mix or, Mixed Rice Pilaf, or Rice Pilaf. The recipe for Jambalaya is comparable to Jollof Rice, which is popular in Nigeria, Ghana, and other West African countries.
Jambalaya Rice Origin
Jambalaya is a classic New Orleans cuisine that was inspired by flavors from all over the world-Spanish, West African, and French, to mention a few.
What are The Ingredients Used in Making Jambalaya? 
Depending on the type of jambalaya rice you want to create, you'll need different ingredients.
There are two main ways to make jambalaya, which are distinguished by their origins and whether or not tomatoes are used.
The Red Jambalaya (Creole Jambalaya) contains tomatoes, Creole flavor, and other ingredients. The Cajun Jambalaya, on the other hand, is devoid of tomatoes, Cajun flavor, and other seasonings.
Best Jambalaya Rice Ingredients
2 cups uncooked rice
1 cup cooking oil
300g chicken sausage, thinly sliced into rounds
500g chicken breast, boneless
300g prawn
5 plum tomatoes
5 medium-sized chili peppers
2 green bell peppers (you can also use a mixture of red, yellow, etc.)
handful celery, chopped
a bunch of spring onion
1 medium-sized onion
2 tablespoons creole or cajun seasoning
4 cloves garlic
2 cups chicken stock
How to Make Jambalaya Rice in Nigeria
Firstly, season the deveined prawns with salt and toss to combine. Then, in a pan with roughly 2 tablespoons of oil, add the minced garlic. Before removing the prawns from the pan, gently add the salted prawns and sauté for 2-3 minutes on each side.
Secondly, add the chicken and sausage, and simmer, turning periodically, for 5-7 minutes, or until you cook the chicken through and releases its juices, and the sausage is now brown. Then, place on a plate with a clean surface and set away.
Thirdly, toss in the chopped onion with the remaining oil in the pot. Fry for 2 minutes until transparent, then add the ground tomato and pepper paste. Then, allow for 3 minutes of cooking time.
Fourthly, stir together the chicken stock, Creole or Cajun seasoning, and bay leaf (optional). Then, fill the saucepan halfway with washed rice and spread it out evenly. Cover the saucepan and reduce the heat to medium-low, then cook for 20-25 minutes, or until the liquid has nearly completely evaporated.
After that, combine the bell peppers, celery, spring onion, cooked chicken, and sausage in a large mixing bowl. Stir to mix, then add the prawns and a dash of celery on top.
Lastly, cover the pot, lower the fire to the lowest setting, and steam cook for 5 minutes before turning it off. Remove the bay leaf before serving.
Nutrition Information
Amount Per Serving: Calories: 944
Total Fat: 48g
Saturated Fat: 5g
Trans Fat: 1g
Unsaturated Fat: 39g
Cholesterol: 225mg
Sodium: 2083mg
Carbohydrates: 68g
Fiber: 2g
Sugar: 7g
Protein: 58g