Nigerian Chicken Stew ~ Best Tomato Stew Recipe
Nigerian Chicken Stew ~ Best Tomato Stew Recipe ~ Nigerian chicken stew with rice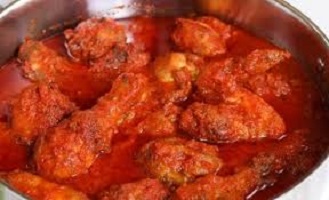 The Nigerian Chicken Stew is a West African Style Stewed Chicken recipe. It is a common fried Tomato/Pepper base stew recipe. This Nigeria chicken stew is a classic recipe that is also quite tasty.
It is a renowned fried tomato and pepper-based stew recipe that is served as a side dish to rice, yam, potato, bread, plantain, and a variety of other foods.
This Nigerian stew is quite adaptable and may be served with a variety of meals! The Yoruba's used to put this chicken stew on virtually everything. Call it a trust issue, but that is how they do it.
It is quite typical in Nigeria to always keep a pot of beef or chicken stew in the fridge.
This is due to the fact that the majority of Nigerian basic foods can be cooked, boiled, or fried and consumed with this stew.
Moreover, it makes meal preparation simple, enabling you to quickly prepare a filling lunch or dinner. If you enjoy chicken, you will enjoy this Nigerian Chicken Stew.
Although there are methods to lessen the heat in this spicy African dish, this chicken stew, however, will be right up your alley if you enjoy spicy food.
Hot Topics Related to Nigerian Chicken Stew
Nigerian Chicken Stew Recipe
Finally, the moment has here! I'm going to share one of the most well-known Nigerian recipes, which I've been eating virtually since I was born.
Yes! A significant portion of Nigerian and African food consists of stews and soups.
Please Take Note
Nigerian Stew with Chicken is none other than Tomato Stew with other additions/ingredients.
Nigerian stew chicken can be prepared in whatever way you like; some prefer it well-fried, while others prefer it light like Imooyo.
As a Nigerian woman, I'd say the majority prefer theirs well-fried or thick for a flavorful punch.
Although it is named Chicken Stew, you may use any type of meat (beef, turkey, fish, snail, pomo, etc) to make this traditional Nigerian stew because the recipe is so straightforward.
Ingredients for Nigerian Chicken Tomato Stew
1 kilo Chicken (Cut into parts)
10 medium-sized plum Tomatoes
1 medium-sized Red Onion, chopped
1 tsp. Thyme
4 Garlic cloves, minced – Optional
3 Seasoning Cubes, crushed
4 medium-sized Red bell pepper "Tatashey"
10 Chili pepper "Shombo"
6 Scotch Bonnet "Ata rodo" (Or Less)
Salt to taste
How to Make Nigerian Chicken Stew
Firstly, wash the Chicken many times with clean water and then add the chopped onion, crushed seasoning, curry, and thyme, salt to taste.
Secondly, pour in just enough water to cover the pot's content. Then, cook on medium heat for about 20 minutes before adding the minced garlic, and leave to simmer for another 5 minutes. Set the pot aside.
Thirdly, get rid of the seeds from the Tatashey, the stalk from the chili pepper, and the scotch bonnet. Then, wash the peppers carefully and place them in a blender with the Tomatoes. Blend into a smooth puree.
After that, pour the blend into a medium-sized pot and cook till the liquid evaporates leaving the concentrated tomato paste.
Now, add the vegetable oil into the concentrated paste and fry for about 5 mins. Ensure you stir once in a while to prevent the paste from burning. When it's well fried, you'd notice the oil separates from the paste.
Gradually pour in the chicken stock with the chicken inclusive. Stir and leave to cook for additional 10 -15 minutes on medium heat.
Lastly, turn off the burner and serve as a complement to dishes like potatoes, bread, rice, yam, and plantain.
Storing and Freezing Chicken Stew
It can be kept in the fridge for up to a week and in the freezer for up to three months.
When you are ready to use the stew, you microwave it or leave it to thaw and warm on the stovetop.
FAQs on Nigerian Stew Chicken
What should I serve with Chicken Stew Nigerian Recipe?
Nigerian Chicken Stew is accompanied by boiled and fried yams, Nigerian chicken stew and rice, plantain recipes, and bean recipes.
This no-knead sandwich bread is perfect for mopping up the last stew in your bowl!
What ingredients are in Nigerian fried chicken stew?
Nigerian stew is a popular West African dish made with fresh tomatoes (or tomato paste), red bell peppers, and scotch bonnet peppers (or habanero peppers).
Olive oil, peanut oil, or red palm oil is used to cook the vegetables.
How long does Nigerian stewed chicken last?
It can be kept in the fridge for up to a week and in the freezer for up to three months.
What is the secret to making a good stew?
Start with hearty root vegetables like parsnips, carrots, winter squash, or potatoes, but save tender vegetables for the end.
They'll overcook and become watery if you don't. You can also sauté vegetables like bell peppers, zucchini, or mushrooms separately and then combine them just before serving.
Can I make stew without using any oil?
You don't have to give up your favorite Nigerian red tomato stew for health or weight reasons; instead, try the oil-free tomato stew.
Even without the "oil," the oil-free tomato stew is delicious.
Can I freeze Chicken stew?
Store stew in heavy plastic, airtight containers, leaving a quarter or half an inch of space to allow for freezer expansion. Stew can be frozen for up to three months.
After freezing, stews thickened with flour or cornstarch may separate. If you're going to freeze a stew, don't thicken it until you're ready to reheat it.
How long does chicken stew Nigerian last in the refrigerator?
3 to 4 days
Cooked chicken stew Nigeria will keep in the refrigerator for 3 to 4 days if properly stored.
Cooked chicken stew can be frozen to extend its shelf life; freeze in covered airtight containers or heavy-duty freezer bags.
How long should I cook the stew?
Cook, scraping the pan with a wooden spoon to loosen any browned bits, over medium-high heat.
Combine the beef, beef broth, and bay leaves in a mixing bowl. Bring to a boil, then lower to low heat.
Cook and cover for 1 1/2 hours, skimming broth occasionally until the beef is tender.
Can I eat chicken stew after 5 days?             
According to the USDA, chicken can be stored in the refrigerator for up to four days before being discarded.
If you're on day five, it's time to call it quits.
How many calories are in one Stew chicken piece? Nigerian chicken stew calories
1 small piece of Stewed Chicken contains 87 calories.
The Percent Daily Value (DV) of a nutrient in a serving of food indicates how much it contributes to a daily diet.
Is there fat in the chicken stew?
1 cup of Chicken Soup with about 2.5 grams of fat is the most popular choice for the term "Chicken Soup."
What is the recipe for Nigerian pepper chicken?
Heat the vegetable oil in a dry saucepan. Add the pepper mixture and fry on low to medium heat until the water evaporates.
Stir in the grilled/broiled peppered chicken with a spatula until the popping red peppers coat every inch of the chicken.
If necessary, season with salt at any time.
What does jollof rice go with?
This is "regular" Nigerian Jollof, which is frequently served with fried or grilled beef or chicken; a coleslaw-style salad served with salad cream; moi-moi (similar to tamales, wrapped in leaves or made in ramekins from raw, pureed black-eyed beans)—a feast
How Long Can Chicken Stew Be Stored in the Fridge?
This type of stew will keep in an airtight container in the fridge for 1-2 days. Simply reheat it on the stovetop before serving.
What Should You Serve With Chicken Stew?
Stews were once considered a must-have for Cameroonian Christmas tables. A holiday meal.
Each household prepares their own version f It goes well with white rice or any other starchy side dish (plantains, yams,).
Here are a few of our favorite dishes to go with this delectable chicken stew for dinner.
Jollof Rice
Fried Plantains
Ugali (Corn Fufu)
Coconut Rice
Cassava Fufu
Is Chicken stew good for you?
Using more vegetables and less meat is the key to making this comfort food healthier.
It's still hearty and filling, but it's also high in fiber, vitamin A, and beta carotene.
Are stews good for weight loss?
A bowl of stew, similar to soup but usually more hearty, can be comforting, filling, energizing, and fat-blasting.
But only if you cook the right stuff; too many stew recipes are often high in calories, sodium, and fat, which do not correspond to your body goals.or friends and family to enjoy.
How do I spice up bland chicken stew?
To spice up a simple casserole, add fresh chili and coriander.
Always use hardy, fresh herbs like bay leaves and rosemary at the start of cooking and lighter herbs like parsley and tarragon at the end to keep their flavor.
How can I thicken my chicken stew?
Here are some pointers for making a thick, flavorful chicken stew:
To make the stew thicker, add cornstarch. To thicken your stew without altering the flavor, combine cornstarch with a little water or broth and stir it in.
For a richer chicken flavor,
Use flour.
Add potatoes for bulk.
Reduce the base of your stew.
Why does my chicken stew taste so bland?
If a soup tastes bland in the bowl, consider adding acid instead of salt.
A squeeze of lemon or lime, or a dash of yogurt or sour cream, can brighten the dish. Our Lemony Chicken Soup will make your mouth water.
How can I make my stew less watery?
Thin, watery stews can be easily thickened by adding flour.
You can use any flour, from regular white flour to more nutritious flour like cassava or chickpea flour.
If you want to thicken your stew with flour, first make a roux, which is a mixture of flour and fat.