Whipped Cream Recipe from Scratch – Homemade
Whipped cream recipe is three ingredients, three steps, and about three minutes standing between you and your own homemade whipped cream.
What Is Whipped Cream?
It is a cream that is whipped by a whisk or mixer until it is light and fluffy. It is often sweetened and sometimes flavored with vanilla and also called Chantilly cream or Crème Chantilly.
Best Whipped cream is the perfect creamy topping for desserts (great for cake decoration using the whipped cream icing), hot drinks and so much more.
Have you tasted real whipped cream?  I hope so. It places Cool Whip and the canned tub to infamy. If not, now is the perfect opportunity since the holiday is here.
Whipped Cream Recipe
Learn how to make a homemade whipped cream is going to be a game-changer for you. The taste is fresher, richer, and better.
Ingredients
1 cup (240 ml) cold heavy whipped cream
2-4 tablespoons (15-30) grams powdered sugar*
1 teaspoon vanilla extract
What You Need
Electric mixer – hand-held or stand mixer with a whisk attachment
Mixing bowl
How to Make
Chill a medium-sized bowl in the freezer for at least 10 minutes.
Mix (Cold) heavy cream, powdered sugar and vanilla extract in a chilled bowl.
Beat ingredients together with an electric mixer on high speed until the cream is thick and billowy and stiff peaks form.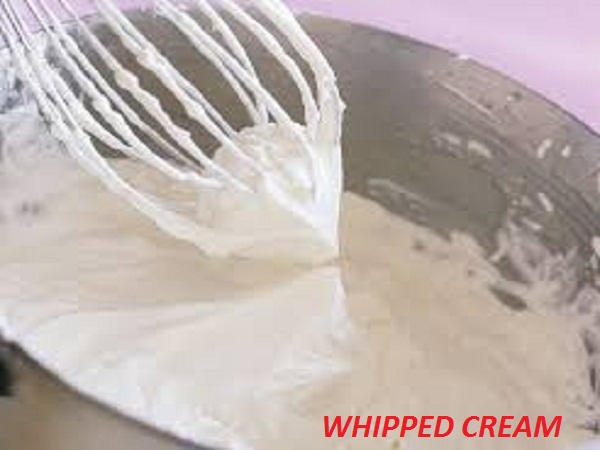 Whipped Cream Frosting
Easy whipped Cream Frosting is creamy, delicious and tastes just like Whipped Cream.
It makes the scrumptious frosting–better than butter or shortening-based buttercream frosting.
How to Make Whipped Cream Frosting
The problem with making whipped cream frosting is getting it to hold up, not to weep/melt before its time. That's when stabilizer comes in.
Gelatin and meringue powder are the two most common stabilizers. However cream cheese, butter, cocoa, and melted chocolate will help stabilize your frostings.
Whipped Cream Frosting Recipe
2 cups heavy whipping cream (heavy whipping cream will hold up better)
1/2 cup powdered sugar
2 teaspoons flavor
1/3 cup meringue powder*
Food color
Instructions
First of all, place all ingredients in the bowl of your stand-type mixer.
Then, beat with the whisk attachment until stiff peaks form,
Lastly, stop at intervals to adjust the flavor or color as necessary.
Note: this is a simple recipe for whipped cream with an addition of 1/3 meringue powder.
Substitutes for Whipping Cream
Fortunately, several healthy whipped cream substitutes (dairy-free/non- diary/vegan) are available.
You can also use these healthy substitutes if you happen to be out of whipping cream while baking or cooking.
Or you prefer to avoid it for a variety of reasons, including dairy allergies or the high-fat content.
Butter and Milk
Firstly, mix 1/3 cup softened butter with 3/4 cup milk for a whipping cream substitute.
Then, Use an electric mixer to achieve the desired consistency.
This is not a dairy-free alternative, but it works if you are out of whipping cream and need it for a recipe.
This ratio is equal to 1 cup of cream. This substitute works for baking or cooking.
Whipped Cream for Coconut Cream
Coconut cream is a multi-purpose ingredient that makes an excellent whipping cream vegan substitute for heavy cream.
While it can be purchased ready-made, it's also simple to prepare at home using coconut milk.
Direction
Firstly, chill a can of full-fat coconut milk in the fridge overnight.
Secondly, open it and pour the liquid contents into another container.
Lastly, the thick, hardened coconut cream that's left can then be scooped out of the can and used as a substitute for heavy cream
Banana and Egg White
For those of us who prefer to avoid the dairy in whipping cream, beat one ripe banana with an egg white.
Keep an eye on the mixture so that you can stop beating when it reaches the desired consistency.
If needed, you can add sugar to sweeten the final product.
Milk, Cornstarch, and Flour
For a low-fat, low-carb healthy whipping cream substitutes,
Firstly, whisk together 1 cup of low-fat or fat-free milk with 2 tbsp. of cornstarch. Combine well.
After that, continue whisking and add 1 tbsp. flour. You can also use almond or rice milk.
This substitute serves as a thickening agent.
Please Note
Replacing any ingredient in a recipe can modify the taste and texture. Therefore, be sure to use these substitutes in compatible recipes.
People Also Ask
What Is A Good Substitute For Sour Cream?
A good substitute for sour cream in a recipe is buttermilk. You can make your own at home by:
First of all, combining 1 tablespoon of lemon juice with enough whole milk to fill one cup.
Then, allow the milk and lemon juice mixture to sit for 5 to 10 minutes before using in a recipe.
Can I Use Cool Whip Instead Of Whipping Cream?
Yes. This homemade whipped cream can replace Cool Whip (store-bought frozen whipped topping) in recipes.
What Is A Good Substitute For Cool Whip?
Stabilized Whipped Cream uses cream cheese and confectioners' sugar for thickening so you can use it as a replacement for Cool Whip!
Whipped Cream vs. Heavy Cream
Heavy cream and heavy whipping cream are essentially the same, and both must contain at least 36% or more milk fat.
Whipping cream, or light whipping cream, is lighter and contains 30% to 35% milk fat.
Is It Whipped Or Whipping Cream?
Whipped cream is whipping cream after it has been whipped.
What Cream Is Best For Whipping?
Single cream is a richer version of milk, with around 18% fat content.
Though it will not whip and will curdle if boiled.  Therefore, it can't be a substitute in recipes that call for whipping or double cream
Is Whipped Cream Healthy?
A spoonful of whipped cream on top of a piece of pie is self-indulgently delicious; nevertheless, it is really bad for your waistline.
A single tablespoon of whipping cream has more than 50 calories and 5.5 grams of fat; 3.4 grams are saturated fat, which is a hazard for your heart health.
Can You Over Whip Whipped Cream?
YES. Weeping cream? Don't panic! There's no need to throw it out and start all over again. The good news is that there is a simple way to fix it by adding a bit of heavy cream and re-whipping it.
Can I Use Evaporated Milk Instead Of Heavy Cream?
Evaporated milk can be substituted for heavy cream. According to allrecipes.com, a cup of heavy cream can be replaced with a cup of evaporated milk.
How Long Does Whipped Cream Last?
The shelf life of whipped cream is influenced by a variety of factors which include:
The type of cream, the processing method, the packaging and packaging date, its exposure to heat, and how the whipped cream is stored.  Whipped cream lasts for 2 days – 3 months.
Whipped Cream Charger
A whipped cream charger is a steel cylinder or cartridge filled with nitrous oxide (N2O) that is used as a whipping agent in a whipped cream dispenser.