Po'e (Traditional Tahitian Fruit Pudding) Recipe
Po'e pronounced (POH-eh) is a popular Tahitian fruit pudding found at all traditional Tahitian Tamara 'a barbeque.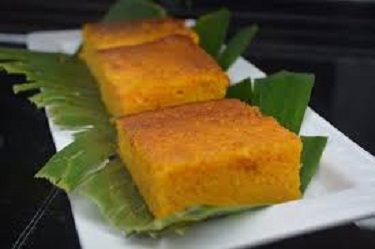 Po'e or poke is a Polynesian pudding usually eaten as a dessert. Wikipedia
Alternative names: Poke
Place of origin: Polynesia
Course: Dessert
It is a sweet, pudding-like confection comprising a banana purée mixed with brown sugar and arrowroot or cornstarch cooked with manioc and coconut cream.
Coconut cream is the thick coconut milk that rises to the top of a can of coconut milk. Don't shake the can before you open it and you can skim it right off the top.
This popular dessert is a common sight at festivals.
Origin
Historically, the mixture is wrapped in banana leaves and baked in the fire pit until the pudding is firm and bubbling.
This simple baked form is easier in the modern kitchen.
It is served chilled and cut into cubes, topped with a dollop of coconut cream.
Poʻe is frequently eaten as a dessert, although it can also be served with other dishes.
A comparable dish is called Poke in the Cook Islands.
Poʻe should not be confused with the popular Hawaiian poi made from taro and water, or the Hawaiian poke made from fish.
Po'e Variations
Some bananas can be substituted with papaya, mango, pineapple, or other tropical fruits.
Ripe plantains in lieu of bananas or other tropical fruit.
Try wrapping the pudding in buttered banana leaves and baking it for a more original presentation
Other recipes sometimes call for Tahitian vanilla bean seeds, coconut oil (for pan greasing)
Please Note:
If you use mango or papaya instead of bananas, know that these fruits are juicier and will need more cornstarch or flour. Let's make banana po'e
PO'E Recipe ~ Tahitian Banana Po'e
This Polynesian Recipe is a naturally sweetened, dense banana pudding, often served with coconut cream.
It's made with less than 5 ingredients.
Ingredients
4 cups mashed bananas, from about 6-8 bananas
½ cup honey or brown sugar
1 cup whole wheat or white flour
2 teaspoons vanilla
¼ teaspoon salt
Coconut oil
Coconut milk or cream, for serving
Instructions
Firstly, preheat the oven to 375 degrees.
Secondly, place the banana in a blender or food processor and process until smooth.
Thirdly, mix together the honey, flour, vanilla, and salt. Add this mixture and the vanilla to the bananas and process well, removing any lumps.
Then, spread a little coconut oil in a medium-large baking dish and then, pour in batter.
After that, bake for 35-40 minutes or until firm. Remove from oven and allow cooling.
Lastly, serve warm, or chill in the refrigerator. Slice or cube then sprinkle with coconut cream or milk before serving.
NUTRITION INFO
Serving Size: 1 (208) g
Servings Per Recipe: 4
AMT. PER SERVING         %DAILY VALUE
Calories:   523.6
Calories from Fat 123 g                   24 %
Total Fat 13.7 g                                  21 %
Saturated Fat 11.8 g                          59 %
Cholesterol 0 mg                                 0 %
Sodium 50.3 mg                                   2 %
Total Carbohydrate 101.8 g              33 %
Dietary Fiber 7.3 g                               29 %
Sugars 52.9 g                                         211 %
Protein 4 g                                              8 %
People also ask about Po'e
What's Po e?
Power over Ethernet (PoE) is a wired Ethernet local area network (LAN) implementation technology that allows the electrical current required to operate each device to be carried by Ethernet data cables rather than standard electrical power cords and wiring.
What is PoE food? Is Po'e food?
Poi, taro root-based starchy Polynesian food paste;
Poi is a thick paste of pounded bananas or pineapples mixed with coconut cream in Samoa and other Pacific islands; the word originally denoted the action of pounding the food to a pulp.
What is New Caledonia PoE dessert?
Pronounced as "Poe-ay", this is New Caledonia's take on pudding.
The sweet gelatinous dessert is typically made of banana or pumpkin that has been smothered in thick coconut cream.
The texture is similar to a rice flour dessert and is quite tasty.
In terms of drugs, what is PO?
Orally/orally; 'On the spot' (as distinct from a regular dose of medication)
What exactly is PO in medication?
Prescription Medical Abbreviations
"PO" indicates that the medication is taken orally "bid" or twice a day.
The 'x' indicates that this prescription is to be taken for 5 days. Some people believe that Rx stands for a prescription.
What are the advantages of PoE?
Additional cost savings with PoE technology. One of the most significant benefits of PoE technology is cost savings.
Simple, low-voltage installation
Increased flexibility and control