70 Rich Protein Foods in Nigeria (The Complete List)
70 Rich Protein Foods in Nigeria (The Complete List)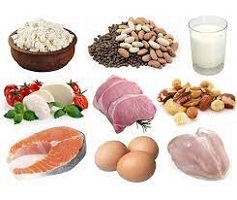 List of high protein foods in Nigeria
Are you looking for Nigerian protein-rich foods?  Look no further for you've come to the right place.
Because I've compiled a comprehensive list of Nigeria's high-quality protein foods.
After seeing the following Google searches, I was inspired to write on this topic:
High Protein Foods List
Protein Foods for Weight Loss in Nigeria
African Food with Protein
Protein Rich Foods for Bodybuilding in Nigeria
Foods That Are Purely Protein
List Of Carbohydrate Foods in Nigeria
Proteinous Food for Weight Loss
Nigeria Protein Food Time Table
Proteinous Fruits in Nigeria
High Protein Foods in Nigeria
Best Protein Foods in Nigeria
Protein Rich Foods in Nigeria
Protein Dishes in Nigeria
Foods That Are Purely Protein
Protein Sources in Nigeria
Common Protein Food in Nigeria
List Of Protein Food in Nigeria
Sea Food Proteins in Nigeria
A:
Protein Foods in Nigeria
One of the most important methods to care for our bodies is to eat a nutritious diet. After all, why waste time and money trying to cure a sickness when you can avoid it by eating the correct foods?
People have different opinions on the role of lipids, carbohydrates, and other foods in our daily diets, but protein is undeniably important.
Proteins are an important component of all six food groups. Nigerian food culture is generally high in calories (carbohydrates and fats) but low in protein.
Proteins, often known as building foods, are essential for all living species, including humans, to grow and thrive.
Every cell in the body needs protein to function properly. Thus, protein makes up the majority of hair and nails and is used by the body to develop and repair tissues.
Protein is also necessary for the production of enzymes, hormones, and other bodily components.
"Animal protein (chicken) and plant protein (Dawa Dawa) are vital building blocks of bones, muscles, cartilage, skin, and blood."
Nigerian Protein Foods ~ Benefits
Proteins help to fill the stomach and are an important part of any weight-loss diet meal plan.
The prevailing consensus is that women should consume 46 grams of protein per day, while males require 56 grams (probably because of their muscle mass). However, several studies suggest that youngsters should consume significantly more protein because they require it for healthy growth.
People who want to gain muscular mass, pregnant or nursing women, and the elderly may require additional protein.
The following is a list of Protein Rich Foods in Nigeria that I compiled from credible scientific literature:
1. Plant Proteins in Nigeria – Examples
Soybeans
Cowpea
Groundnuts
Melon Seed
Ewedu
Soya Milk
Ogbono
Locust Beans (Iru, Ogiri, Dawadawa)
Millet
Wheat
Gbegiri
Lentils
Chickpea
Green Pea
Tofu
Cocoyam
Guinea Corn (Ogi Baba)
Quaker Oats
Cashew Nut
Peanut Butter
Broccoli
Groundnut Soup
Potatoes
Quinoa
Edible Mushroom
Walnut
Pumpkin Seed
Moi Moi
Akara (Bean Cake)
Chia Seeds
Pistachios
Cheese (Wara)
2. Animal Proteins in Nigeria – Examples
Dried Crayfish
Eggs (Egg Whites Not Yolk)
Yogurt
Cheese
Beef
Pork
Goat Meat
Turkey
Fish (Croaker, Shiny, Scumbia)
Salmon
Milk
Cow Milk
Pork (Pig Meat)
Bush Meat (Grasscutter, Antelope, Rabbit)
Kefir (Kefir Is a Fermented Drink, Traditionally Made Using Cow or Goat Milk)
Shrimp
Tuna
Snail
Prawns
Periwinkle
Crabs
Ram Meat
Duck Meat
Rabbit Meat
Termites
Edible Worms
Other low protein foods that are common in Nigeria include:
Dried Crayfish
Soya beans
Groundnuts
Cocoyam
Peanut butter
Guinea corn (Ogi baba)
Oats
Top 3 high protein soups in Nigeria
Egusi Soup
Okra Soup
Ewedu Soup
PS: Amino acids are the building blocks of protein. The human body produces 11 amino acids, while the remaining nine must be obtained from food.
However, animal products are complete proteins, which means they have all of the essential amino acids.
Some plant products, like soybeans and quinoa, are full proteins, whereas others are incomplete.