Detox Drinks for Weight Loss Cleanse
Detox Drinks for Weight Loss Cleanse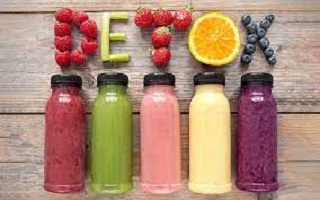 Detox drinks are fast gaining recognition for preventing toxic overload and major health problems.
If the toxic intake is not curtailed, it can manifest in various problems like bloating, gas, headaches, constipation, headaches, fatigue, nausea, and skin problems.
Related >>>>
A regular intake of these simple detox drinks can aid weight loss, give a boost to your metabolism, work as an incredible laxative agent, and helps digestion.
The human body has several natural pathways to allow detoxification through the liver, sweat, urine, and feces.
But the exposure to heavy metals, preservatives, and pesticides has taken the average toxin consumption by human beings to an all-time high.
What Are Detox Drinks?
Detox drinks typically combine water with fruit, vegetables, herbs, or other natural components that are believed to enhance your body's capacity to naturally expel toxins from your system.
Everything from flavored waters to juices, teas, smoothies, coffee, and more might fall under this category. In the field of health, detoxing for weight loss is a hotly contested subject.
Nutritional Value of Home-Made Detox Drink for weight loss
Serving Size: 1 Cup
Calories 15
Carbs 8g
Fat 0%
Protein 0%
How to Make the Best Detox Water
The best detox drinks are homemade ones. This is because you can be sure of what you are drinking and be familiar with each ingredient.
These homemade body cleanse detox drinks can be made using different recipes but all follow a general pattern. Below are the steps to making a general homemade detox drink:
Firstly, pour the ingredients into a jug or a bottle with a fruit infuser.
Then, squash the items a little with a muddler.
Halfway through, cover with ice, then top with water.
One hour before serving, place in the refrigerator.
Before the flavor starts to deteriorate, you can refill the jar two to three times.
The ingredients listed here are for a 2-quart jug.
Drinking water is one of the best things you can do for fast weight loss and better health, and it tastes delicious. It has no calories and fills your stomach so you don't feel as hungry.
For quick weight loss you can try a 7-day weight loss detox or a 5-day fat-burning detox water challenge using the following recipes:
Strawberry lemonade water: this detox water recipe is simple, energizing, and significantly speeds up metabolism. The water, strawberries, and lemons all naturally speed up metabolism while the mint eases bloating.
Blueberry and orange water: this detox beverage will help you reach your daily water target, naturally boost your metabolism, and cleanse your system. It is also quite tasty. We can support the idea behind this fruit water recipe, which is to simply make water taste more pleasant.
Watermelon and strawberry mint water: this delicious watermelon energy drink is made from watermelon drink recipes.. With all the hydration provided by the watermelon's electrolytes and water; one of the best watermelon drink recipes for consumption prior to, during, and after exercise is this one.
Mango ginger water: This recipe for infusing water with ginger and mango has a wonderful flavor and contains components that are excellent for you. Mangos are believed to improve digestion, memory, and libido in addition to their ability to promote metabolism.
Raspberry orange water: Oranges are not only delectable, but they also offer a significant increase in vitamin C, a crucial antioxidant that helps fight inflammation, premature aging, and even the common cold.
Vitamin C is also a powerful anti-inflammatory.
Some easy detox  recipes include:
cucumber water
strawberry, mint, and lemon detox drink
apple cider vinegar detox soda
strawberry water
pineapple and orange-infused water
lime cucumber mint water
lemon water & cayenne pepper detox drink
aloe water with lime
detox green tea
Detox Drinks for Body Cleanse ~ Best Detox Drink for Weight Loss
Below is some homemade body cleanse drink to take. They can be made easily following the aforementioned steps. These detox drinks are readily available in Nigeria.
The list is endless but some of them include:
Ginger-Orange-Carrot Detox
Lemonade
Mint Cucumber Detox Drink
Coconut Water with Lemon and Mint
Ginger Litchi Lemonade
Honey-lemon-ginger tea
Pomegranate juice
Detox Haldi Tea
Pink Salt-Ginger Detox Water
Jeera Water
Benefits Detox Drinks
Detox drinks have lots of benefits ranging from body cleansing, weight, and so on. The core detox drinks benefits are listed below:
You can increase the weight loss health benefits of the detox drinks by including fruit, herbs, and vegetables that also promote weight reduction.
Detox drinks might increase your metabolism by 30%.
Drinking more water and detox drinks can help you feel more energized.
By drinking more weight loss detox drinks, you can naturally reduce your appetite.
Headaches can be avoided by drinking more detox drinks.
Depression can be decreased by drinking more water and drinking more detox drinks.
Improvement in children's brain health
Side Effects of Detox Drinks
Dehydration: Dehydration over time has the potential to seriously harm vital organs or trigger more severe health issues including convulsions.
Stomach Issues: To remove toxins from the body, detox drinks and diets can make use of a range of ingredients. These products' laxatives, vitamins, and even the "good" bacteria they use can seriously harm your digestive system.
Nutrient Deficiencies: Many detox drinks require people to cut out specific foods that are thought to contribute to the accumulation of toxins without providing a suitable replacement.
Some people on weight loss and detox drinks can have problems with:
Diarrhea,
Nausea, And
Vomiting
FAQS
Can detox reduce belly fat?
Although it may initially appear difficult, detoxifying has many advantages for reducing abdominal fat that is challenging to burn. Additionally, it aids in maintaining a healthy diet and avoiding unhealthy calories.
Which detox drink is good for weight loss?
Lemon and ginger detox drink.
Green tea
Cranberry juice
Cinnamon and honey
Cucumber and mint detox drink
What can I drink to detox my body and lose weight? Best detox drinks to lose weight fast are:
Lemon and ginger detox drink
Cinnamon and honey
Cucumber and mint detox drink. …
Green tea
green tea-mint- honey
Cranberry juice
What is the best detox to lose belly fat?
Here are 5 best detox waters to help you burn fat:
Lemon and Mint Detox Water
Cucumber Detox Water
Apple and Cinnamon Detox Water
Grapefruit Detox Water
Orange Detox Water
How can I detox my body at home to lose weight? Homemade body cleanse drink
Although detox diets are alluring, your body is capable of handling toxins and other unpleasant elements. There are many methods for weight loss, such as:
Drink in moderation
Emphasis on sleep
Up your water intake.
Consume fewer sugary and processed meals.
Consume anti-inflammatory foods.
Consume probiotic-rich meals.
Limit your salt consumption.
Remain active.
How can I detox my body in a day? Morning detox drinks for weight loss
Here are five suggestions to help you detox, reduce bloating, and get back on the right food and health track in just one day:
Start your day by waking up with a glass of warm or cold lemon water
De-bloat with breakfast
Clean up your diet
Have an afternoon tea
How do you detox in 3 days?
Eliminate from your diet for the next three days all sugars, alcohol, soda, processed foods, grains, gluten, and animal products. Enjoy green smoothies, juices, and plant-based meals in their place.
Can you drink detox water every day?
Nutrition experts think detox drinks are safe despite their skepticism of the bold claims. They might even have one advantage: they might be pleasant enough to encourage you to drink plainer, unflavored water.
Best time to drink detox water for weight loss
What is the best 5-day detox?
The 5-day cleanses that will help your system reset & detox are:
Drinking plenty of water aids in your body's self-cleansing and toxin elimination.
Eat plenty of fiber
Avoid Gut-Protective Food
Choose Fermented Foods
Body Brush, Dry
Move Consciously
Consume the Rainbow
Use Green
The Bottom Line
Lemon and Ginger Detox is the ideal morning detox beverage for weight loss. It is best to drink this detox water first thing in the morning, before food.
It jump-starts your body and speeds up your metabolism. Simply squeeze in half a lemon and 1 inch of grated ginger into 1 glass of hot water.
Although it cannot replace eating a good diet and exercising, homemade weight loss detox drinks are the finest to take into consideration.
We exhort everyone who wants to slim down and "purify" their body to eat healthily and work out. That will benefit your body and enhance your health more than enough.