In Search of Nigerian Desserts for My Food Competition
Most Nigerian desserts are imported. While the French are the masters of desserts, Nigerians are not regular dessert eaters.
We are not big on desserts in Nigeria. At times we substitute Nigerian snacks for great desserts.
Not many people outside Nigeria know about Nigerian desserts and how delicious they are.
The truth is, even inside Nigeria not everyone is aware of how to prepare something tasty for a holiday.
Typical Nigerian desserts served could be tarts or cakes, ice-cream, and fruit salads. These also are the typical desserts served across the world, but with a twist
Interestingly, different countries are still able to carve their niches for example the British are known for trifles, the French for their verrines and Italians are known for their exotic ice-creams pistachio flavored ice-cream.
History of Nigerian Desserts
The history of Nigeria plays a huge role in its cuisines and recipes.
Cooperation with various cultures especially Europeans and the Arab world over the years has led to the adoption and incorporation of several food items into the nation's cuisine today.
Nigeria desserts are many and some of them are a piece of heaven made from local food items.
Ingredients mostly used to make some Nigerian desserts include milk, butter, flour, coconut, groundnut, cassava, fruits, plantain, salt, pepper, etc.
Yours truly was shortlisted in a celebrity cooking competition in Nigeria named soup-a-stars organized by Regina Askia-Williams.
The Soup-A-Stars is a competition where celebrities and chefs battle it out, displaying their culinary prowess to win the star prize while showcasing African recipes in a bid to promote healthy nutrition and diet choices.
For the competition, I was put in team Rivers and we were told to prepare a four-course meal within a very short time.
Getting a Nigerian dessert to prepare was challenging since other teams have already chosen what I had in mind – Nigerian pepper soup.
However, knowing that Nigeria is blessed with a lot of exotic fruits that can be used in clever ways to make top-quality desserts, we came up with a fruit cocktail.
Fruit Cocktail Recipe
This fruit cocktail is made with assorted fruits immersed in frozen yogurt and served in a boat-shaped pineapple to represent Rivers state.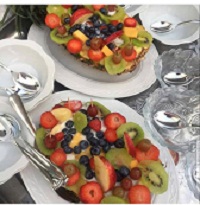 At the end of the competition, yours truly came 2nd for the maiden edition.  Watch out this space for the video!
Thanks, FAM for your votes!