Jerk Chicken ~ Jamaican Jerk Chicken Recipe
Jerk Chicken ~ Jamaican Jerk Chicken Recipe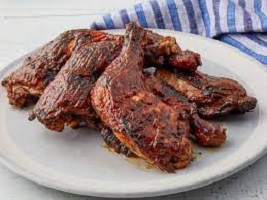 Jamaican Jerk Chicken – Properly seasoned grilled chicken with Jamaican jerk marinade that has the best balance of hotness and sweetness.
There are as many takes on jerk chicken in Jamaica as there are many cooks on the island, but most share a similar method:
Chicken is covered in a seasoning blend dominated by chiles and spices, and then grilled
The best jerk recipe is amazingly fragrant, fiery hot, tender, moist, juicy, and smoky all at once. You'll thirst to make this all year round!
For all-out flavor, let the chicken marinate overnight.
Top Chicken Related Articles
What is Jerk Chicken?
Jerk Chicken is a popular Jamaican dish and throughout the Caribbean that is often paired with rice and salad.
The chicken wings, breasts, or thighs are usually soaked with Jerk Seasoning and Jerk Marinade.
The lengthier you marinate the chicken, the tastier your chicken will be.
The marinade typically comprises blended seasonings and spices for example cloves, cinnamon, nutmeg, thyme, garlic, scallions, brown sugar, ginger, and salt.
You can play around with the spices and herbs such as adding paprika or cumin. That's what makes homemade marinades the best. You can modify the recipe based on your palate.
What is Jamaican jerk chicken?
Jerk chicken is well known in Jamaica for its spicy marinade, which is flavored with allspice, and Scotch bonnet peppers, which are related to habanero chili peppers.
(The meat is typically pierced with holes to let the marinade spread.) Rice, beans, plantains, sweet potatoes, and festival—small cornmeal fritters—are typical side dishes.
The term "jerk" describes a method of cooking where the primary ingredient, which is typically chicken but can also, be beef, pork, goat, boar, seafood, or vegetables.
That is then, covered in spices and cooked slowly over a fire or grill that is typically made of green pimento wood placed over burning coals.
The flavor of the food is greatly influenced by the smoke that results from this process.
The Taino were the ones who invented the jerk technique and later taught it to African slaves, who then modified it to produce jerk chicken.
The Spanish word charqui, which refers to dried meat strips similar to modern jerky, is said to be the source of the English word jerk.
Jerk Chicken Recipe Easy
It's smoky, spicy, and fragrant—all you want jerk chicken to be. However, what puts this recipe above all recipes is including the Chinese five-spice in the marinade:
"Yes, this spark of cinnamon improves the rich clove flavor conveyed by the allspice berries,"
For best results, allow the chicken to marinate overnight so that the seasoning has time to carefully penetrate the meat.
The chicken can also be roasted in the oven if you so wish. 
Jamaican Jerk Chicken Recipe ~ how to make jerk chicken
This is about the best marinade recipe you'll ever try!
It's overflowing with a fresh flavor and it may appear like a strange mixture of ingredients but together they create an incredible, well-adjusted flavor.
And it all compliments chicken without a glitch. Thus, if you're looking for an Authentic Jerk Chicken Recipe, this one is especially for you.
Ingredients
1 medium onion, coarsely chopped
1 teaspoon salt
3 medium scallions, chopped
1 teaspoon dried thyme, crumbled
1 teaspoon freshly grated nutmeg
2 Scotch bonnet chiles, chopped
1 tablespoon coarsely ground pepper
1 tablespoon coarsely ground pepper
2 garlic cloves, chopped
1 tablespoon five-spice powder
1 tablespoon allspice berries, coarsely ground
½ cup soy sauce
1 tablespoon vegetable oil
Two 3 ½ – to 4-pound chickens, quartered
Step 1
How to Make Jerk Chicken
Firstly, combine the onion, scallions, chiles, garlic, five-spice powder, allspice, pepper, thyme, nutmeg, and salt; in a food processor, and process into a coarse paste.
Secondly, with the machine on, add the soy sauce and oil in a steady stream. Then, pour the marinade into a large, shallow dish, add the chicken and then, turn to coat.
Lastly, cover and refrigerate overnight. Bring the chicken to room temperature before proceeding.
Step 2
How to Grill Jerk Chicken
Firstly, light a grill. Then, grill the chicken over a medium-hot fire, turning intermittently, until well browned and cooked through about 35 – 40 minutes. (Cover the grill for a smokier flavor.) Relocate the chicken to a platter and serve.
Step 3
How to Bake Jerk Chicken – Oven Method
Firstly, heat the oven and prepare a baking sheet: then, preheat the oven to 375 degrees. After that, line an 18 by a 13-inch baking sheet with aluminum foil and spray with non-stick cooking spray.
Secondly, arrange marinated chicken on a sheet: then, remove the chicken from the marinade and arrange pieces on a baking sheet leaving space between them.
Finally, bake to 165 degrees in the center: bake in preheated oven until cooked through, about 45 to 50 minutes, while broiling during the last few minutes for better browning.
People also ask
What is Jamaican jerk chicken made of?
Jerk seasoning is centered on two main ingredients: Scotch Bonnet chili peppers (or habaneros) and allspice.
Oven Method
Nutrition Facts (per serving)
888
Calories
50g
Fat
8g
Carbs
94g
Protein
Is Jamaican Jerk Chicken spicy?
Spices indigenous to the island of Jamaica give Jamaican spice rub Chicken its distinct flavor characteristic.
Allspice, thyme, ginger, garlic, cinnamon, and nutmeg are used as seasonings, along with hot, Scotch bonnet chiles (or, more conveniently, habanero chilies) and aromatic, nuanced, sweet yet smokey, earthy undertones
What does Jamaican jerk chicken taste like?
What flavor does jerk chicken have? Jerk chicken has a flavor that is smokey and extremely spicy, filled with heat.
The jerk seasoning adds spice and heat, while the chicken's cooking over coals and green pimento wood imparts a smokey taste.
What does Jamaican jerk sauce taste like?
Jerk sauce is JAMAICA in a bottle and contains scotch bonnet peppers, pimento (allspice), nutmeg, soy sauce, and thyme among other flavors.
You get glimpses of flavors that are sweet, salty, loads peppery, and have an island-like kick to them.
Is jerk chicken healthy?
Spice rub chicken: Is it healthy? Yes, the natural and whole ingredients used in this spice-rich dish's marinade are packed with vitamins and nutrients.
Why is Jamaica known for its jerk chicken?
Jerk chicken is thought to have originated when the Maroons brought African meat-cooking skills to Jamaica and blended them with local Jamaican ingredients and Arawak Indian flavors.
Is Caribbean jerk the same as Jamaican jerk?
Although the flavors of a jerk and creole seasonings are similar, they are not the same. Jamaican-born jerk seasoning is often used in Caribbean cuisine.
The jerk spice combination has a stronger flavor and is much spicier. It makes use of strong spices like allspice and chiles that are absent from creole seasoning.
How is Jamaican jerk seasoning made? Jamaican jerk seasoning's ingredients
Aromatics – Powdered onion and garlic.
Spices – Cumin, nutmeg, allspice, smoked paprika, cinnamon.
Heat – Red pepper flakes and cayenne pepper.
Sugar – Just some brown sugar for a well-rounded depth of flavor.
Seasoning – Salt and pepper.
Herbs – Dried parsley and thyme.
Is jerk chicken supposed to be sweet?
A well-prepared, authentic spice rub chicken is irresistible because it is sweet, spicy, and smokey at the same time.
It is soft and supple due to the lengthy marinating and grilling, and the fiery chile sauce that is generally offered on the side cuts through the richness of the meat to keep you coming back for more
What sides go with Jamaican jerk chicken?
What to serve with jerked chicken – best side dish options
White rice, brown rice, or cilantro lime rice.
Fresh salsa.
Leafy green salad or cucumber salad.
Roasted potatoes or grilled potatoes.
Baked potatoes or garlic potatoes.
Coleslaw
Pasta
Plantains
Potato salad.
How do you make Jamaican jerk sauce?
Steps to Make It
Firstly, bring all the ingredients together.
Then, add the allspice berries, brown sugar, scallions, garlic cloves, Scotch bonnet peppers, nutmeg, salt, soy sauce, thyme, cinnamon, and pepper to a food processor or a blender
After that, process until smooth
Finally, use the sauce to marinate the meat of your choice.
Is jerk a spicy dish?
While certain sauces, like mild, medium, or spicy, have different heat degrees, jerk is one of those take-it-or-leave-it kickers. Really hot and spicy
What makes jerk chicken so spicy?
Allspice and Scotch bonnet peppers make up the majority of the hot jerk marinade sauce, which is typically served with chicken or pork.
The Caribbean and West Indian diaspora communities in North America and Western Europe enjoy jerk cooking.
What distinguishes jerk from barbecue (BBQ)?
Jerk seasoning mixes savory and sour flavors along with a fiery peppery kick from scotch bonnet peppers, unlike barbecue, which is typically sweet and smokey.
Is Jamaican spice rub Chicken supposed to be dry?
No. It hasn't been cooked properly if it is dry. Jamaican spice rub chicken is meant to be flavorful and packed with juicy ingredients that melt in your mouth.
Is jerk seasoning the same as Cajun seasoning?
Both jerk seasoning and cajun seasoning use various components, and each of these spice mixtures has a unique flavor profile.
Allspice and Scotch Bonnet peppers are the major ingredients in jerk seasoning, whereas cayenne peppers, paprika, garlic powder, and oregano are the main ingredients in cajun seasoning.
Is easy jerk chicken good for losing weight?
Low-carb diets can use it.
Chicken is the ideal food for you if you're trying to reduce your carb intake in order to lose weight or get in better health condition.
You don't even need to order anything extra as a side because jerk chicken pairs so beautifully with a straightforward salad (chips optional…)
Is jerk chicken inflammatory?
Jamaican Jerk Seasoning has Anti-Inflammatory Properties and Is Great for Your Gut.
The best jerk chicken comes from which country?
Jamaica
The dish known as jerk chicken is now a staple of Jamaican cooking and a favorite around the globe.
However, Jamaican spice rub chicken is the best in the entire world.
Where was jerk chicken originated?
Jamaica
Jamaican spice rub fried chicken is one of the most well-known Caribbean foods. This meal is typically seen in the Caribbean and Jamaican restaurants, but do you know where it came from?
This recipe's ancestors arrived in Jamaica 2500 years ago.
What makes jerk chicken black? Why is spice rub chicken dark?
They were grilled in big old oil drums that had been converted into smokers at these roadside stands.
Allspice berries and scotch bonnets, a pepper related to the habanero, were among the ingredients in a jerk spice mixture used to rub the chickens, which turned the meat to a rich, dark brown that was almost black.
Is Jamaican jerk seasoning Hot?
Is jerk seasoning spicy?
One of the key ingredients in the flavor of jerk foods is heat.
There is no mild authentic jerk seasoning because jerk seasoning is meant to be spicy.
Scotch bonnet is typically the source of the heat though other hot peppers may be substituted
Do you take the skin off spice rub chicken?
Trim the chicken's superfluous skin and fat (but leave the majority of the skin; you can remove it later before eating), and then squeeze some lime or lemon juice (or vinegar) over it.
Drain after rinsing with cool water. Now pierce the chicken pieces with a fork or pairing knife.
Jerk Chicken Restaurants near Me in Lagos, Nigeria