Bitter Kola and Alligator Pepper Mix Benefits
Bitter Kola and Alligator Pepper Mix Benefits. Endeavor to watch >>>>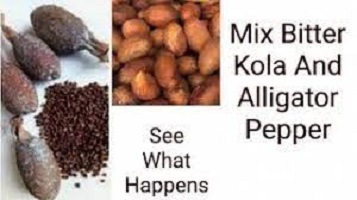 The benefits of eating bitter kola and alligator pepper seed together
Benefits of watermelon seed combined with bitter kola and alligator pepper
The combined health benefits of Bitter Kola and Alligator pepper
Garcinia cola is the botanical name for bitter kola, which is also known as the African wonder nut and belongs to the Clusiaceae family.
These nuts were traditionally eaten to promote saliva flow, making them a masticatory substance.
Related >>>>
Bitter Kola and Alligator Pepper Mix
Bitter kola is high in caffeine and threobromine, and it's also an aphrodisiac. Unlike other kolas, bitter kola is thought to clean the digestive tract without causing adverse effects like abdominal pain, even when used in large quantities.
Bitter kola is also referred to as "Akiilu" in Igbo, "Orogbo" in Yoruba, and "mijin-goro" in Hausa.
It is an African herb that has a number of health benefits. Almost all parts of this plant can be used to improve one's health.
Alligator Pepper
The botanical name for alligator pepper is Afromomum melegueta, but it's also known as guinea grain. It's a West African spice that belongs to the Zingiberaceae family.
In Nigeria, Alligator pepper is also known as hepper pepper, or mbongo spice, Ose Oji in Igbo, and Atare in Yoruba.
Alligator pepper can be used for a variety of purposes, and it has been shown to be useful in the treatment of schistosomiasis.
It is a raw stimulant spice that can be used to treat diabetes, inflammation, high blood pressure, menstrual pain, and low energy levels in both male and female
How To Prepare This Alligator Pepper and Bitter Kola? Bitter Kola and Alligator Pepper Herbal Mix
Bitter cola and alligator pepper recipe:
Firstly, blend or grind 20 alligator pepper seeds with 3 bitter kola seeds to a fine powder, and then add one cup of milk.
Dosage
For 7 days, take 3 spoons in the morning and evening
Alternatively, you can combine the powder with water or add it to your diet and consume it.
Coughs are treated with a mixture of ground bitter kola and honey in folk medicine.
What are the benefits of mixing bitter kola with alligator pepper? Bitter kola and alligator pepper have many health benefits which include:
Malaria, Typhoid, Staphylococcus, Gonorrhea, Toilet Infections, Arthritis, Rheumatoid Arthritis, Syphilis, and Female Discharge are all treated effectively with this combination.
However, if you're treating malaria, don't use milk; instead, use a bitter lemon drink (TEEM). Also, don't grind the bitter kola; instead, soak it straight in the bitter lemon for three days.
Side Effects
Please Lactating mothers and pregnant women should avoid this since it may cause the pregnancy to end and milk production to decrease.
Benefits of eating bitter kola and alligator pepper mix.
The following are some of the health benefits of eating bitter kola and alligator pepper combined or drinking a bitter kola and alligator pepper blend:
Boost libido.
Boosts ovulation
Treats constipation
Regularises menstruation
treats male infertility
It treats erectile dysfunction.
For manpower
Benefits to woman/man
Gut health
Eye health
Weight loss
Cure ulcers.
Detoxification
Shrinks fibroid
Please hit the like button if you like this article on Bitter Kola and Alligator Pepper Mix, and also leave your questions and thoughts in the comment section on how we can better serve you.