Igbo Foods: 25 Commonly Consumed List of Igbo Food
Igbo Foods: 25 Commonly Consumed List of Igbo Food. Please Watch >>>>>
The Igbo people of Nigeria are famous for a variety of traditional foods. Igbo, without a doubt, is home to many popular Nigerian cuisines, as the majority of the foods, Nigeria is known for originated in Igbo land.
Which state are the real Igbos?
Anambra (MY STATE ORIGIN), Abia, Imo, Ebonyi, and Enugu are the primary Igbo states in Nigeria.
Igbos make up more than 25% of the population in some Nigerian states, including Delta and Rivers.
Cross River, Akwa Ibom, and Bayelsa states all have traces of Igbo culture, foods, and language.
History of Igbo Food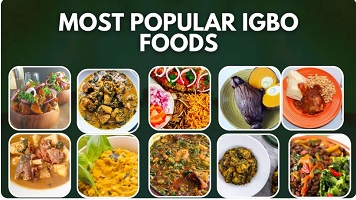 The Igbos are one of Nigeria's three major ethnic groups, and they have their own beliefs, customs, traditions, and music, but we are not looking into that today.
Today we will discuss Igbo foods and culture, specifically the various dishes associated with the Igbo people's main style of cooking, such as Oha, Nni Oka, Nni Akpu, Ni Ji, Onugbu, Okazi, Achi, and others.
Igbo foods are simple to prepare; here is a list of all known Igbo foods and the ingredients used to prepare them.
This type of meal, however, is enjoyed by all Nigerian tribes, not just Igbos. Cooking and eating Igbo food is a breeze.
Soups are at the heart of Igbo cuisines; some of the most popular Igbo soups are Egwusi, Nsala, and Ofe oha; we also have white pepper soup.
Our staple swallow diet is yam, which can be eaten boiled or pounded.
Moving on, you will learn a lot about all the traditional Igbo recipes, including my favorites and a step-by-step guide to making them.
For complicated recipes, I would try to include videos for better understanding okay
I just want to focus more on the foods eaten by various Nigerian tribes, especially the Igbos;
I get a lot of emails from people who want to know about local Nigerian recipes. Other request includes;
What do you make for dinner if you are married to an Igbo man?
"Married to Igbo man, what I make for breakfast?" stuff like that.
Visiting Igboland, how do I cope with the food?
What kind of food does the Igbo consume? Many dishes are associated with the major foods of the Igbo people, such as Nni Oka, Nni Akpu, Ni Ji, Onugbu, and Onugbu.
Many Igbo food types are served in Nigeria and can be classified as Igbo traditional foods. It includes a variety of soups, salads, and other dishes.
Check out this list of Igbo foods to try when visiting Igbo land.
Nigerian Foods for Igbo People
Here are some Nigerian dishes for Igbo people.
I'd like to concentrate on what Igbo people (men, women, and children) want to eat here.
If you are dating or married to a Nigerian man, have friends who are Igbos, or are visiting them, here are some of their common recipes;
Of course, they would accept almost any deliciously prepared Nigerian dish, but a surprise treat would truly delight them.
I would list them here and then include a link to the individual pages for detailed recipes.
I've made a video about Nigerian soups and would like to start with different Igbo soups before moving on to other Igbo recipes at the bottom of the page. Okay?
Here is a list of Igbo foods that I enjoy.
Oha soup
The first item on my list of Igbo foods is a combination of fufu and uha soup.
Learn more about oha Soup and Fufu by clicking HERE.
Onugbu Soup
Fufu can also be served with Nigerian bitter leaf soup, which can be prepared in a variety of ways.
One of the most popular Igbo soups is Ofe Onugbu, which is made with cocoyam (ede uli).
Please click on the link for detailed instructions on making Igbo Bitter Leaf Soup.
Okro Soup
Okra soup is another popular Igbo food (soup).
This is one of the simplest and least expensive Nigerian soups. When made with fresh fish, this soup is fantastic.
Find out more about Making Okra Soup HERE
Agidi and beans
Agidi is also part of it  I enjoy it exactly as it is presented below.
Click Here to Find out How to Make Agidi (Eko).
Igbo Popular Foods
Here are some more popular Igbo delicacies; these two in particular are very special to the Igbo people.
They are African salad and nkwobi, which I enjoy as well as the recipe on this site.
You can make yours in your kitchen.
Nkwobi
Here is how we serve Nkwobi in Igboland. Over the last few months, I've received numerous inquiries about how to prepare Nkwobi, a popular Igbo dish.
You will find a very detailed guide here.
We made Nkwobi with cow foot, but any type of meat can be used in this recipe.
Discover How We Made Nkwobi
Discover How We Made Nkwobi
The second dish is an African salad (Abacha, Ugba, jakwu), which we call by various names.
I've included a video to demonstrate how to make African Salad (Jakwu, Ncha, Abacha).
Ukwa (African Breadfruit)
The other food type I'd like to discuss here is African breadfruit (ukwa), which many people are unfamiliar with.
With a simple recipe for Ukwa – African breadfruit – I attempted to provide a comprehensive answer to that question.
It is one of the most well-known Nigerian Igbo dishes.
Other Igbo Foods
There are several other Igbo recipes that I will add to this page as I remember them.
Below Are the 25 Most Commonly Consumed Igbo Food
Utara na Ofe
Ji – Ji Mmiri oku (with goat meat)
Ofe Akwu & Osikapa:
Achicha:
Oha Soup – African Rosewood plant
Ofe Onugbu – Bitter Leaf Soup
Nwobi – Cow feet
Abacha – African salad
Okpa – Bambara groundnut
Agidi – Corn jellos
Ukwa – African Breadfruit
Awa Soup
Okra Soup
Ji – Yam (vegetable)
Fio Fio
Palm wine
Ogbono soup
Isi ewu
Achicha
Egusi
Akpu
Cornmeal
Pounded Yam
Garri
Bobozee (Abacha Mmiri)
Igbo food recipes
Steam-baked corn moi moi (igbo oka)
Plantain Moi Moi (Ukpo Ogede)
Pigeon peas (fio fio in Igbo) …
Peppered goat meat (ASUN) Igbo version
Igbo Local yam(0na)
Native Igbo Food (Abacha) with ugba and smoked fish. A welcome dish was given to a visitor in Igbo land precisely.
Local beans (Fio fio in the Igbo language)
Ugba (igbo delicacy)
Uturukpa soup with goat meat
Ofe Achara
Ofe Owerri
Garden Egg Sauce
Igbo famous food ~ what is the main food of Igbo?
Yam
Yam is a staple food for the Igbos and is eaten boiled or pounded with soups
Famous Igbo soups
Here's a list of 5 Igbo soups that are my favorite and I think everyone should have a taste of as well.
Ofe Nsala.
Ofe Owerri
Oha Soup
Ofe Onuigbu
Ofe Okazi
What are the Igbos known for?
The Igbo tribe, indigenous to southeastern Nigeria, is well-known for its entrepreneurial, independent, and adventurous nature. Natively referred to as Ndi Igbo;
The Ndi Igbo tribe is well-known for its diverse cuisine, dance, music, musical instruments, festivals, and culture.
What is Igbo traditional culture?
Traditional Igbo religion includes belief in a creator god (Chukwu or Chineke), an earth goddess (Ala), and many other deities and spirits, as well as ancestors who protect their living descendants.
Divination and oracles seek to reveal the will of the deities.
Is Fufu a traditional Igbo dish?
Fufu, also known as akpu in Nigeria, is a popular food made from fresh or fermented cassava.
The Igbo word for cassava is akpu, which is properly punctuated as akp.
Akpu is a wet paste that takes several days to make and is commonly served with egusi soup.
What nationality is Igbo?
Nigeria
The Igbo (/ibo/ EE-boh, US also /bo/ IG-boh; also spelled Ibo and formerly also Iboe, Ebo, Eboe, Eboans, Heebo; natively Ndi Igbo are a Nigerian ethnic group.
They are mostly found in the states of Abia, Anambra, Ebonyi, Enugu, and Imo
Ancient Igbo food ~ what is the Igbo traditional food?
Traditional staple foods in Igbo culture included yams (Dioscorea spp.), cocoyam (Colocasia/Xanthosoma spp. ), cassava (Manihot spp. ), and maize (Zea mays), all of which were status symbols.
Other food groups, including legumes, nuts, seeds, wild fruits, and vegetables, abound.
What is the name of Igbo dressing? Igbo food and dressing
Isiagu
For men, modern Igbo traditional attire consists primarily of the Isiagu top, which resembles the African Dashiki.
Isiagu (or Ishi agu) is typically patterned with lion heads embroidered across the clothing, but it can also be plain (usually black).
What is your Favourite food in Igbo?
The most popular and widely consumed Igbo food is Utara na ofe, also known as Swallow and soup.
Utara, also known as Nri Onuno, can be Akpu (fufu) Utara Ji or Nri Ji (Pounded Yam) Nni Ede (Pounded Cocoyam), or any swallow such as Garri, corn swallow (Nni Oka), Semo, or Guinea corn swallow.
Igbo traditional foods and their health benefits ~ Common Igbo Food benefits and their Ingredients
Yam with goat meat pepper soup
Pepper soup, also known as Ukodo in Nigeria, is a popular family dish.
This native soup is famous in the evenings and at dinner. The main components of this dish are pepper and goat meat.
This is one of the calorie-dense foods that promote weight gain.
It contains a lot of carbohydrates, omega-3 fatty acids, and vitamins B6 and B1.
What is the most popular food in Igbo?  
Chicken Jollof rice
Jollof rice is a favorite and widely consumed source of nutrition among the Igbo and the rest of West Africa.
Ugu vegetable soup 
The Igbo soup contains seafood, vegetables, various meat portions, and fluted pumpkin leaves.
Because Ugu leaves are used in its preparation, the soup is both delicious and healthy.
What are some of the most important foods in Igbo culture, and why are they so important?
Cereals, starchy roots, and tubers are stapled foods for the Igbo
They are available all year but are more plentiful during harvest season.
They are the foundation of the Igbo culture's diet. The cowpea is the most widely consumed legume (Vigna unguiculata).
What is Igbo's best food?
Soups are at the heart of Igbo cuisine. Ofe Oha, Onugbu, Ofe Akw, Egwusi, and Nsala are popular soups (White pepper soup).
Yam is a staple food for Igbos, who eat it boiled or pounded with soups.
What is Anambra State's traditional cuisine?
Ofe Nsala is a Nigerian delicacy unique to the Igbo tribe, particularly the people of Anambra state.
Unlike other traditional soups, Ofe Nsala is known as white soup because it is prepared without the use of palm oil.
How do Igbo people greet?
Ǹdéèwō – General greeting; 'Ǹdéèwō' is a general greeting in Igbo.
It doesn't matter what time of the day it is, morning, noon, or night, you can use it at any time of day.
What is Enugu famous for?
Okpa, also known as 'Lion's food or the king's meal,' is a traditional Nigerian dish popular in the eastern part of the country and is thought to have originated in Nsukka, Enugu.
Okpa is made from Bambara flour, which is obtained from the Bambara nut.
What soup is Enugu known for?
Awa soup, ofe awa
Awa soup is made from the Awa leafy vegetable. It is indigenous to the Enugu region of Nigeria, particularly Nkanu.