Pepper Mix Recipe: Blended Spicy Stew Base
Pepper Mix Recipe: Blended Spicy Stew Base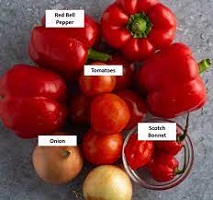 Nigerian Pepper Mix – (Ata Lilo in Yoruba)
A lot of Nigerian recipes, in addition to recipes from other parts of West Africa, start with pepper mix.
It's a lifesaver to have it in the fridge or freezer. It makes it simple to cook meals in a shorter amount of time.
In the South-Western section of Nigeria, blended pepper mix spice is the mainstay of cookery, and every two or three streets apart, a pepper milling machine operator blends the pepper mix for a living.
Pepper mixture/ata lilo is used in almost Nigerian cuisine, and it can come in any variety or, texture.
Must Read >>>>
Most Jollof rice dishes ask for boiling down pepper mix, other recipes like Ofada stew and Efo riro demand coarse pepper mix.
Yes, each Nigerian meal necessitates a unique pepper mix texture.
It's also interesting to note that when "Nigerians ask you if there's pepper in the dish," they're not referring to black or white pepper.
In Nigeria, the answer to that question is a combination of scotch bonnet chili or bird's eye chilli (or any spicy pepper), paprika, red bell pepper (tatashe), and maybe tomatoes.
What Is Nigerian Pepper Mix?
It's a red pureed combination of tomatoes, red bell peppers (tatashe in Yoruba), onions, and hot peppers also referred to as Ata Rodo (name in Yoruba) and Scotch Bonnet Peppers (name in English) that is blended and cooked to reduce moisture and either stored for immediate or later use.
It goes by a variety of names. Nigerian stew base, pepper mix, or blend are some of the terms used to describe it.
All Egusi, Jollof rice, Jollof Spaghetti, Efo Riro, (Vegetable), and Asaro recipes begin with a blended pepper mix.
Nigerian Pepper Ingredients – What is pepper mix made of?
You'll need the following ingredients depending on the type of pepper mix you're producing.
For Regular Pepper Blend:
Hot peppers like habanero
Red Bell peppers
Tomatoes
Onions
Garlic
For Ofada Pepper blend:
Red bell peppers – Tatashe also called Romano peppers have a thinner flesh than ordinary bell peppers and have a much fuller flavor
Garlic
Hot peppers
Onions
For Ayamase pepper blend:
Hot peppers like cayenne pepper which is popularly known as Shombo in Southwest Nigeria are an important spice in most meals.
Garlic
Green bell peppers
Onions
Recipe – How to Make Pepper Mix
If you're using a blender or pepper mixer at home remove the scotch bonnets and bell pepper seeds.
Then, wash the peppers and tomatoes thoroughly. Onions should be peeled.
Leave the seeds if you have a powerful blender or access to a mechanical grinder.
All of the ingredients should be chopped up. Blend with a little water until you get a smooth purée.
Making a large quantity and storing it in the fridge or freezer will save you time.
Boiling Peppers Before Blending
Instead of blending then boiling the pepper, you can boil the pepper raw, then blend. Either way, it's all good.
It's a good idea to boil the puree while you're doing this because it'll save you time when you need it later.
It also aids in the reduction of water content, which saves storage space and extends the life of the product.
Jollof Rice Pepper Blend
Jollof Rice is a West African rice meal that combines fiery chili peppers, tomatoes, African curry powder, and a variety of herbs and spices to create fluffy, spicy rice that is suitable for any occasion.
Pepper Base Stew
Pepper Stew, also known as Obe Ata Din Din in Yoruba, is a Nigerian stew made entirely with peppers. It is red, like Tomato Stew, but extremely hot!
It contains bell peppers, onion, ginger, habaneros, chili flakes, garlic, ginger, and little or no tomatoes.
You Can Use Pepper Blend for the Recipes below and More
What is the best way to store?
This dish can be prepared ahead of time and stored in the freezer for up to six months.
Allow the purée to cool completely before scooping into portioned plastic containers or freezer bags and freezing.
Use all of the servings once they've been opened, or place any leftovers in the refrigerator.