Apple Oats Smoothie: Healthy Recipe for Weight Loss
Apple Oats Smoothie is a great way to kick start your day and is ideal when you have less time in the morning for breakfast.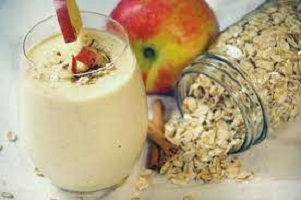 Oats and Apple Smoothie are filling and a perfect drink for those on a weight loss diet. With a simple touch of lemon on this oat smoothie fatness will run away from you.
Apple lemon oats smoothie is a simple blend of fruits in oats that makes a good shake.
Also, if you want to lose weight you can have this smoothie as a post-workout snack as well.
What Are The Apple Oats Smoothie Benefits?
Apples are rich in dietary fiber, antioxidants, and flavonoids. Most notably, the polyphenols in apple metabolize all types of body fat.
Oats fiber content is high, likewise protein, it can absorb fats, makes you full, and thereby reducing craving and helps with weight loss
Lemon is rich in vitamin C, it assists to regulate appetite and increase the rate of metabolism, and it also aids digestion.
Above all, to keep this drink healthy it's best to avoid adding sugar and use a low-calorie nutrient-rich substitute like dates and honey.
Apple Oats Smoothie Recipe for Weight Loss
Ingredients
2 apples
lemon
Skimmed milk or (Non-fat Greek yogurt)
½ cup of water
Preparation for Apple Lemon Oats Smoothie
Firstly, wash and cut your apple into small chunks, then, squeeze the lemon and collect the juice. Set aside.
Secondly, combine the ingredients in a blender. Pour in the sliced apples, the oats, lemon juice, and add water.
After that, blend all ingredients until the consistency is smooth. At this point your weight loss smoothie is ready.
Serve and enjoy!
Other Weight loss Drinks in Nigeria include: